Procedure
Arthroscopic partial menisectomy for Osteoarthritis
Rush University Medical Center, Chicago, IL
Arthroscopic partial menisectomy

+2 more
N/A
Waitlist Available
Led by Jeffrey N. Katz, MD, MS
Research Sponsored by Brigham and Women's Hospital
Eligibility Criteria Checklist
Specific guidelines that determine who can or cannot participate in a clinical trial
Must have
OA symptoms lasting at least 1 month and managed with medications, activity limitations, and/or physical therapy
At least one symptom consistent with a torn meniscus. Symptoms may include clicking, catching, popping, giving way, pain with pivot or torque, episodic pain, and/or pain that is acute and localized to one joint line
Must not have
Be younger than 18 years old
Study Summary
This trial will compare surgery and physical therapy for people with a torn meniscus and knee OA.
Eligibility Criteria
Inclusion Criteria
You will be eligible if you check "Yes" for the criteria below
You have been experiencing

symptoms of osteoarthritis for at least 1 month

and have been

managing them with medications, activity restrictions, and/or physical therapy

.
You have at least one

symptom that suggests a torn meniscus

, such as clicking, catching, or sharp pain in your knee.
Timeline
Screening ~ 3 weeks
3 visits
This trial's timeline: 3 weeks for screening, Varies for treatment, and 60 months for reporting.
Treatment Details
Study Objectives
Outcome measures can provide a clearer picture of what you can expect from a treatment.
WOMAC Functional Status - Difference From Baseline
Secondary outcome measures
KOOS Pain - Difference From Baseline
KOOS Pain - Mean at 60 Months
SF-36 Physical Functional Status Scale - Difference From Baseline
+1 more
Awards & Highlights
All patients enrolled in this study will receive some form of active treatment.
Trial Design
Group I: Surgical
Experimental Treatment
2 Interventions
Participants will undergo arthroscopic partial menisectomy (APM) surgery and offered postoperative rehabilitative physical therapy.
Group II: Nonoperative
Active Control
1 Intervention
Participants will undergo standard physical therapy that will include strengthening and stretching sessions one to three times a week for 8 weeks.
Who is running the clinical trial?
Brigham and Women's Hospital
Lead Sponsor
1,545 Previous Clinical Trials
11,379,853 Total Patients Enrolled
14 Trials studying Osteoarthritis
28,830 Patients Enrolled for Osteoarthritis
Jeffrey N. Katz, MD, MS
Principal Investigator
Brigham and Women's Hospital
Media Library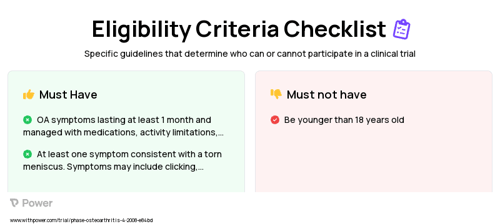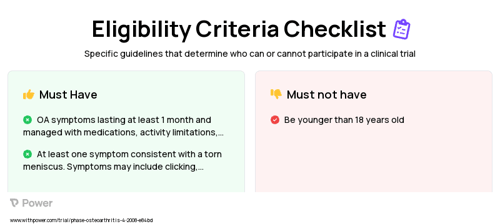 Arthroscopic partial menisectomy (Procedure) Clinical Trial Eligibility Overview. Trial Name: NCT00597012 — N/A
Frequently Asked Questions
These questions and answers are submitted by anonymous patients, and have not been verified by our internal team.
In how many locations is this trial being conducted?
"Currently, 7 medical institutes are overseeing this trial. These include Brigham and Women's Hospital in Boston, Rush University Medical Center in Chicago, and the Hospital for Special Surgery located in New York City; other sites round out the total number of participating locations."
Are applications still being accepted for this experiment?
"According to clinicaltrials.gov, this trial has since concluded its recruitment period, having last been edited on September 13th 2022 after initially being posted in May of 2008. Nevertheless, 613 other medical studies are still actively recruiting patients for their trials."
Who else is applying?
What state do they live in?
What site did they apply to?
Hospital for Special Surgery
What portion of applicants met pre-screening criteria?
Recent research and studies