Embolization Agent
Transcatheter arterial embolization for Osteoarthritis
Led By Bedros Taslakian, MD
Research Sponsored by NYU Langone Health
Eligibility Criteria Checklist
Specific guidelines that determine who can or cannot participate in a clinical trial
Must have
Knee pain resistant to conservative treatment for at least 3 months (anti- inflammatory drugs, acetaminophen, physical therapy, muscle strengthening, or intra- articular injection of hyaluronic acid and/or steroids)
Be older than 18 years old
Must not have
Be younger than 18 years old
Follow Up
baseline, 1 month, 3 month and 12 month follow up visits
Study Summary
This trial is designed to see if a new treatment for OA is safe and works. People with OA will have a procedure to block blood flow to the knee, and then be followed for 12 months.
Eligibility Criteria
Inclusion Criteria
You will be eligible if you check "Yes" for the criteria below
You have had

knee pain for at least 3 months

that has

not improved with treatments

like medication, physical therapy, or injections.
Timeline
Screening ~ 3 weeks
3 visits
Follow Up ~ baseline, 1 month, 3 month and 12 month follow up visits
Follow Up ~
baseline, 1 month, 3 month and 12 month follow up visits
This trial's timeline: 3 weeks for screening, Varies for treatment, and baseline, 1 month, 3 month and 12 month follow up visits for reporting.
Treatment Details
Study Objectives
Outcome measures can provide a clearer picture of what you can expect from a treatment.
Change in Knee pain using Western Ontario and McMaster Universities Osteoarthritis index (WOMAC) score
Secondary outcome measures
Change in Knee pain using the Visual Analogue Scale (VAS) scale
Change in Physical Functioning
+1 more
Awards & Highlights
All patients enrolled in this study will receive some form of active treatment.
Trial Design
Group I: Embolization Group
Experimental Treatment
2 Interventions
23 participants who are aged between 30 to 75 years old, with grade 2 or 3 knee OA on the most recent knee radiographs obtained within 6 months of intervention. Each individual participant will be enrolled for approximately 13 months to complete all study visits from the initial screening visit to last follow up at 12-months post intervention.
How many patients have taken this drug
Transcatheter arterial embolization
Who is running the clinical trial?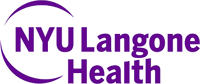 NYU Langone Health
Lead Sponsor
1,326 Previous Clinical Trials
748,556 Total Patients Enrolled
17 Trials studying Osteoarthritis
11,950 Patients Enrolled for Osteoarthritis
Bedros Taslakian, MD
Principal Investigator
NYU Langone Health
Bedros Taslakian
Principal Investigator
NYU Langone Health
Media Library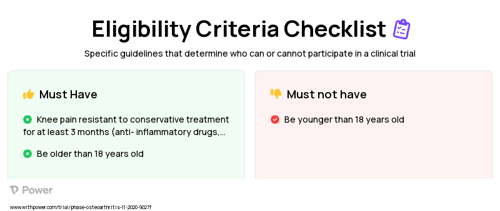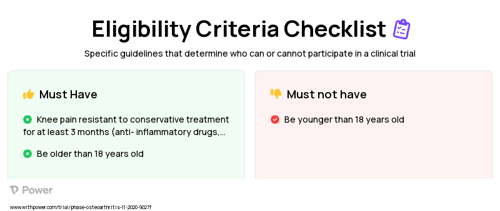 Embozene™ Microspheres (Embolization Agent) Clinical Trial Eligibility Overview. Trial Name: NCT04379700 — N/A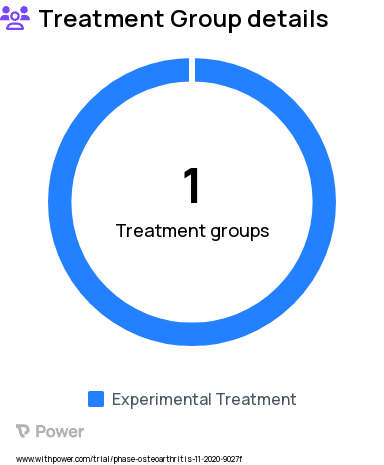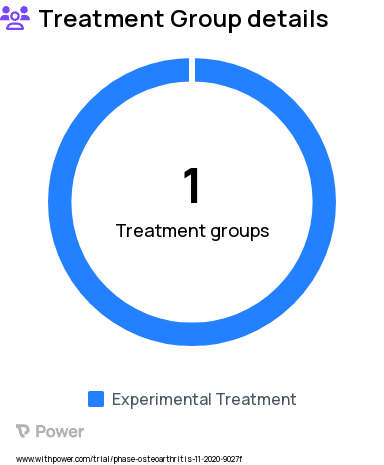 Osteoarthritis Research Study Groups: Embolization Group
Osteoarthritis Clinical Trial 2023: Embozene™ Microspheres Highlights & Side Effects. Trial Name: NCT04379700 — N/A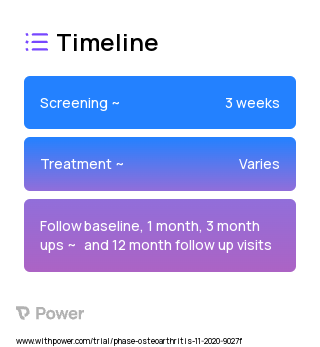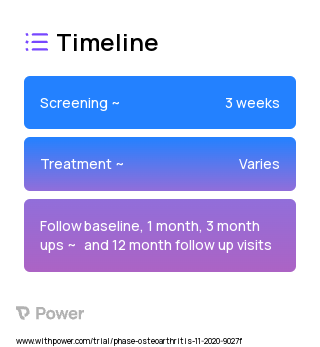 Embozene™ Microspheres (Embolization Agent) 2023 Treatment Timeline for Medical Study. Trial Name: NCT04379700 — N/A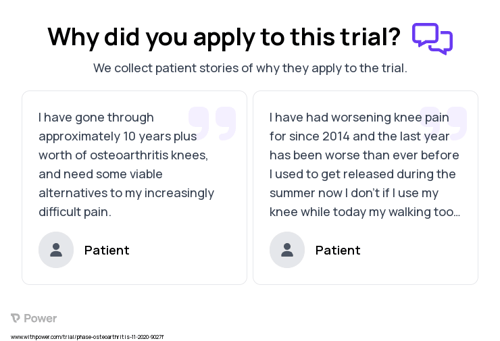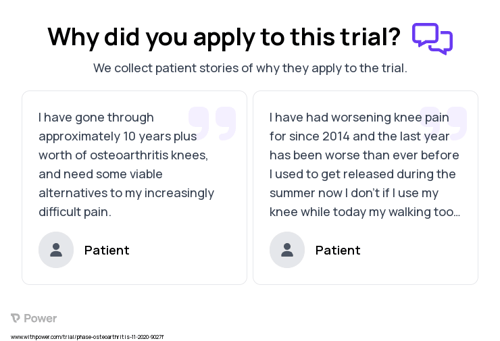 Osteoarthritis Patient Testimony for trial: Trial Name: NCT04379700 — N/A
Frequently Asked Questions
These questions and answers are submitted by anonymous patients, and have not been verified by our internal team.
How many participants are being recruited for this research project?
"Affirmative, the clinicaltrial.gov records indicate that this trial is actively searching for participants. Initially posted on December 1st 2020, it was last modified on November 25th 2022 and seeks 29 patients from one medical facility."
Are there any opportunities for new participants to join this clinical trial?
"Affirmative. The clinicaltrials.gov website demonstrates that this trial is still open for recruitment, having been posted on December 1st 2020 and last modified November 25th 2022. 29 subjects are needed at a single research site."
Is this particular experiment open to patients aged 55 and older?
"Consistent with the guidelines of this medical trial, prospective patients must be between 30 and 80 years old to qualify for involvement."
How can I contribute to this medical experiment?
"This clinical experiment is seeking 29 people afflicted with arthrosis, of any gender, between the ages of 30 and 80. The Kellgren-Lawrence Grade must be 2, 3 or 4 (if there are no bony deformities). Participants should have experienced knee pain for a minimum of three months which has been resistant to conventional treatments such as anti-inflammatory drugs and physical therapy .The severity of discomfort needs to be moderate to severe as determined by a visual analogue scale score greater than 40 out 0f 100. Lastly, all candidates need to display mental competency in order to provide informed consent while being able complete study questionnaires written"
Who else is applying?
What state do they live in?
What site did they apply to?
What portion of applicants met pre-screening criteria?
How many prior treatments have patients received?
Why did patients apply to this trial?
I have gone through approximately 10 years plus worth of osteoarthritis knees, and need some viable alternatives to my increasingly difficult pain.
I have had worsening knee pain for since 2014 and the last year has been worse than ever before I used to get released during the summer now I don't if I use my knee while today my walking too much I will most likely get something at night time, it's been very difficult finding any relief….
What questions have other patients asked about this trial?
How how long does this study last and does it contain any monetary compensation? I would also like to know if the treatment works for me will I be able to continue using this new treatment?
How responsive is this trial?
Most responsive sites:
NYU Langone Health: < 48 hours