Ultrasound Therapy
BX Pulsar 1002 for Obsessive-Compulsive Disorder
Research Sponsored by Baylor College of Medicine
Eligibility Criteria Checklist
Specific guidelines that determine who can or cannot participate in a clinical trial
Must have
5. Had trials of at least two SSRIs or one SSRI and clomipramine.
4. Had at least ten sessions of ERP in expert hands.
Must not have
Be younger than 18 years old
Study Summary
This trial is to study the safety and feasibility of using a technology called Low Intensity Focused Ultrasound (LIFU) to treat patients with obsessive-compulsive disorder (OCD). The device is used to send high frequency sound waves to a particular region of the brain called the Ventral Striatum (VS). LIFU is a non-invasive form of stimulation, which can be used to stimulate deep regions of the brain. The trial will last two weeks with three weekly treatment sessions.
Obsessive-Compulsive Disorder
Eligibility Criteria
Inclusion Criteria
You will be eligible if you check "Yes" for the criteria below
You have had

trials of at least two SSRIs

or

one SSRI and clomipramine

.
You have

received at least ten sessions

of a

type of therapy called ERP

from a qualified professional.
You must have

taken SSRI or clomipramine

for a

minimum of 8 weeks

.
You have been diagnosed with OCD (Obsessive-Compulsive Disorder) for at least 2 years according to the DSM-5 guidelines.
You have tried a treatment for a condition, but it didn't work well enough to improve your symptoms.
You have

tried at least two different types of antidepressant medications

called

SSRIs

, or one SSRI medication along with

clomipramine

.
Timeline
Screening ~ 3 weeks
3 visits
This trial's timeline: 3 weeks for screening, Varies for treatment, and 6 months for reporting.
Treatment Details
Study Objectives
Outcome measures can provide a clearer picture of what you can expect from a treatment.
Acute changes in domains of mood, anxiety, alertness in response to VS LIFU after each sonication session as assessed by the Likert scale.
Magnetic Resonance Imaging
Primary study endpoint for OCD severity will be change in Y-BOCS score after 6 sonication sessions compared to baseline.
+1 more
Awards & Highlights
All patients enrolled in this study will receive some form of active treatment.
Trial Design
Group I: LIFU in OCD group
Experimental Treatment
1 Intervention
Each subject will receive 3 LIFU sessions epr week for two weeks (6 total image-guided treatments). A total of 20 sonications will be administered to one side of the head, with a derated (based on FDA standard of 0.3 dB/cm-MHz) spatial-peak temporal-average intensity (i.e., Ispta) of approximately 720mW/cm2, each lasting 30 s, separated by 30 s pause intervals. Thus, total duration of sonication will be 10 minutes, the same as used in our study of VS LIFU in healthy subjects. Sonication will be administered within a 3T Siemens Prisma scanner. During sonication, we will use the 20-channel head coil as the 32-or 64-channel coil does not allow enough space to fit the transducer. In summary, the entire sequence of 20 sonications, each lasting 30s, separated by 30s pause intervals, will be administered over 20 minutes for a total duration of sonication equal to 10 minutes.
Who is running the clinical trial?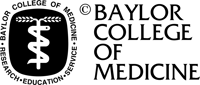 Baylor College of Medicine
Lead Sponsor
970 Previous Clinical Trials
5,986,875 Total Patients Enrolled
14 Trials studying Obsessive-Compulsive Disorder
979 Patients Enrolled for Obsessive-Compulsive Disorder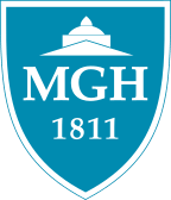 Massachusetts General Hospital
OTHER
2,833 Previous Clinical Trials
13,567,311 Total Patients Enrolled
26 Trials studying Obsessive-Compulsive Disorder
1,675 Patients Enrolled for Obsessive-Compulsive Disorder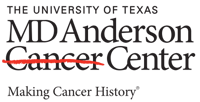 M.D. Anderson Cancer Center
OTHER
2,887 Previous Clinical Trials
1,783,319 Total Patients Enrolled
Wayne Goodman, MD
Principal Investigator
Baylor College of Medicine
6 Previous Clinical Trials
131 Total Patients Enrolled
6 Trials studying Obsessive-Compulsive Disorder
131 Patients Enrolled for Obsessive-Compulsive Disorder
Media Library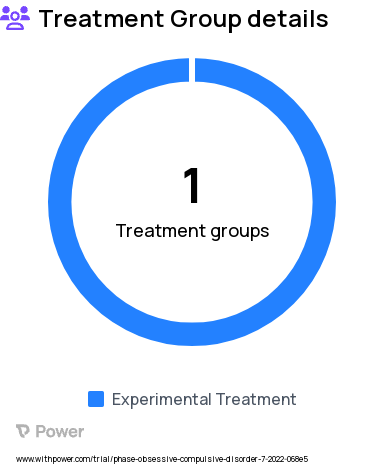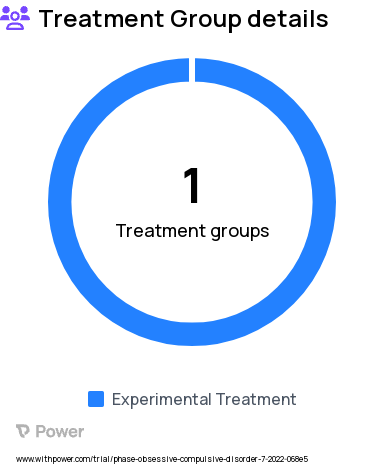 Obsessive-Compulsive Disorder Research Study Groups: LIFU in OCD group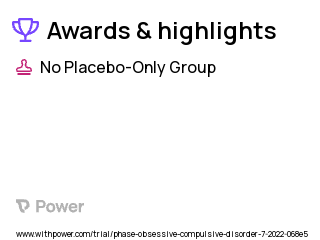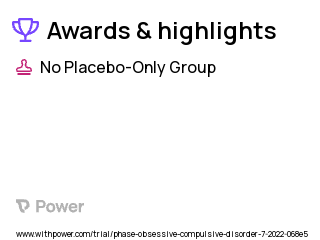 Obsessive-Compulsive Disorder Clinical Trial 2023: BX Pulsar 1002 Highlights & Side Effects. Trial Name: NCT05467085 — N/A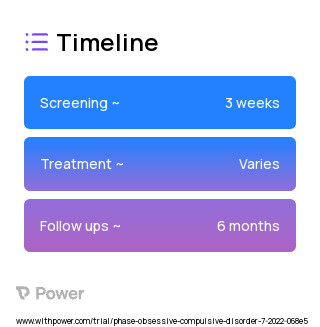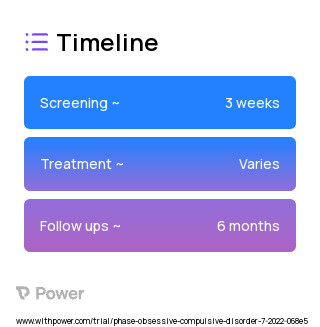 BX Pulsar 1002 (Ultrasound Therapy) 2023 Treatment Timeline for Medical Study. Trial Name: NCT05467085 — N/A
Frequently Asked Questions
These questions and answers are submitted by anonymous patients, and have not been verified by our internal team.
Does this clinical trial currently have open spots for volunteers?
"Affirmative. Evident from the information on clinicaltrials.gov, this medical research is now recruiting individuals for participation. The trial was first announced on August 1st 2022 and its latest update was released in September 12th 2022. This project requires 20 patients to take part at 2 distinct sites."
Does the criteria for eligibility in this trial encompass individuals of a younger age?
"As per the stipulations of this medical study, participants must be between 21 and 55 years old."
Could I potentially qualify to partake in this medical experiment?
"Those who wish to join this clinical trial must possess a diagnosis of obsessive-compulsive disorder and fall within the 21–55 age bracket. At present, the study is looking for around 20 participants."
What is the scope of participation for this research endeavor?
"Affirmative. The trial's posting on clinicaltrials.gov confirms that it is still recruiting patients, which began on August 1st 2022 and was last revised in September of the same year. A total of 20 individuals are required to take part across two sites."
Who else is applying?
What state do they live in?
What site did they apply to?
Massachussetts General Hospital
What portion of applicants met pre-screening criteria?
How responsive is this trial?