Your session is about to expire
We'll log you out in 60 seconds unless you choose to continue
← Back to Search
Family-Based Treatment (FBT) for Childhood Obesity and Obesity
Led By Hollie Raynor, PhD RD LDN
Research Sponsored by The University of Tennessee, Knoxville
Eligibility Criteria Checklist
Specific guidelines that determine who can or cannot participate in a clinical trial
Must have
Be younger than 18 years old
Must not have
Be older than 18 years old
Follow Up
6, 12, and 18 months
Study Summary
This trial will test if a limited variety of high-energy-dense foods can help reduce body mass index over time, and if baseline habituation rate is a predictor of success.
Timeline
Screening ~ 3 weeks
3 visits
Follow Up ~ 6, 12, and 18 months
Follow Up ~
6, 12, and 18 months
This trial's timeline: 3 weeks for screening, Varies for treatment, and 6, 12, and 18 months for reporting.
Treatment Details
Study Objectives
Outcome measures can provide a clearer picture of what you can expect from a treatment.
Child and adult body mass index
Child and adult salivary habituation
Secondary outcome measures
Child and Adult Sleep Habits
Child and adult dietary Intake
+7 more
Awards & Highlights
All patients enrolled in this study will receive some form of active treatment.
Trial Design
Group I: FBT+Variety
Experimental Treatment
1 Intervention
The FBT+Variety condition will receive FBT along with a limited variety prescription. In this prescription families will identify two RED foods, a dinner entree and snack food, and develop meal plans that reduce variety of RED foods by regularly consuming these foods and limiting consumption of other RED entrees and snack foods.
Group II: FBT (family-based behavioral treatment)
Active Control
1 Intervention
This condition will be prescribed the Traffic Light Diet (1000-1500 kcal/day, < 2 servings/day of RED [non-nutrient-dense, energy-dense] foods) and a > 60 min/day of MVPA prescription for children and > 30 min/day of MVPA for adults at least 5 days/week. FBT will receive a family-based, behavioral intervention to assist the targeted child and a participating adult caregiver with making changes in energy balance behaviors.
Who is running the clinical trial?

235 Previous Clinical Trials
36,661 Total Patients Enrolled
74 Trials studying Obesity
14,758 Patients Enrolled for Obesity
University at Buffalo
OTHER
129 Previous Clinical Trials
96,758 Total Patients Enrolled
6 Trials studying Obesity
353 Patients Enrolled for Obesity

National Institute of Diabetes and Digestive and Kidney Diseases (NIDDK)
NIH
2,297 Previous Clinical Trials
4,211,856 Total Patients Enrolled
432 Trials studying Obesity
497,230 Patients Enrolled for Obesity
Media Library


Eligibility Criteria:
This trial includes the following eligibility criteria: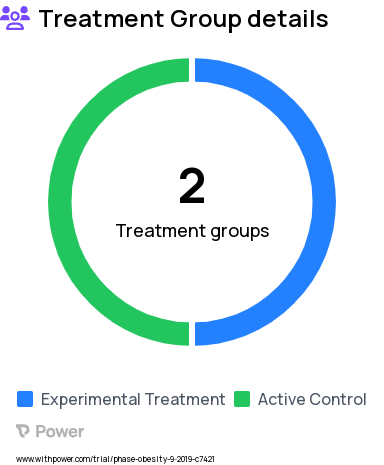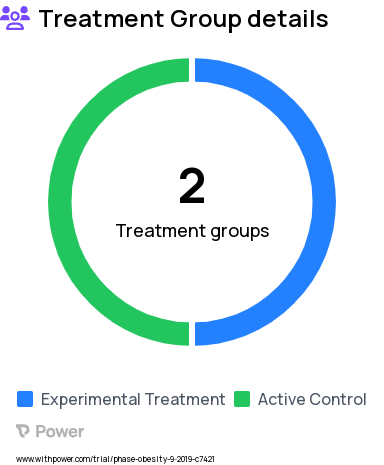 Research Study Groups:
This trial has the following groups:
Group 1: FBT (family-based behavioral treatment)
Group 2: FBT+Variety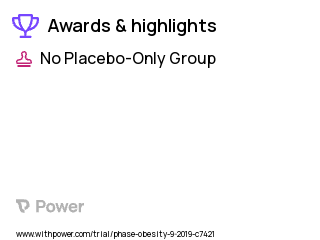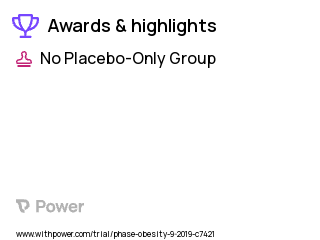 Awards:
This trial has 1 awards, including:
No Placebo-Only Group - All patients enrolled in this study will receive some form of active treatment.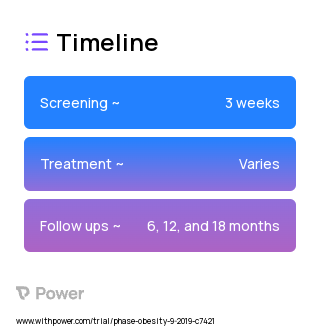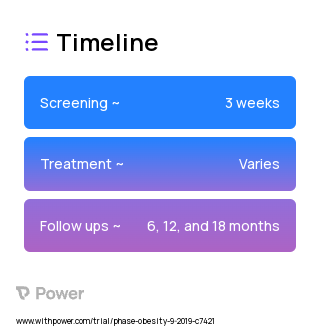 Timeline:
This trial has the following timeline:
Screening: It may take up to 3 Weeks to process to see if you qualify in this trial.
Treatment: The duration you will receive the treatment varies.
Follow Ups: You may be asked to continue sharing information regarding the trial for 6 Months after you stop receiving the treatment.
Frequently Asked Questions
These questions and answers are submitted by anonymous patients, and have not been verified by our internal team.
Is the age requirement for this research project confined to individuals under 40?
"In order to be admissible for this trial, the age of potential participants must range between 8 and 12 years old."
Who is eligible to take part in this trial?
"Participants aged 8-12 and meeting the criteria of a BMI > 85th percentile alongside an adult caretaker with a baseline BMI > 25 kg/m2 are being admitted for this trial focused on obesity. In addition, it's imperative that the accompanying guardian is willing to attend all scheduled meetings."
Are volunteers currently being accepted for participation in this investigation?
"Affirmative. According to clinicaltrials.gov, the protocol for this medical experiment is currently recruiting participants who will be monitored at 1 site. The trial was launched on October 29th 2019 and its most recent update was made on October 30th 2022; it seeks 156 volunteers in total."
What effects does this trial hope to produce?
"The primary endpoint of this trial will measure the Child and Adult Body Mass Index over a period spanning from 0 to 6 months, and then again at 6 to 18 months. Secondary endpoints include evaluations for Child Routines, Home Food Inventory, and Compliance/Process Data such as weekly self-monitoring records completed or number of treatment sessions attended."
How many test subjects have enrolled in this clinical trial?
"Affirmative. Clinicaltrials.gov states that this medical experiment is actively recruiting participants, beginning October 29th 2019 and most recently updated on October 30th 2022. The research team seeks 156 volunteers from a single institution."
Who else is applying?
What state do they live in?
What site did they apply to?
Healthy Eating and Activity Lab, University of Tennessee
What portion of applicants met pre-screening criteria?
How many prior treatments have patients received?
Why did patients apply to this trial?
Recent research and studies
Share this study with friends