Study Summary
This trial will test a new way to give the HIV prevention drug PrEP to black men who have sex with men, in order to make it more accessible and reduce HIV incidence.
Study Objectives
1 Primary · 0 Secondary · Reporting Duration: Month 3
Percentage of participants continuing PrEP
Trial Safety
Awards & Highlights
All patients enrolled in this trial will receive the new treatment.
Trial Design
1 Treatment Group
Pharmacy delivered PrEP Intervention
1 of 1
20 Total Participants · 1 Treatment Group
Primary Treatment: Pharmacy delivered PrEP Intervention · No Placebo Group · N/A
Pharmacy delivered PrEP Intervention
Experimental Group · 1 Intervention: Pharmacy delivered PrEP Intervention · Intervention Types: Behavioral
Who is running the clinical trial?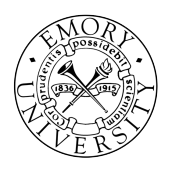 Emory University
Lead Sponsor
1,558 Previous Clinical Trials
2,765,721 Total Patients Enrolled

National Institute of Mental Health (NIMH)
NIH
2,619 Previous Clinical Trials
1,982,990 Total Patients Enrolled
Natalie Crawford, PhD
Principal Investigator
Emory University
Eligibility Criteria
Age 18+ · Male Participants · 0 Total Inclusion Criteria
Mark "Yes" if the following statements are true for you:
Frequently Asked Questions
To what extent is this trial engaging the participation of patients?
"Affirmative. Data hosted on clinicaltrials.gov confirms that this medical research, which was first posted on May 19th 2022, is actively searching for individuals to take part in the trial. Approximately 20 participants need to be recruited from 1 centre." - Anonymous Online Contributor
Are there any openings still available for this research project?
"Affirmative, the clinicaltrials.gov website states that this experiment is actively seeking participants. It was initially announced on May 19th 2022 and its most recent alteration occurred on July 19th of the same year. They are recruiting twenty people from a single site." - Anonymous Online Contributor
Please Note: These questions and answers are submitted by anonymous patients, and have not been verified by our internal team.