Melatonin Group for Vaccine Response
Research Sponsored by Naval Medical Research Center
Eligibility Criteria Checklist
Specific guidelines that determine who can or cannot participate in a clinical trial
Must have
Be between 18 and 65 years old
Must not have
Be younger than 18 years old
Be older than 65 years old
Follow Up
14-21 days post vaccination
Study Summary
This trialwill look at how sleep, body clock and melatonin affect how well the flu vaccine works.
Vaccine Response

Sleep

Circadian Rhythm Disorder
Timeline
Screening ~ 3 weeks
3 visits
Follow Up ~ 14-21 days post vaccination
Follow Up ~
14-21 days post vaccination
This trial's timeline: 3 weeks for screening, Varies for treatment, and 14-21 days post vaccination for reporting.
Treatment Details
Study Objectives
Outcome measures can provide a clearer picture of what you can expect from a treatment.
Anti-influenza antibody titers
Secondary outcome measures
Chronotype survey - Munich ChronoType Questionaire (MCTQ)
Sleep survey - Pittsburgh Sleep Quality Index (PSQI)
Awards & Highlights
All patients enrolled in this study will receive some form of active treatment.
Trial Design
Group I: Melatonin Group
Experimental Treatment
2 Interventions
This group will get melatonin 5mg nightly
Group II: Control Group
Active Control
1 Intervention
This group will not get any treatment (melatonin)
How many patients have taken this drug
Who is running the clinical trial?
Naval Medical Research Center
Lead Sponsor
32 Previous Clinical Trials
2,670 Total Patients Enrolled
Walter Reed National Military Medical Center
FED
129 Previous Clinical Trials
36,466 Total Patients Enrolled
Janine Danko, MD
Principal Investigator
Naval Medical Research Center
Media Library


Melatonin Group Clinical Trial Eligibility Overview. Trial Name: NCT04953754 — N/A
Vaccine Response Research Study Groups: Melatonin Group, Control Group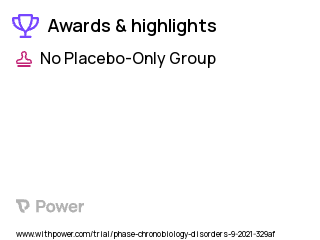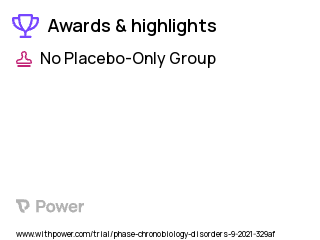 Vaccine Response Clinical Trial 2023: Melatonin Group Highlights & Side Effects. Trial Name: NCT04953754 — N/A
Melatonin Group 2023 Treatment Timeline for Medical Study. Trial Name: NCT04953754 — N/A
Frequently Asked Questions
These questions and answers are submitted by anonymous patients, and have not been verified by our internal team.
How many individuals have been enlisted in this research effort?
"Affirmative. Clinicaltrials.gov asserts that this trial, which first opened on October 25th 2022, is currently recruiting participants. A total of 200 patients are needed from a single clinical site."
For whom is entry into this research project open?
"This medical trial is searching for 200 individuals, aged 18 to 64 years old with circadian rhythm disturbances. It is imperative that participants are eligible to receive the flu vaccine at a military hospital and have DEERS eligibility."
Is recruitment currently open for this investigation?
"Clinicaltrials.gov attests that this medical trial is open for patient enrolment, with the initial listing on October 25th 2022 and a recent update posted one day prior."
Does this investigation stipulate a minimum age to participate?
"Eligibility for this trial is exclusive to those aged 18-64. For individuals under the age of 18, there are 33 different clinical trials available and 103 more options exist for patients older than 65 years old."
Who else is applying?
What state do they live in?
What site did they apply to?
What portion of applicants met pre-screening criteria?
How many prior treatments have patients received?