GnRH for Infertility
University Reproductive Associates, Hasbrouck Heights, NJ
GnRH

+1 more
Phase 4
Recruiting
Led by Peter G McGovern, MD
Research Sponsored by University Reproductive Associates
Eligibility Criteria Checklist
Specific guidelines that determine who can or cannot participate in a clinical trial
Must have
Be between 18 and 65 years old
Must not have
Be younger than 18 years old
Be older than 65 years old
Approved for 5 Other Conditions
Drug Has Already Been Approved
All Individual Drugs Already Approved
Study Summary
This trial found that using a GnRH agonist in addition to progesterone during IVF cycles improves implantation and live birth rates.
Timeline
Screening ~ 3 weeks
3 visits
This trial's timeline: 3 weeks for screening, Varies for treatment, and 9 months for reporting.
Treatment Details
Study Objectives
Outcome measures can provide a clearer picture of what you can expect from a treatment.
Secondary outcome measures
Side effects data
From 2009 Phase 2 trial • 36 Patients • NCT00586898
Awards & Highlights
Approved for 5 Other Conditions
This treatment demonstrated efficacy for 5 other conditions.
Drug Has Already Been Approved
The FDA has already approved this drug, and is just seeking more data.
The final step before approval, pivotal trials feature drugs that have already shown basic safety & efficacy.
All Individual Drugs Already Approved
Therapies where all constituent drugs have already been approved are likely to have better-understood side effect profiles.
Trial Design
Group I: GnRH agonist
Experimental Treatment
1 Intervention
Group II: Placebo
Placebo Group
1 Intervention
How many patients have taken this drug
Who is running the clinical trial?
University Reproductive Associates
Lead Sponsor
5 Previous Clinical Trials
109 Total Patients Enrolled
3 Trials studying Infertility
99 Patients Enrolled for Infertility
Peter G McGovern, MD
Principal Investigator
Rutgers University
Media Library


GnRH Clinical Trial Eligibility Overview. Trial Name: NCT02357654 — Phase 4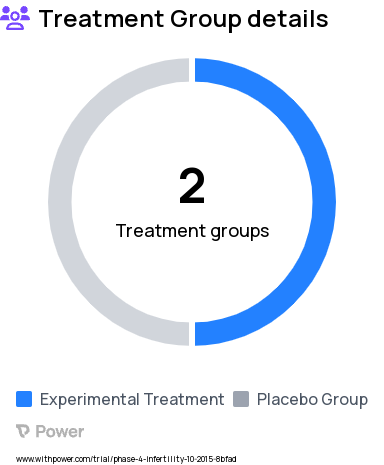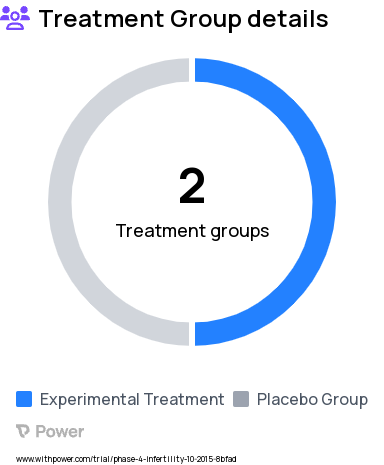 Infertility Research Study Groups: GnRH agonist, Placebo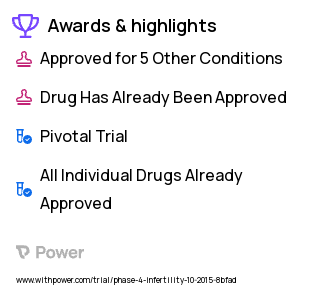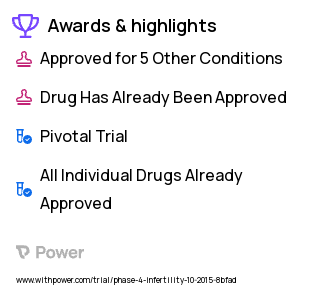 Infertility Clinical Trial 2023: GnRH Highlights & Side Effects. Trial Name: NCT02357654 — Phase 4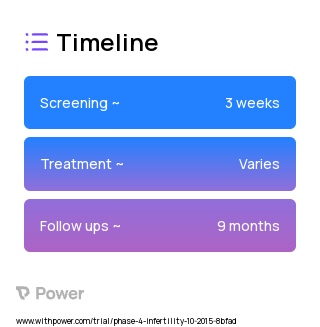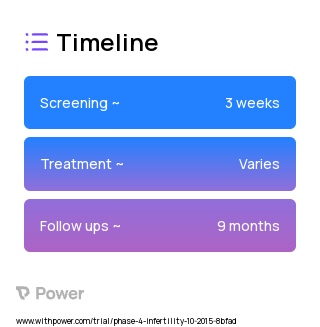 GnRH 2023 Treatment Timeline for Medical Study. Trial Name: NCT02357654 — Phase 4
Frequently Asked Questions
These questions and answers are submitted by anonymous patients, and have not been verified by our internal team.
How many individuals are currently participating in this clinical experiment?
"Affirmative. According to the figures on clinicaltrials.gov, this research effort is actively trying to gather 350 participants from a single site. The trial was first listed 11/1/2015 and most recently updated 5/25/2022."
To what extent is GnRH a safe and viable therapeutic option?
"There is overwhelming evidence in favor of GnRH's safety, so it earned a score of 3."
Is this trial currently seeking participants?
"According to clinicaltrials.gov, this particular medical trial is in need of participants at the present time. This study was first made available on November 1st 2015 and has undergone its most recent update on May 25th 2022."
Who makes a suitable candidate for participating in this medical experiment?
"This trial aims to recruit 350 people between 18 and 40 who are struggling with infertility. To be considered, patients must meet these criteria."
What other research has been done on GnRH's efficacy in a clinical setting?
"Currently, there are 46 active GnRH-related clinical trials with 10 in their third phase. The majority of the studies for this hormone can be found at sites in Chicago, Illinois; however, across the entire US there is a total of 1321 trial centres conducting research."
Does the age bracket for this research include individuals over 40?
"This medical trial is only available to applicants aged between 18-40. Patients younger than 18 have 19 separate studies they can participate in, while those over 65 may join 59 different trials."
Who else is applying?
What state do they live in?
What site did they apply to?
University Reproductive Associates
What portion of applicants met pre-screening criteria?
How responsive is this trial?
Most responsive sites:
University Reproductive Associates: < 48 hours