Anti-tumor antibiotic
Pembrolizumab for Sarcoma
Memorial Sloan Kettering Basking Ridge (Limited protocol activities), Basking Ridge, NJ
Targeting 4 different conditions
Pembrolizumab

+2 more
Phase 2
Recruiting
Led by Edmund Bartlett, MD
Research Sponsored by Memorial Sloan Kettering Cancer Center
Eligibility Criteria Checklist
Specific guidelines that determine who can or cannot participate in a clinical trial
Must have
Eligible for standard treatment with pembrolizumab
Approved for 10 Other Conditions
All Individual Drugs Already Approved
Study Summary
This trial is testing whether the drug pembrolizumab, when combined with two other chemotherapy drugs and delivered directly to an arm or leg, can safely delay disease progression.
Sarcoma

Myxofibrosarcoma

Pleomorphic Sarcoma

Alveolar Soft Part Sarcoma
Eligibility Criteria
Inclusion Criteria
You will be eligible if you check "Yes" for the criteria below
You are

able to receive

the

standard treatment with pembrolizumab

.
Timeline
Screening ~ 3 weeks
3 visits
This trial's timeline: 3 weeks for screening, Varies for treatment, and 6 months for reporting.
Treatment Details
Study Objectives
Outcome measures can provide a clearer picture of what you can expect from a treatment.
Progression free survival
Side effects data
From 2021 Phase 3 trial • 453 Patients • NCT03066778
9%
Aspartate aminotransferase increased
8%
Upper respiratory tract infection
8%
Alanine aminotransferase increased
7%
Blood creatinine increased
5%
Blood alkaline phosphatase increased
5%
Musculoskeletal chest pain
4%
Urinary tract infection
1%
Clostridium difficile colitis
1%
Infusion related reaction
1%
Inappropriate antidiuretic hormone secretion
1%
Transient ischaemic attack
1%
Superior vena cava syndrome
Study treatment Arm
Pembrolizumab+EP
Placebo+EP
Pembrolizumab Second Course
Awards & Highlights
Approved for 10 Other Conditions
This treatment demonstrated efficacy for 10 other conditions.
All patients enrolled in this study will receive some form of active treatment.
All Individual Drugs Already Approved
Therapies where all constituent drugs have already been approved are likely to have better-understood side effect profiles.
Trial Design
Group I: Participants with Sarcoma
Experimental Treatment
3 Interventions
Advanced/metastatic extremity sarcoma eligible for pembrolizumab and isolated limb infusion (ILI)
How many patients have taken this drug
Who is running the clinical trial?
Memorial Sloan Kettering Cancer Center
Lead Sponsor
1,892 Previous Clinical Trials
587,110 Total Patients Enrolled
67 Trials studying Sarcoma
13,268 Patients Enrolled for Sarcoma
Edmund Bartlett, MD
Principal Investigator
Memorial Sloan Kettering Cancer Center
1 Previous Clinical Trials
10 Total Patients Enrolled
1 Trials studying Sarcoma
10 Patients Enrolled for Sarcoma
Media Library


Dactinomycin (Anti-tumor antibiotic) Clinical Trial Eligibility Overview. Trial Name: NCT04332874 — Phase 2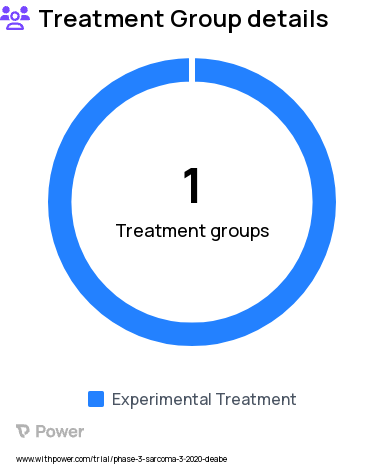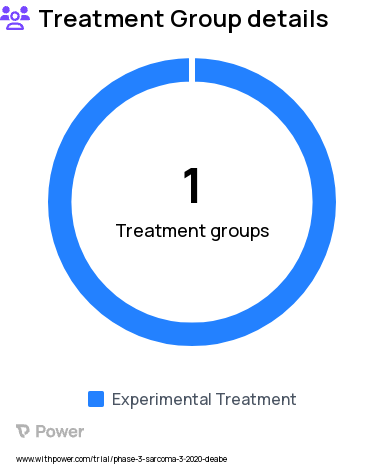 Sarcoma Research Study Groups: Participants with Sarcoma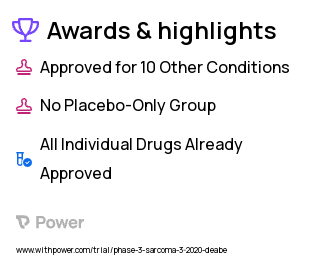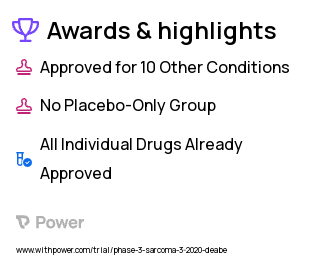 Sarcoma Clinical Trial 2023: Dactinomycin Highlights & Side Effects. Trial Name: NCT04332874 — Phase 2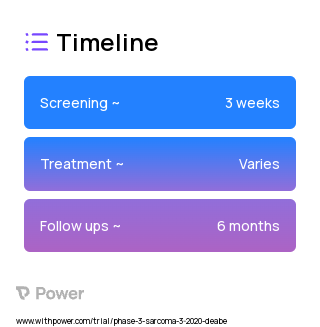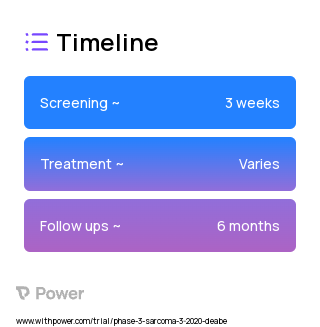 Dactinomycin (Anti-tumor antibiotic) 2023 Treatment Timeline for Medical Study. Trial Name: NCT04332874 — Phase 2
Frequently Asked Questions
These questions and answers are submitted by anonymous patients, and have not been verified by our internal team.
What is the sample size of this research endeavor?
"Affirmative. Data available on clinicaltrials.gov confirm that this trial is currently recruiting participants, with the initial posting occurring on April 1st 2020 and most recent update taking place November 21st 2022. The research team needs to enlist around 30 individuals from 10 distinct medical facilities."
Are there any historical precedents of utilizing Pembrolizumab in clinical experiments?
"Discovered in 1997 by City of Hope Comprehensive Cancer Center, pembrolizumab has gone through 482 clinical trials. Currently 1083 live studies are being conducted with a sizable cohort located in Harrison, New York."
Are there any vacancies for potential participants in this medical experiment?
"The investigation, whose initial advertisement went up on the 1st of April 2020 is still seeking participants. Information featured on clinicaltrials.gov was recently updated on November 21 2022."
What risk factors are associated with Pembrolizumab treatments?
"Due to the Phase 2 status of this clinical trial, our team assigns Pembrolizumab a score of two - reflecting prior data supporting its safety but not efficacy."
In what geographic areas is the investigation currently taking place?
"Ten trial sites are enrolling patients, with two of the most notable being Memorial Sloan Kettering Westchester (Limited Protocol Activities) in Harrison and Memorial Sloan Kettering Basking Ridge (Limited protocol activities) in Basking Ridge. Eight other locations have also been approved for patient recruitment."