Antiandrogen
Abiraterone acetate + prednisone for Prostate Cancer
Michael E. DeBakey Veterans Affairs Medical Center, Houston, TX
Targeting 2 different conditions
Abiraterone Acetate

+1 more
Phase 2
Recruiting
Led by Martha Mims, MD, PhD
Research Sponsored by Martha Mims
Eligibility Criteria Checklist
Specific guidelines that determine who can or cannot participate in a clinical trial
Must have
Patients may have received or plan to receive concurrent bone targeting agents that do not have an effect on PSA (e.g. denosumab or bisphosphonate).
Be older than 18 years old
Must not have
Be younger than 18 years old
Follow Up
treatment start until nadir, or up to 7 months after start of adt if no nadir
All Individual Drugs Already Approved
Approved for 30 Other Conditions
Study Summary
This trial will study how well standard prostate cancer treatments work in different ethnic groups.
Eligibility Criteria
Inclusion Criteria
You will be eligible if you check "Yes" for the criteria below
You are

allowed to take bone-targeting medications

like denosumab or bisphosphonates, as long as they

don't affect your PSA levels

.
Timeline
Screening ~ 3 weeks
3 visits
Follow Up ~ treatment start until 7 months after start of adt
Follow Up ~
treatment start until 7 months after start of adt
This trial's timeline: 3 weeks for screening, Varies for treatment, and treatment start until 7 months after start of adt for reporting.
Treatment Details
Study Objectives
Outcome measures can provide a clearer picture of what you can expect from a treatment.
Secondary outcome measures
Frequency of Potentially Deleterious Polymorphisms
Progression Free Survival
+3 more
Awards & Highlights
All Individual Drugs Already Approved
Therapies where all constituent drugs have already been approved are likely to have better-understood side effect profiles.
Approved for 30 Other Conditions
This treatment demonstrated efficacy for 30 other conditions.
All patients enrolled in this study will receive some form of active treatment.
Trial Design
Group I: Abiraterone acetate + prednisone
Experimental Treatment
2 Interventions
All subjects will receive abiraterone acetate and prednisone, as per standard of care. Abiraterone acetate will be administered orally as 1000 mg once daily along with 5 mg of oral prednisone twice per day. Subjects will continue to take abiraterone acetate and prednisone until confirmed disease progression.
How many patients have taken this drug
Who is running the clinical trial?
Martha Mims, MD, PhD
Principal Investigator - Baylor College of Medicine
Ben Taub General Hospital, CHI St. Luke's Health-Baylor St. Luke's Medical Center, St Luke's Diagnostic Cath Lab LLP
Baylor College Of Medicine (Medical School)
Baylor College Of Medicine (Residency)
Media Library
Abiraterone Acetate (Antiandrogen) Clinical Trial Eligibility Overview. Trial Name: NCT03833921 — Phase 2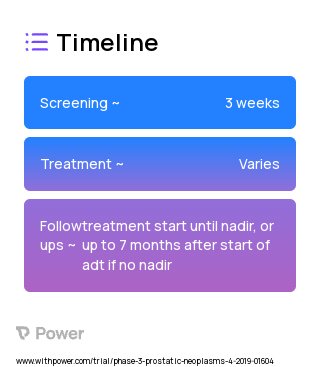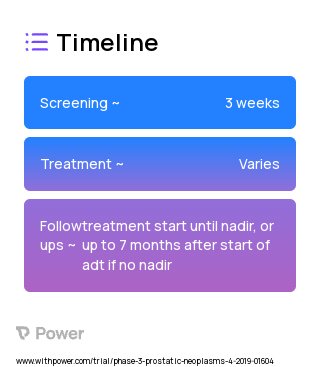 Abiraterone Acetate (Antiandrogen) 2023 Treatment Timeline for Medical Study. Trial Name: NCT03833921 — Phase 2
Frequently Asked Questions
These questions and answers are submitted by anonymous patients, and have not been verified by our internal team.
What are the usual indications for this therapy?
"This medical intervention is not only useful for treating thyroiditis, but can also be effective in combating ulcerative colitis, malignant neoplasms, and varicella-zoster virus acute retinal necrosis."
Are there any open positions for volunteers in this clinical trial?
"That is correct. The clinicaltrials.gov website indicates that this trial, which was initially posted on May 23th 2019 and edited most recently on October 7th 2020, is currently recruiting patients. They are aiming to enroll 130 people from 3 different locations."
How many people can enroll in this research project?
"Yes, the information on clinicaltrials.gov indicates that this trial is recruiting patients. The trial was initially posted on 5/23/2019 and was most recently edited on 10/7/2022. The study is looking for 130 participants at 3 locations."
Is this a common treatment that has been well-researched?
"There are 378 total trials currently running that investigate this treatment, with 101 of those being in Phase 3. Duarte, California has the most studies for this treatment (n=?), but there are 17174 locations worldwide where these studies are taking place."
Has this intervention received the FDA's green light?
"While Phase 2 trials don't have any data supporting efficacy, this treatment still received a score of 2 for safety."