Antiarrhythmic Agent
Magnesium sulfate and then Digoxin for Atrial Fibrillation
Led By Brian H Cuthbertson, MD
Research Sponsored by Sunnybrook Health Sciences Centre
Eligibility Criteria Checklist
Specific guidelines that determine who can or cannot participate in a clinical trial
Must have
Treating physician determines the patient has clinically significant AF that requires medical treatment
Be older than 18 years old
Must not have
Be younger than 18 years old
Study Summary
This trial will compare magnesium sulfate to magnesium sulfate + digoxin to see which is more effective in treating atrial fibrillation.
Eligibility Criteria
Inclusion Criteria
You will be eligible if you check "Yes" for the criteria below
Your doctor has determined that you have a

serious heart condition

called atrial fibrillation (AF) that needs to be treated with medication.
Timeline
Screening ~ 3 weeks
3 visits
This trial's timeline: 3 weeks for screening, Varies for treatment, and 90 days for reporting.
Treatment Details
Study Objectives
Outcome measures can provide a clearer picture of what you can expect from a treatment.
Heart rate control (<110 beats per minute) and/or restoration of normal sinus
Secondary outcome measures
Continuation of trial intervention
+3 more
Awards & Highlights
The final step before approval, pivotal trials feature drugs that have already shown basic safety & efficacy.
All patients enrolled in this study will receive some form of active treatment.
Trial Design
Group I: Experimental arm
Experimental Treatment
1 Intervention
Intravenous magnesium sulphate as first line followed by digoxin IV loading as second line and then amiodarone IV as third line treatments for fast AF
Group II: Standard of care arm
Active Control
1 Intervention
Intravenous amiodarone as compactor group intervention
Who is running the clinical trial?

Sunnybrook Health Sciences Centre
Lead Sponsor
633 Previous Clinical Trials
1,478,137 Total Patients Enrolled
4 Trials studying Atrial Fibrillation
5,735 Patients Enrolled for Atrial Fibrillation
Sunnybrook Research Institute
OTHER
29 Previous Clinical Trials
10,422 Total Patients Enrolled
Brian H Cuthbertson, MD
Principal Investigator
Sunnybrook Health Sciences Centre
Media Library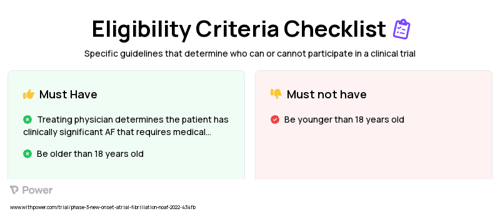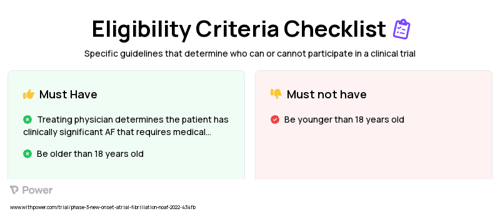 Amiodarone (Antiarrhythmic Agent) Clinical Trial Eligibility Overview. Trial Name: NCT05287191 — Phase 3
Atrial Fibrillation Research Study Groups: Standard of care arm, Experimental arm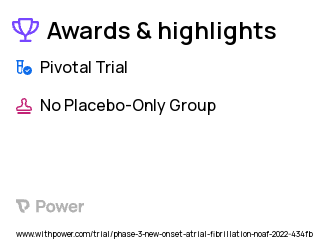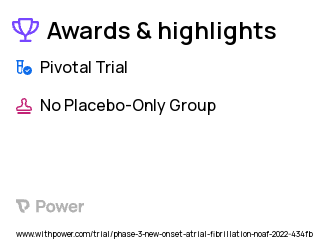 Atrial Fibrillation Clinical Trial 2023: Amiodarone Highlights & Side Effects. Trial Name: NCT05287191 — Phase 3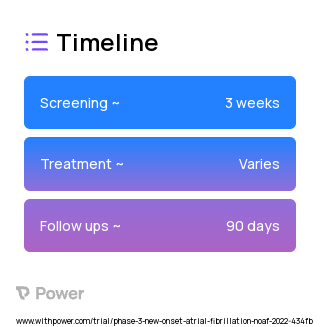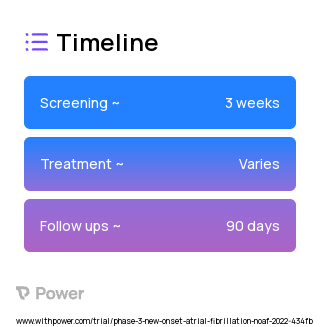 Amiodarone (Antiarrhythmic Agent) 2023 Treatment Timeline for Medical Study. Trial Name: NCT05287191 — Phase 3
Frequently Asked Questions
These questions and answers are submitted by anonymous patients, and have not been verified by our internal team.
Could you please tell me how many people are taking part in this experimental procedure?
"That is accurate. The listing on clinicaltrials.gov says that this trial, which was first posted on January 5th 2022, is currently looking for 200 patients at 1 site."
Has the FDA greenlit the use of Magnesium sulfate in tandem with Digoxin?
"There is some evidence from past trials to support the efficacy of magnesium sulfate and digoxin, so these drugs were given a safety score of 3."