Monoclonal Antibodies
Obinutuzumab for Primary Membranous Nephropathy
Research Sponsored by Hoffmann-La Roche
Eligibility Criteria Checklist
Specific guidelines that determine who can or cannot participate in a clinical trial
Must have
Other inclusion criteria may apply
Be older than 18 years old
Must not have
Be younger than 18 years old
Approved for 50 Other Conditions
All Individual Drugs Already Approved
Study Summary
This trial will compare the effectiveness, safety, and drug properties of two drugs for primary membranous nephropathy, a kidney disease.
Primary Membranous Nephropathy
Eligibility Criteria
Inclusion Criteria
You will be eligible if you check "Yes" for the criteria below
There may be additional requirements for participation that are not listed here.
Timeline
Screening ~ 3 weeks
3 visits
Follow Up ~ up to 8 years
This trial's timeline: 3 weeks for screening, Varies for treatment, and up to 8 years for reporting.
Treatment Details
Study Objectives
Outcome measures can provide a clearer picture of what you can expect from a treatment.
Percentage of Participants who Achieve a Complete Remission (CR) at Week 104
Secondary outcome measures
Change in anti-PLA2R Autoantibody Titer
Incidence of ADAs during the study
+11 more
Side effects data
From 2019 Phase 3 trial • 229 Patients • NCT02264574
23%
Infusion related reaction
16%
Upper respiratory tract infection
12%
Urinary tract infection
7%
Respiratory tract infection
7%
Blood creatine increased
7%
Gastrooesophageal reflux disease
5%
Increased tendency to bruise
3%
Adenocarcinoma of colon
3%
Acute coronary syndrome
2%
Transient ischaemic attack
2%
Cerebrovascular accident
1%
Impaired gastric emptying
1%
Small intestinal obstruction
1%
Catheter site haematoma
1%
Bronchopulmonary aspergillosis
1%
Bursitis infective staphylococcal
1%
Escherichia urinary tract infection
1%
Lower respiratory tract infection
1%
Pneumocystis jirovecii pneumonia
1%
Spinal compression fracture
1%
Thoracic vertebral fracture
1%
Diabetes mellitus inadequate control
1%
Squamous cell carcinoma
1%
Streptococcal bacteraemia
1%
Cardiac failure congestive
1%
Acute myocardial infarction
1%
Inclusion body myositis
1%
Colorectal cancer metastatic
1%
Invasive ductal breast carcinoma
1%
Myelodysplastic syndrome
1%
Non-small cell lung cancer
1%
Depressed level of consciousness
1%
Benign prostatic hyperplasia
Awards & Highlights
Approved for 50 Other Conditions
This treatment demonstrated efficacy for 50 other conditions.
All Individual Drugs Already Approved
Therapies where all constituent drugs have already been approved are likely to have better-understood side effect profiles.
All patients enrolled in this study will receive some form of active treatment.
The final step before approval, pivotal trials feature drugs that have already shown basic safety & efficacy.
Trial Design
Group I: Open Label Treatment: Obinutuzumab
Experimental Treatment
4 Interventions
Participants will be randomized at a 1:1 ratio to receive open-label treatment with obinutuzumab according to region and anti-phospholipase A2 receptor (PLA2R) autoantibody titer (using Euroimmun ELISA).
Group II: Open Label Treatment: Tacrolimus
Active Control
1 Intervention
Participants will be randomized at a 1:1 ratio to receive open-label treatment with tacrolimus according to region and anti-PLA2R autoantibody titer (using Euroimmun ELISA).
How many patients have taken this drug
Who is running the clinical trial?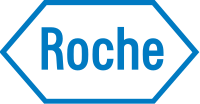 Hoffmann-La Roche
Lead Sponsor
2,406 Previous Clinical Trials
1,079,062 Total Patients Enrolled
Clinical Trials
Study Director
Hoffmann-La Roche
2,183 Previous Clinical Trials
886,610 Total Patients Enrolled
Media Library


Obinutuzumab (Monoclonal Antibodies) Clinical Trial Eligibility Overview. Trial Name: NCT04629248 — Phase 3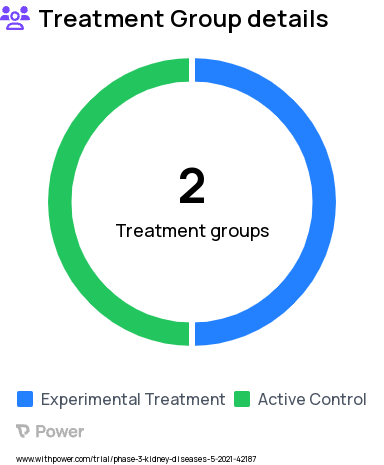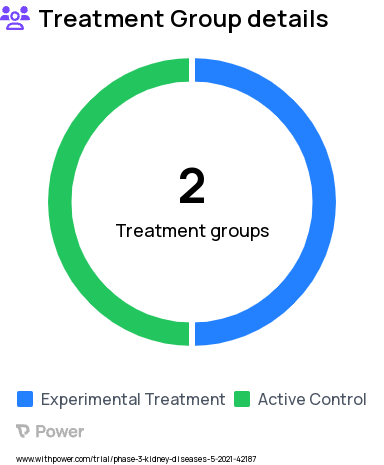 Primary Membranous Nephropathy Research Study Groups: Open Label Treatment: Obinutuzumab, Open Label Treatment: Tacrolimus
Primary Membranous Nephropathy Clinical Trial 2023: Obinutuzumab Highlights & Side Effects. Trial Name: NCT04629248 — Phase 3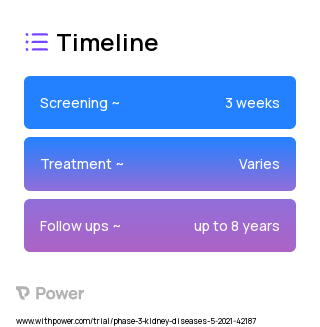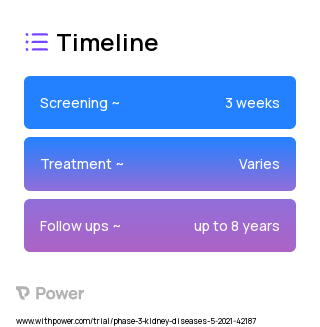 Obinutuzumab (Monoclonal Antibodies) 2023 Treatment Timeline for Medical Study. Trial Name: NCT04629248 — Phase 3
Frequently Asked Questions
These questions and answers are submitted by anonymous patients, and have not been verified by our internal team.
Are we enrolling patients at this time for this research project?
"That is accurate. The clinical trial listed on clinicaltrials.gov is currently seeking patients. The earliest posting date was June 25th, 2021 with the most recent update being October 13th, 2022. A total of 140 patients are needed for the 17 sites participating in the study."
Does this experiment only allow volunteers who are 30 years old or younger?
"According to the study's eligibility requirements, patients must be aged 18 to 75 to participate. Out of the 1,001 total clinical trials, 148 are for patients under 18 and 853 are for patients over 65."
Is Obinutuzumab used more often for treatment or research?
"Obinutuzumab is typically used as a treatment for nephrotic syndrome. However, it can also be effective in treating conditions such as whiplash syndrome, ophthalmia, sympathetic ophthalmia, and scalp structure."
When was Obinutuzumab approved by the FDA?
"There is both efficacy and safety data available for Obinutuzumab, as it has gone through multiple Phase 3 trials. This gives it a score of 3."
Can you estimate how many different medical clinics are running this trial today?
"This clinical study is being conducted out of Penn State Univ. Milton S. Hershey Medical Center in Hershey, Pennsylvania, Accel Research Sites; Mid-Florida Kidney and Hypertension Care in Altamonte Springs, Florida, and North Shore University Hospital in Manhasset, New York. Additionally, there are 17 other locations where this trial is running."
Does my health profile fit the parameters for this experiment?
"This medical study is looking for 140 patients that have been diagnosed with kidney disease. Participants must be between 18-75 years old and meet the following additional criteria: A diagnosis of primary membranous nephropathy (pMN) according to renal biopsy prior to or during screening, Screening urinary protein-to-creatinine ratio (UPCR) >= 5 g/g from 24-hour urine collection after best supportive care for >= 3 months prior to screening or screening UPCR >= 4 g/g after best supportive care for >= 6 months prior to screening, eGFR >= 40 mL/min"
What is the precedent for Obinutuzumab's clinical efficacy?
"There are a total of 494 trials ongoing for Obinutuzumab, with 99 of them being in the critical Phase 3. Most of the research is based in Philadelphia, although there are 12293 total locations running Obinutuzumab trials."
Who else is applying?
What state do they live in?
What portion of applicants met pre-screening criteria?