Tyrosine Kinase Inhibitor
Crizotinib for Non-Small Cell Lung Cancer
Research Sponsored by ECOG-ACRIN Cancer Research Group
Eligibility Criteria Checklist
Specific guidelines that determine who can or cannot participate in a clinical trial
Must have
NOTE: Patients taking low dose methotrexate for non-malignant conditions and other cytotoxic agents for non-malignant conditions are allowed to continue treatment while on study
NOTE: Neo-adjuvant chemotherapy or radiation therapy for the resected lung cancer is not permitted
Must not have
Be younger than 18 years old
All Individual Drugs Already Approved
Approved for 5 Other Conditions
Study Summary
This trial studies crizotinib for patients with stage IB-IIIA NSCLC who have had surgery and have an ALK fusion mutation. Crizotinib may stop the growth of tumor cells by blocking the ALK protein from working.
Stage IIB Non-small Cell Lung Cancer

Lung Cancer

Non-Small Cell Lung Cancer

ALK Gene Rearrangement
Eligibility Criteria
Inclusion Criteria
You will be eligible if you check "Yes" for the criteria below
If you are

taking low-dose methotrexate

or other

cytotoxic agents

to treat

non-cancerous conditions

, you can still participate in the study.
You cannot have

received chemotherapy

or

radiation therapy

before your lung cancer surgery.
You have not had advanced or spreading cancer that required treatment in the last 5 years, except for certain types of skin cancer. Also, you have not had lung cancer that was diagnosed at the same time as another cancer, or within the past 2 years.
You are

not taking any medications or herbal products

that can interfere with the way the study drug works in your body.
Timeline
Screening ~ 3 weeks
3 visits
Follow Up ~ up to 10 years
Follow Up ~
up to 10 years
This trial's timeline: 3 weeks for screening, Varies for treatment, and up to 10 years for reporting.
Treatment Details
Study Objectives
Outcome measures can provide a clearer picture of what you can expect from a treatment.
Secondary outcome measures
Disease free survival (DFS)
Toxicity rates, determined using the Common Terminology Criteria for Adverse Events (CTCAE) version 4.0
Side effects data
From 2020 Phase 3 trial • 207 Patients • NCT01639001
55%
White blood cell count decreased
45%
Alanine aminotransferase increased
35%
Aspartate aminotransferase increased
33%
Neutrophil count decreased
27%
Platelet count decreased
16%
Blood albumin decreased
9%
Red blood cell count decreased
8%
Upper respiratory tract infection
6%
Blood bilirubin increased
6%
Lymphocyte count decreased
4%
Blood alkaline phosphatase increased
4%
Gamma-glutamyltransferase increased
3%
Protein total decreased
1%
Blood creatinine increased
1%
Blood lactate dehydrogenase increased
1%
Transaminases increased
Awards & Highlights
The final step before approval, pivotal trials feature drugs that have already shown basic safety & efficacy.
All Individual Drugs Already Approved
Therapies where all constituent drugs have already been approved are likely to have better-understood side effect profiles.
Approved for 5 Other Conditions
This treatment demonstrated efficacy for 5 other conditions.
All patients enrolled in this study will receive some form of active treatment.
Trial Design
Group I: Arm A (crizotinib)
Experimental Treatment
2 Interventions
Patients receive crizotinib PO BID on days 1-21. Treatment repeats every 21 days for up to 2 years in the absence of disease progression or unacceptable toxicity.
Group II: Arm B (observation)
Active Control
2 Interventions
Patients undergo observation.
How many patients have taken this drug
Who is running the clinical trial?
ECOG-ACRIN Cancer Research Group
Lead Sponsor
111 Previous Clinical Trials
175,316 Total Patients Enrolled

National Cancer Institute (NCI)
NIH
13,412 Previous Clinical Trials
41,238,898 Total Patients Enrolled
David Gerber
Principal Investigator
ECOG-ACRIN Cancer Research Group
1 Previous Clinical Trials
447 Total Patients Enrolled
Media Library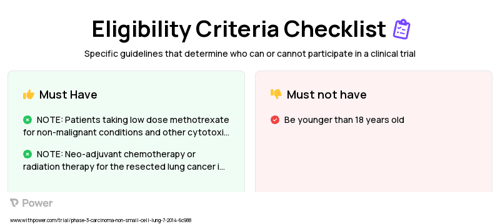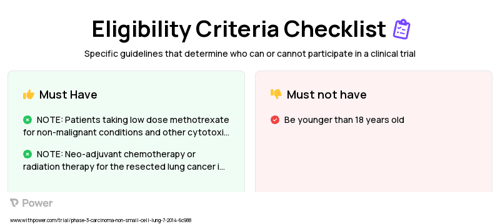 Crizotinib (Tyrosine Kinase Inhibitor) Clinical Trial Eligibility Overview. Trial Name: NCT02201992 — Phase 3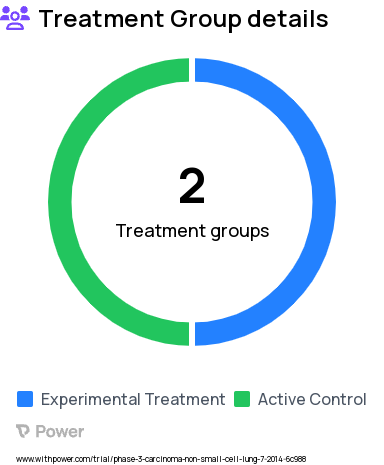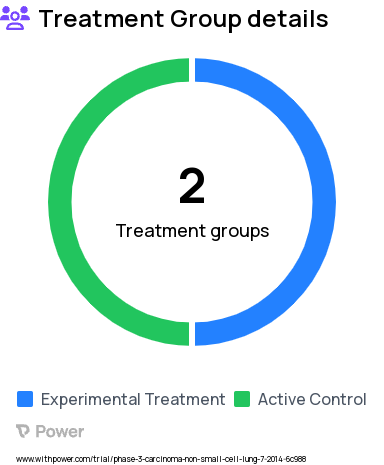 Non-Small Cell Lung Cancer Research Study Groups: Arm A (crizotinib), Arm B (observation)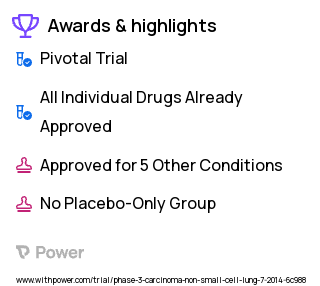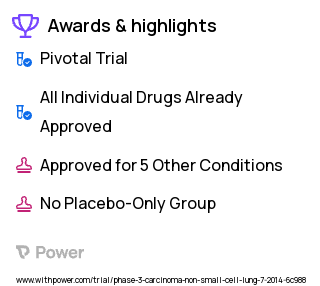 Non-Small Cell Lung Cancer Clinical Trial 2023: Crizotinib Highlights & Side Effects. Trial Name: NCT02201992 — Phase 3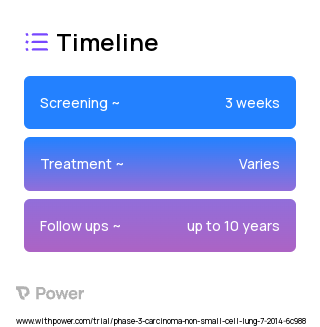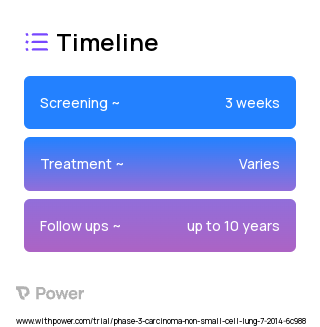 Crizotinib (Tyrosine Kinase Inhibitor) 2023 Treatment Timeline for Medical Study. Trial Name: NCT02201992 — Phase 3
Frequently Asked Questions
These questions and answers are submitted by anonymous patients, and have not been verified by our internal team.
What other efficacy studies have been done on Crizotinib?
"Crizotinib was first studied in 2007 at Surgical Intensive Care Unit Regional Hospital Jessa. As of now, there have been a total of 640 completed clinical trials. Out of these, 69 are active and ongoing, with a majority of these studies taking place in Canandaigua, New York."
Could you please elucidate the risks associated with Crizotinib?
"Crizotinib has been deemed safe by our team at Power. This is due to the fact that it is a Phase 3 trial, which means that there is some data to support its efficacy and multiple rounds of data that support its safety."
How many individuals are being included in this scientific research project?
"168 suitable patients are needed to fill the spots for this trial. Those who meet the requirements and live near one of the participating locations, such as Las Vegas Urology - Smoke Ranch in Canandaigua, New York or OptumCare Cancer Care at MountainView in Hendersonville, North Carolina, are encouraged to apply."
Are people needed for this clinical trial right now?
"That is correct. The online information from clinicaltrials.gov indicates that this research is still looking for 168 individuals from 100 different locations. The trial was originally posted on August 18th, 2014 with the most recent update happening on July 26th, 2022."
Does this clinical trial use any innovative or cutting-edge methods?
"As of now, there are 69 open clinical trials involving Crizotinib in 38 countries and 1221 cities. The very first trial was sponsored by Baxter Healthcare Corporation in 2007. That initial study had 4640 participants and successfully completed Phase 4 drug approval. Since that initial trial, there have been 640 more."
What are the FDA-approved indications for crizotinib?
"Crizotinib is the standard course of treatment for amino acid supplementation therapy. However, this medication can also be used to help patients with renal dysfunction, amino acid supplementation, and kidney failure."
Are there different hospitals in state conducting this research?
"Currently, patients are being enrolled at Las Vegas Urology - Smoke Ranch in Canandaigua, New York, OptumCare Cancer Care at MountainView in Hendersonville, North Carolina, and Sands Cancer Center in Belpre, Ohio. 100 other recruitment sites are also operational."
Who else is applying?
What state do they live in?
What site did they apply to?
Boulder Community Hospital
Anne Arundel Medical Center
Oakland Colon Rectal Associates
What portion of applicants met pre-screening criteria?
How many prior treatments have patients received?