Monoclonal Antibodies
Comprehensive Ablative Radiation Therapy for Neuroendocrine Carcinoma
Memorial Sloan Kettering Cancer Center (All Protocol Activities), New York, NY
Comprehensive Ablative Radiation Therapy

+1 more
Phase 2
Recruiting
Led by Christoper Barker, MD
Research Sponsored by Memorial Sloan Kettering Cancer Center
Eligibility Criteria Checklist
Specific guidelines that determine who can or cannot participate in a clinical trial
Must have
Patients with progression in only one of several responding metastases will not be eligible
Patients with clinical deterioration during aPD1 monotherapy are eligible ≥6 weeks after starting aPD1 therapy
Must not have
Be younger than 18 years old
All Individual Drugs Already Approved
Study Summary
This trial will test whether combining immunotherapy with radiation therapy can effectively treat Merkel cell carcinoma.
Cutaneous Neuroendocrine Carcinoma
Eligibility Criteria
Inclusion Criteria
You will be eligible if you check "Yes" for the criteria below
If your

cancer has spread to different areas

of your body, but only

one area is getting worse

while the others are responding to treatment, you may not be eligible for the study.
If you have been receiving a certain type of treatment called aPD1 therapy and your health has been getting worse, you can join the trial if it has been

at least 6 weeks since you started

that treatment.
All visible areas of your MCC (Merkel cell carcinoma) can be effectively treated with radiation therapy, as determined by the radiation oncologist and principal investigator.
Your organs and bone marrow are working normally.
Timeline
Screening ~ 3 weeks
3 visits
This trial's timeline: 3 weeks for screening, Varies for treatment, and at 12 weeks for reporting.
Treatment Details
Study Objectives
Outcome measures can provide a clearer picture of what you can expect from a treatment.
progression free survival
Secondary outcome measures
Awards & Highlights
All Individual Drugs Already Approved
Therapies where all constituent drugs have already been approved are likely to have better-understood side effect profiles.
All patients enrolled in this study will receive some form of active treatment.
Trial Design
Group I: Avelumab and Radiation Therapy
Experimental Treatment
2 Interventions
Will receive avelumab at the FDA approved dose and schedule of 800 mg IV over 60 minutes every 2 weeks (+/- 3 days) until treatment intolerance or disease progression occurs or 2 years of study therapy have been administered; standard of care Avelumab therapy after 2 years is permitted. Comprehensive Ablative Radiation Therapy (CART) will be initiated between the first and second dose of Avelumab. Comprehensive ablative radiation therapy will be given according to guidelines.
How many patients have taken this drug
Who is running the clinical trial?
Memorial Sloan Kettering Cancer Center
Lead Sponsor
1,878 Previous Clinical Trials
585,087 Total Patients Enrolled
EMD Serono
Industry Sponsor
139 Previous Clinical Trials
25,820 Total Patients Enrolled
Christoper Barker, MD
Principal Investigator
Memorial Sloan Kettering Cancer Center
Media Library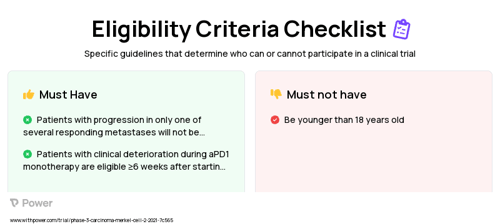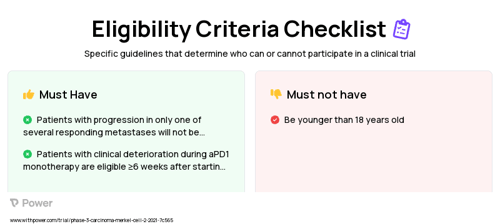 Avelumab (Monoclonal Antibodies) Clinical Trial Eligibility Overview. Trial Name: NCT04792073 — Phase 2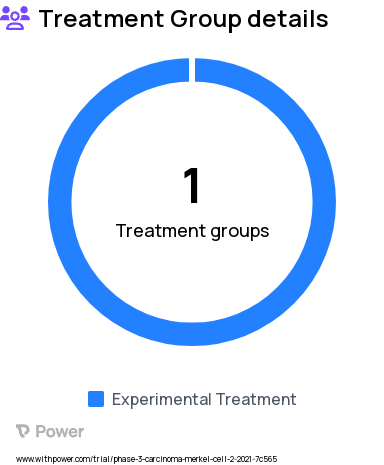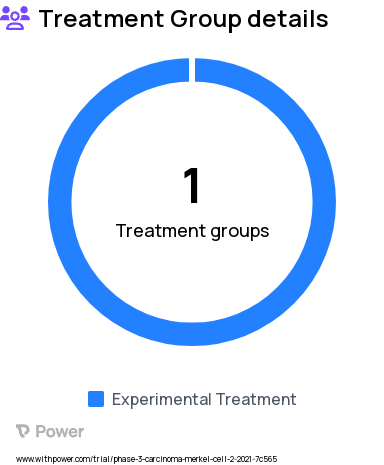 Neuroendocrine Carcinoma Research Study Groups: Avelumab and Radiation Therapy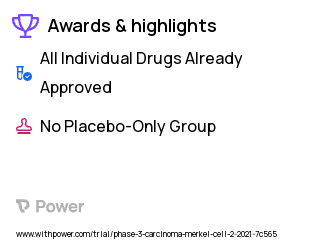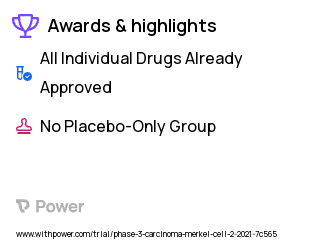 Neuroendocrine Carcinoma Clinical Trial 2023: Avelumab Highlights & Side Effects. Trial Name: NCT04792073 — Phase 2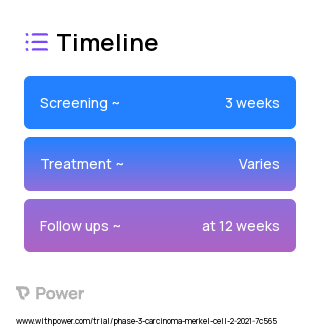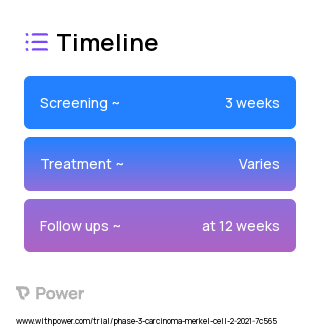 Avelumab (Monoclonal Antibodies) 2023 Treatment Timeline for Medical Study. Trial Name: NCT04792073 — Phase 2
Frequently Asked Questions
These questions and answers are submitted by anonymous patients, and have not been verified by our internal team.
Could you explain what risks are associated with Comprehensive Ablative Radiation Therapy?
"While Phase 2 trials lack the data to support efficacy, there is some evidence that Comprehensive Ablative Radiation Therapy is safe. Thus, we give it a score of 2."
Are there any slots left for volunteers in this experiment?
"This is accurate. Based on the information available from clinicaltrials.gov, this study posted on 3/8/2021 and last updated 9/21/2022 is looking for 18 participants to be enrolled at 7 different locations."
What percentage of hospitals are participating in this research?
"7 different locations, including ones in Basking Ridge, Commack and New York, are currently enrolling patients for this study. To reduce the amount of travelling required, please select the closest location to you."
How many men and women are enrolled in this research project?
"The clinical trial is currently ongoing, as reflected by the data on clinicaltrials.gov. It began on 3/8/2021 and was updated most recently on 9/21/2022. The study needs 18 participants who can be found at 7 sites."
Have there been other tests like this one in the past?
"There have been a total of 47 clinical trials for Comprehensive Ablative Radiation Therapy since 2014. The most recent study is still active, having begun in 2020. A total of 116 studies are currently underway across 1024 cities and 52 countries."
What other medical studies have there been on Comprehensive Ablative Radiation Therapy?
"At the moment, there are a total of 116 ongoing clinical trials for Comprehensive Ablative Radiation Therapy (CAR-T). 10 of these live trials are currently in Phase 3. The majority of studies related to CAR-T are based in Barcelona and South Dakota; however, there are 3692 locations worldwide where these trials are taking place."