1 for Tick-borne Diseases
National Institutes of Health Clinical Center, Bethesda, MD
Targeting 3 different conditions
blood draw

+2 more
Phase 1 & 2
Recruiting
Led by Adriana R Marques, M.D.
Research Sponsored by National Institute of Allergy and Infectious Diseases (NIAID)
Eligibility Criteria Checklist
Specific guidelines that determine who can or cannot participate in a clinical trial
Must have
Be older than 18 years old
Must not have
Be younger than 18 years old
Study Summary
This trial will help researchers learn more about how people's bodies respond to tick bites, which could lead to the development of vaccines against ticks in the future.
Tick-borne Diseases

Tick Resistance

Lyme Disease
Eligibility Criteria
Inclusion Criteria
You will be eligible if you check "Yes" for the criteria below
You have

not been bitten by a tick before

.
Timeline
Screening ~ 3 weeks
3 visits
This trial's timeline: 3 weeks for screening, Varies for treatment, and continuous for reporting.
Treatment Details
Study Objectives
Outcome measures can provide a clearer picture of what you can expect from a treatment.
Assessment of Safety of the device. Use toxicity tables and safety monitoring as specified in the protocol.
Develop a model of acquired tick resistance in humans. Use validated pruritus scales, numerical rating system, verbal rating system, and visual analogue system.
Secondary outcome measures
Exploratory: Analyze gene expression of Ixodes scapularis after feeding on humans using RNASeq.
Exploratory: Analyze the evolution of the systemic immune response to tick bite by measuring antibodies response (ELISA and western blot) against Ixodes scapularis salivary protein antigens.
Exploratory: Compare early and late immune response in skin after Ixodes scapularis bite. Use RNASeq, histology, immunohistochemistry, digital spatial profiling to explore.
+1 more
Awards & Highlights
All patients enrolled in this study will receive some form of active treatment.
Trial Design
Group I: 1
Active Control
3 Interventions
Logistics
Participation is compensated
You will be compensated for participating in this trial.
Who is running the clinical trial?

National Institute of Allergy and Infectious Diseases (NIAID)
Lead Sponsor
3,217 Previous Clinical Trials
5,325,073 Total Patients Enrolled
Adriana R Marques, M.D.
Principal Investigator
National Institute of Allergy and Infectious Diseases (NIAID)
9 Previous Clinical Trials
2,911 Total Patients Enrolled
Media Library


1 Clinical Trial Eligibility Overview. Trial Name: NCT05036707 — Phase 1 & 2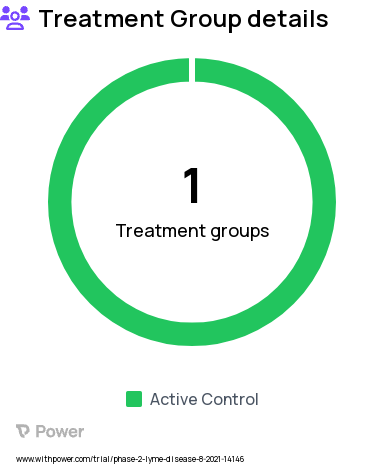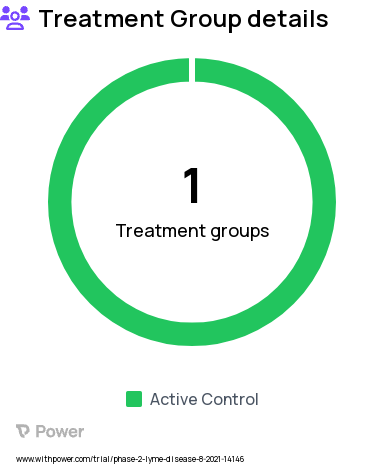 Tick-borne Diseases Research Study Groups: 1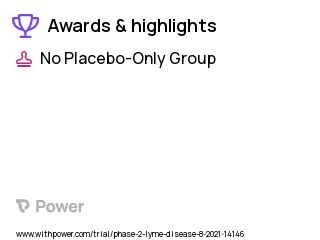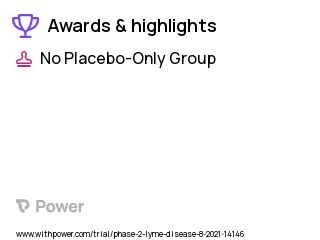 Tick-borne Diseases Clinical Trial 2023: 1 Highlights & Side Effects. Trial Name: NCT05036707 — Phase 1 & 2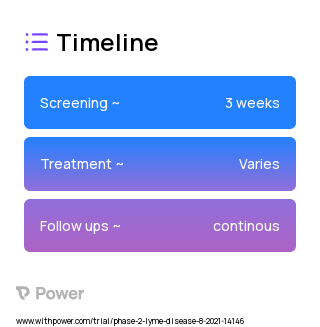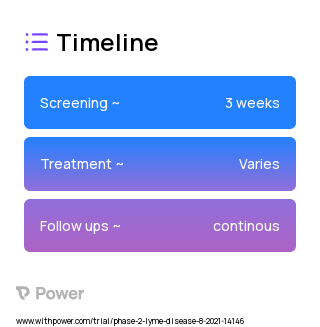 1 2023 Treatment Timeline for Medical Study. Trial Name: NCT05036707 — Phase 1 & 2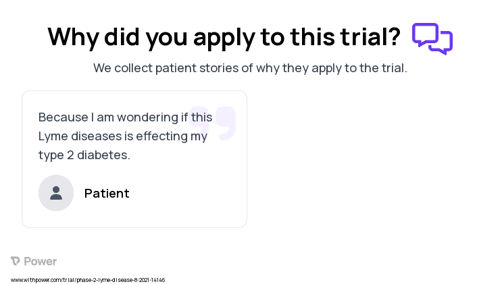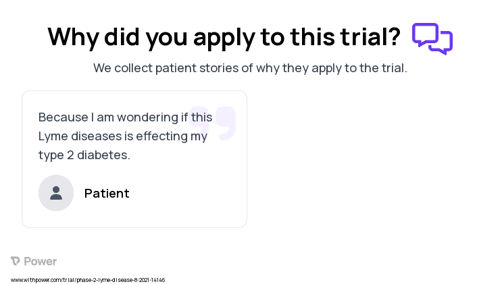 Tick-borne Diseases Patient Testimony for trial: Trial Name: NCT05036707 — Phase 1 & 2
Frequently Asked Questions
These questions and answers are submitted by anonymous patients, and have not been verified by our internal team.
What objectives is this research endeavor striving to realize?
"This clinical trial aims to assess the safety of a particular device. Safety monitoring and toxicity tables will be used as per protocol, while its secondary objectives are exploratory in nature. Specifically, these include determining the effects of multiple tick feedings on local immune responses at bite sites; comparing changes between early and late cellular recruitment following 1st and 3rd exposures; analysing how systemic immunity develops after Ixodes scapularis bites by measuring antibody response against salivary protein antigens; and exploring skin biopsies collected at Day 1 & 4 for potential differences in their early-to-late immune reactions. Results from this study"
To what extent has this research garnered participation?
"Affirmative. Clinicaltrials.gov's records indicate that this medical research, which was initially publicized on September 14th 2021 is actively enrolling participants. 60 people need to be recruited from a single site."
Are there any available places in this research project for participants?
"Affirmative, clinicaltrials.gov displays that this medical trial is in need of participants. It was first published on September 14th 2021 and has been recently revised on the 8th of the same month. There are 60 vacancies to be filled at one site only."
Who else is applying?
What state do they live in?
What site did they apply to?
National Institutes of Health Clinical Center
What portion of applicants met pre-screening criteria?
How many prior treatments have patients received?
Why did patients apply to this trial?
Because I am wondering if this Lyme diseases is effecting my type 2 diabetes.
What questions have other patients asked about this trial?
Once we travel to your location where do we stay hotel or do you have a campus' ?
How long does the study take? How long do the visits at NIH take? How many visits to NIH will be required? Will NIH reemburse me for gasoline and parking? Will I get the results of the study when it is over?
How responsive is this trial?
Most responsive sites:
National Institutes of Health Clinical Center: < 48 hours
Recent research and studies