Your session is about to expire
We'll log you out in 60 seconds unless you choose to continue
← Back to Search
Psychedelic
Psilocybin for Methamphetamine Addiction
Led By Christopher Nicholas, PhD
Research Sponsored by University of Wisconsin, Madison
Eligibility Criteria Checklist
Specific guidelines that determine who can or cannot participate in a clinical trial
Must have
Diagnosis of methamphetamine use disorder with meth use reported for less than 16 days in the past month
Be older than 18 years old
Must not have
Be younger than 18 years old
Study Summary
This trial is testing whether psilocybin can help with meth addiction and will last 26 weeks.
Methamphetamine Addiction

Substance Use Disorders

Chemically-Induced Disorders

Substance Use Disorder

Stimulant Use Disorder
Eligibility Criteria
Inclusion Criteria
You will be eligible if you check "Yes" for the criteria below
Timeline
Screening ~ 3 weeks
3 visits
Follow Up ~ up to 26 weeks
Follow Up ~
up to 26 weeks
This trial's timeline: 3 weeks for screening, Varies for treatment, and up to 26 weeks for reporting.
Treatment Details
Study Objectives
Outcome measures can provide a clearer picture of what you can expect from a treatment.
Incidence of serious adverse events associated with oral psilocybin
Secondary outcome measures
Functional changes in psychedelic and addiction-related neurocircuitry using functional magnetic resonance imaging.
Number of participants who complete at least one dose of psilocybin
+1 more
Changes in addiction-related constructs
Side effects data
From 2021 Phase 2 trial • 95 Patients • NCT02061293
4%
Upper respiratory tract infection
4%
Viral upper resp. tract infection
2%
Blood pressure diastolic increased
2%
Blood pressure increased
2%
Psychomotor hyperactivity
2%
Alcohol withdrawal syndrome
2%
Skin cosmetic procedure
Study treatment Arm
Psilocybin
Diphenhydramine
Awards & Highlights
All patients enrolled in this study will receive some form of active treatment.
Trial Design
Group I: Oral Psilocybin
Experimental Treatment
1 Intervention
Psilocybin with psychological support: Psilocybin will be administered in the form of capsules, taken orally with water. Each participant will receive 2 doses, approximately 4 weeks apart.
How many patients have taken this drug
Who is running the clinical trial?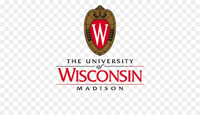 University of Wisconsin, Madison
Lead Sponsor
1,140 Previous Clinical Trials
2,946,031 Total Patients Enrolled
Revive Therapeutics, Ltd.
Industry Sponsor
3 Previous Clinical Trials
809 Total Patients Enrolled
Christopher Nicholas, PhD
Principal Investigator
University of Wisconsin, Madison
1 Previous Clinical Trials
Media Library
Eligibility Criteria:
This trial includes the following eligibility criteria:
You have used methamphetamine in the past month.

You have a past of heart transplant or stroke.

You are currently taking medications that may interfere with the psilocybin treatment and cannot or do not want to stop taking them.

You are currently experiencing heart problems like chest pain or heart attack.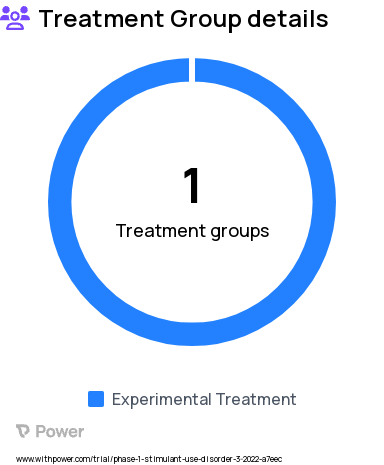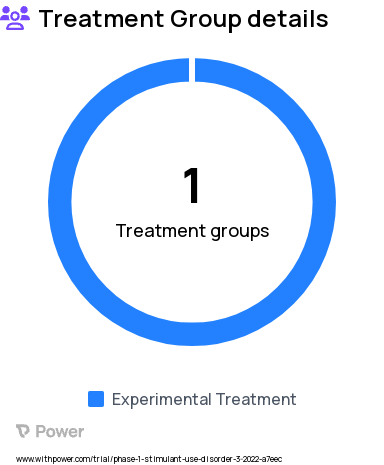 Research Study Groups:
This trial has the following groups: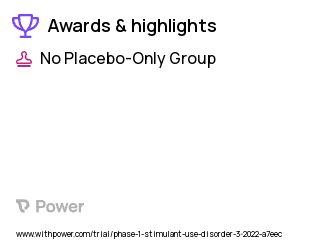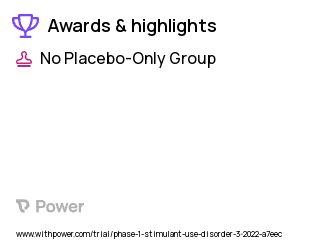 Awards:
This trial has 1 awards, including:
No Placebo-Only Group - All patients enrolled in this study will receive some form of active treatment.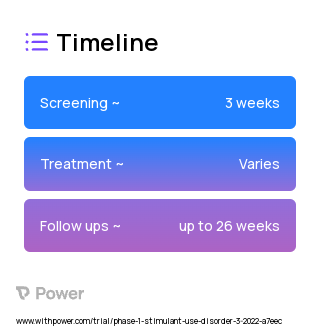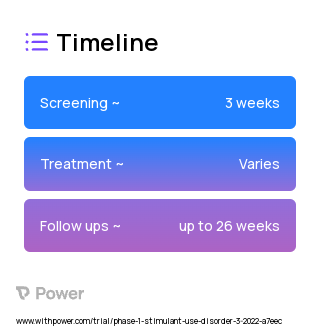 Timeline:
This trial has the following timeline:
Screening: It may take up to 3 Weeks to process to see if you qualify in this trial.
Treatment: The duration you will receive the treatment varies.
Follow Ups: You may be asked to continue sharing information regarding the trial for 6 Months after you stop receiving the treatment.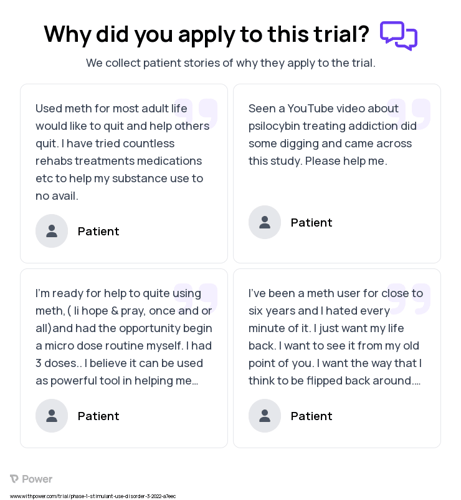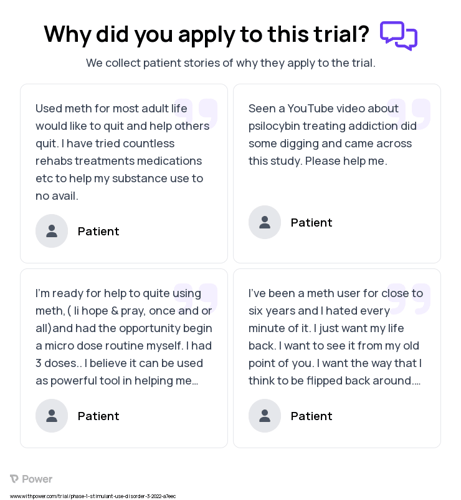 Methamphetamine Addiction Patient Testimony for trial: Trial Name: NCT05322954 — Phase 1
Frequently Asked Questions
These questions and answers are submitted by anonymous patients, and have not been verified by our internal team.
Is the enrollment phase of this research endeavor still open?
"Reports on clinicaltrials.gov indicate that this specific trial, which had its first post date of December 1st 2022 and final edit as November 8th 202 is no longer enrolling patients. However, there are 1190 other trials in search for participants at the present moment."
Who meets the requirements for inclusion in this experiment?
"To be eligible for this medical trial, individuals must have a documented history of substance abuse and fall within the required age-range (25 to 65). The research team is seeking approximately 12 participants."
How reliable is Psilocybin in protecting people from harm?
"The safety of Psilocybin is rated 1 on a scale from 1 to 3 due to the fact that this is only in its first phase of testing with limited data available for efficacy and safety."
Is the minimum age requirement for this research 18 years or older?
"The criteria for this medical trial mandates that applicants be between 25 and 65 years of age. For those under 18 or over 65, there are 314 studies and 797 studies respectively catered towards them."
Who else is applying?
What state do they live in?
What site did they apply to?
What portion of applicants met pre-screening criteria?
How many prior treatments have patients received?
Why did patients apply to this trial?
I want to quit. Used meth for most adult life would like to quit and help others quit.
Patient
Received no prior treatments
I have tried countless rehabs treatments medications etc to help my substance use to no avail.
Patient
Received 2+ prior treatments
Seen a YouTube video about psilocybin treating addiction did some digging and came across this study. Please help me.
Patient
Received 1 prior treatment
Because I just want to be sober I haven't done many other drugs and I've tried everything to get sober it works until it doesn't and I want to be happy sober.
Patient
Received no prior treatments
What questions have other patients asked about this trial?
When can I start?
Patient
Received no prior treatments
How responsive is this trial?
Most responsive sites:
University of Wisconsin: < 24 hours
Share this study with friends