Study Summary
This trial is testing a combination of two drugs to treat patients with pancreatic cancer that has spread to other parts of the body. The first drug, binimetinib, works by blocking some of the enzymes needed for cell growth. The second drug, hydroxychloroquine, may prevent a process called autophagy, where cells destroy proteins and other substances. Autophagy may protect tumor cells by destroying anticancer drugs or substances taken up by them. Giving hydroxychloroquine together with binimetinib may work better in treating patients with pancreatic cancer compared to binimetinib alone.
Stage IV Pancreatic Cancer

Pancreatic Cancer Metastatic
Study Objectives
1 Primary · 4 Secondary · Reporting Duration: Up to 1 year
Effect of this binimetinib/hydroxychloroquine treatment on changes in muscle and fat mass
Incidence of adverse events
Progression free survival
Somatic gene mutation profile
Maximum tolerated dose (MTD)
Trial Design
1 Treatment Group
Treatment (binimetinib, hydroxychloroquine)
1 of 1
39 Total Participants · 1 Treatment Group
Primary Treatment: Binimetinib · No Placebo Group · Phase 1
Treatment (binimetinib, hydroxychloroquine)
Experimental Group · 2 Interventions: Binimetinib, Hydroxychloroquine · Intervention Types: Drug, Drug
How many patients have taken this drug
Who is running the clinical trial?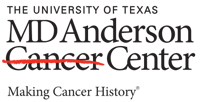 M.D. Anderson Cancer Center
Lead Sponsor
2,824 Previous Clinical Trials
1,792,499 Total Patients Enrolled

National Cancer Institute (NCI)
NIH
13,150 Previous Clinical Trials
41,161,621 Total Patients Enrolled
Shubham Pant
Principal Investigator
M.D. Anderson Cancer Center
3 Previous Clinical Trials
137 Total Patients Enrolled
Eligibility Criteria
Age 18+ · All Participants · 0 Total Inclusion Criteria
Mark "Yes" if the following statements are true for you:
Frequently Asked Questions
Are there still opportunities available to participants in this research trial?
"According to clinicaltrials.gov, this research is actively seeking participants. Initially posted on October 22nd 2019 and most recently updated on July 13th 2022, the trial is open for enrollment now." - Anonymous Online Contributor
What is the maximum capacity of participants for this trial?
"Affirmative. The details on clinicaltrials.gov suggest that this trial is currently enrolling participants, having been first posted in October of 2019 and last updated in July 2022. 39 individuals are being recruited from a single research centre for the study." - Anonymous Online Contributor
Has Binimetinib been granted authorization by the FDA?
"Due to the preliminary nature of Binimetinib's clinical data, our team assessed it with a score of 1. This is in keeping with Phase 1 trials which provide limited evidence regarding safety and efficacy." - Anonymous Online Contributor
What maladies is Binimetinib typically used to treat?
"Binimetinib is a popular therapeutic option for metastatic melanoma and other diseases such as unresectable melanoma, malaria, sjögren's syndrome." - Anonymous Online Contributor
What other investigations have been conducted regarding Binimetinib's efficacy?
"Presently, there are 121 trials exploring the potential of Binimetinib with 10 being in Phase 3. Although Cambridge is home to the majority of these experiments, 3857 different centres globally have active clinical trials relating to this drug." - Anonymous Online Contributor
Please Note: These questions and answers are submitted by anonymous patients, and have not been verified by our internal team.