Vancomycin powder for Osteoarthritis
Led By Ran Schwarzkopf, MD
Research Sponsored by NYU Langone Health
Eligibility Criteria Checklist
Specific guidelines that determine who can or cannot participate in a clinical trial
Must have
Be older than 18 years old
Must not have
Be younger than 18 years old
Approved for 5 Other Conditions
All Individual Drugs Already Approved
Study Summary
This trial will compare different ways to prevent joint infections after surgery.
Timeline
Screening ~ 3 weeks
3 visits
This trial's timeline: 3 weeks for screening, Varies for treatment, and 90 days for reporting.
Treatment Details
Study Objectives
Outcome measures can provide a clearer picture of what you can expect from a treatment.
Rate of periprosthetic infection (PJI) after elective total joint arthroplasty.
Awards & Highlights
All patients enrolled in this study will receive some form of active treatment.
Approved for 5 Other Conditions
This treatment demonstrated efficacy for 5 other conditions.
All Individual Drugs Already Approved
Therapies where all constituent drugs have already been approved are likely to have better-understood side effect profiles.
Trial Design
Group I: Povidone iodine and vancomycin powder
Experimental Treatment
2 Interventions
Group II: Povidone iodine alone
Experimental Treatment
1 Intervention
Group III: Conventional
Active Control
1 Intervention
neither povidone iodine, vancomycin powder, nor polymyxin/bacitracin irrigation
Group IV: Vancomycin powder alone
Active Control
1 Intervention
How many patients have taken this drug
Who is running the clinical trial?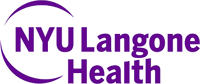 NYU Langone Health
Lead Sponsor
1,326 Previous Clinical Trials
738,585 Total Patients Enrolled
17 Trials studying Osteoarthritis
1,979 Patients Enrolled for Osteoarthritis
Ran Schwarzkopf, MD
Principal Investigator
NYU Langone
4 Previous Clinical Trials
760 Total Patients Enrolled
1 Trials studying Osteoarthritis
230 Patients Enrolled for Osteoarthritis
Media Library


Conventional Clinical Trial Eligibility Overview. Trial Name: NCT04075526 — Phase 1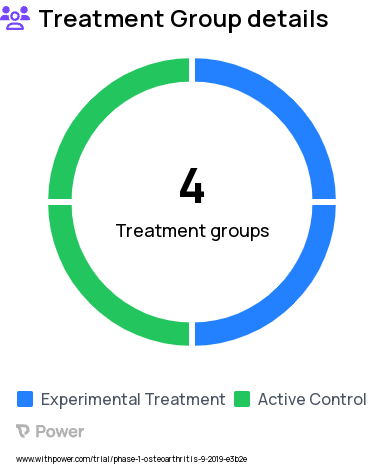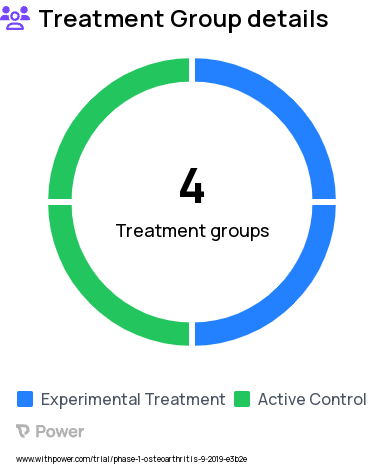 Osteoarthritis Research Study Groups: Conventional, Vancomycin powder alone, Povidone iodine and vancomycin powder, Povidone iodine alone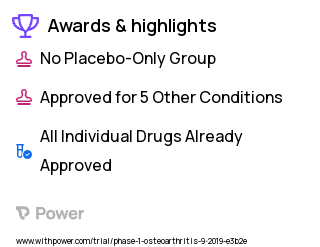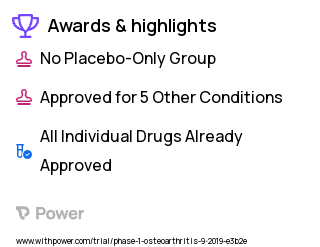 Osteoarthritis Clinical Trial 2023: Conventional Highlights & Side Effects. Trial Name: NCT04075526 — Phase 1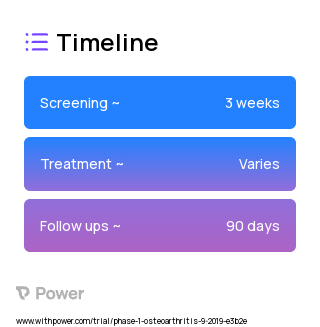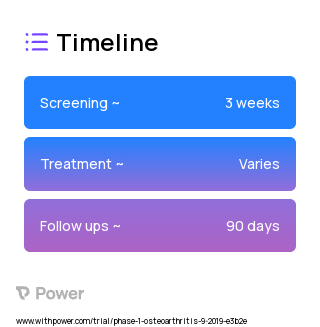 Conventional 2023 Treatment Timeline for Medical Study. Trial Name: NCT04075526 — Phase 1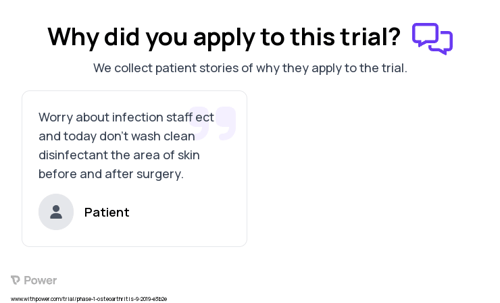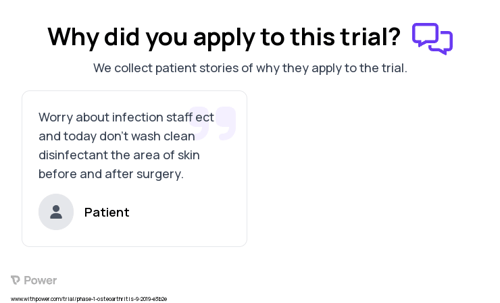 Osteoarthritis Patient Testimony for trial: Trial Name: NCT04075526 — Phase 1
Frequently Asked Questions
These questions and answers are submitted by anonymous patients, and have not been verified by our internal team.
Can more people still join this research project?
"The trial is currently still recruiting patients, according to the information on clinicaltrials.gov. This particular study was originally posted on October 1st, 2019 and updated as recently as February 25th, 2022."
Does this research opportunity have an age limit?
"As long as they are between 18-100 years old, patients of any age can participate in this trial."
What are some common off-label uses for Vancomycin powder?
"Vancomycin powder is the standard of care for preparting the periocular region before therapy. Additionally, Vancomycin powder has been shown to be useful in treating other conditions such as irrigation and cdad."
Has the Vancomycin powder gone through testing by the FDA?
"Since this is a Phase 1 trial, there is only limited data to support the Vancomycin powder's safety."
Are there any restrictions for who is able to participate in this research project?
"This large-scale clinical trial aims to enroll 10,000 patients aged 18 and 100 who are suffering from arthrosis. Eligible applicants will meet the following high-risk criteria for developing PJI: BMI >35, active smoker, ASA ≥ 3, immunosuppressed (i.e. being treated with chemotherapy, diagnosis of HIV, diagnosis of HCV, being treated with chronic steroids, patients with inflammatory arthropathies), diagnosis with diabetes mellitus, established colonization with S. aureus, or any patient undergoing revision TJA. Additionally, eligible candidates cannot have active infection on the operative leg or joint"
How many different medical clinics are running this study today?
"There are currently 14 enrolling patients for this trial at locations such as Centura Health in Denver, Boston Medical Center in Chicago and Rush University Medical Center in Sparta. There are also other sites located throughout the country."
How many individuals are included in this experimental research?
"In order to obtain accurate results, this study requires the participation of 10,000 individuals that meet the pre-specified requirements. Centura Health in Denver and Boston Medical Center in Chicago are two of the many hospitals where patients can take part in this trial."
Does Vancomycin powder have a long history of being studied in humans?
"The first clinical trial studying vancomycin powder was conducted in 2010 at Sacramento Pediatric Gastroenterology. As of now, there have been a total 234 completed trials and 71 active ones. A high concentration of these active studies are based in Denver, Colorado."
Who else is applying?
What state do they live in?
What site did they apply to?
New England Baptist Hospital
What portion of applicants met pre-screening criteria?
How many prior treatments have patients received?
Why did patients apply to this trial?
Worry about infection staff ect and today don't wash clean disinfectant the area of skin before and after surgery.