Psychedelic
Psilocybin High Dose for Cluster Headache
VA Connecticut Healthcare System, West Haven, CT
0.0143 mg/kg Psilocybin or 1 mg Psilocybin

+2 more
Phase 1
Waitlist Available
Research Sponsored by Yale University
Eligibility Criteria Checklist
Specific guidelines that determine who can or cannot participate in a clinical trial
Must have
Chronic cluster headache with at least one attack daily
Attacks are managed by means involving no more than twice weekly triptan use (e.g., high-flow oxygen, heat/cold pack)
Must not have
Be younger than 18 years old
Follow Up
six months following the completion of pulse regimen (after completion of experimental sessions 1, 2, and 3)
Study Summary
This trial is testing whether psilocybin, a compound found in some mushrooms, can help treat cluster headaches. People with cluster headaches will be given either a placebo or psilocybin in three sessions, separated by 5 days. They will keep a headache diary before, during, and after the sessions. After at least 6 months from the last session, they may be invited back for a second round of the trial.
Eligibility Criteria
Inclusion Criteria
You will be eligible if you check "Yes" for the criteria below
You have

cluster headaches

that

occur at least once a day

and have been

going on for a long time

.
You manage your attacks with methods that use triptan medication

no more than twice a week

, such as high-flow oxygen or heat/cold packs.
You suffer from a type of headache called

episodic cluster headache

that occurs in

predictable periods lasting about 2 months

.
Timeline
Screening ~ 3 weeks
3 visits
Follow Up ~ two months following the completion of pulse regimen (after completion of experimental sessions 1, 2, and 3)
Follow Up ~
two months following the completion of pulse regimen (after completion of experimental sessions 1, 2, and 3)
This trial's timeline: 3 weeks for screening, Varies for treatment, and two months following the completion of pulse regimen (after completion of experimental sessions 1, 2, and 3) for reporting.
Treatment Details
Study Objectives
Outcome measures can provide a clearer picture of what you can expect from a treatment.
Change in cluster period duration compared to typical cluster period (episodic subjects only)
Change in duration of attacks
Change in frequency of attacks
+6 more
Secondary outcome measures
Trial Design
Group I: Psilocybin High Dose
Active Control
1 Intervention
Group II: Psilocybin Low Dose
Active Control
1 Intervention
Group III: Placebo
Placebo Group
1 Intervention
Who is running the clinical trial?
Cluster Headache-Trigeminal Autonomic Cephalalgia (CH-TAC), LLC
UNKNOWN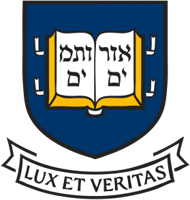 Yale University
Lead Sponsor
1,760 Previous Clinical Trials
2,689,418 Total Patients Enrolled
Heffter Research Institute
OTHER
13 Previous Clinical Trials
486 Total Patients Enrolled
Ceruvia Lifesciences
UNKNOWN
1 Previous Clinical Trials
14 Total Patients Enrolled
Media Library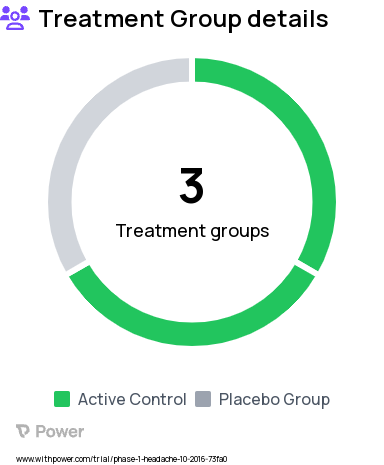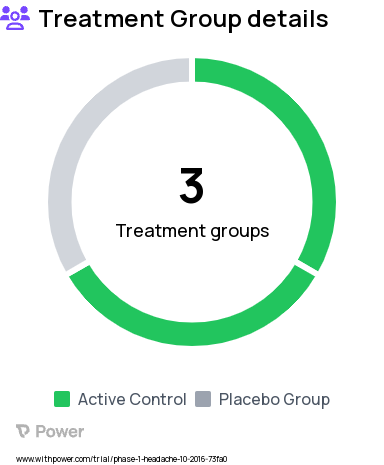 Cluster Headache Research Study Groups: Psilocybin High Dose, Psilocybin Low Dose, Placebo
Frequently Asked Questions
These questions and answers are submitted by anonymous patients, and have not been verified by our internal team.
What is the target enrollment for this research investigation?
"This trial has now concluded its recruitment phase. It was originally posted on November 1st 2016 and received its last update on July 27th 2022. If you are looking for further studies, 135 clinical trials related to cluster headache and 33 involving Psilocybin High Dose are currently accepting participants."
Who is eligible to volunteer for this clinical trial?
"This research is seeking 24 people aged 21 to 65 that suffer from cluster headache. The accepted participants must also be managing their symptoms with no more than two triptan treatments a week (including high-flow oxygen, heat/cold pack) and have at least one attack daily."
What prior investigations have investigated the efficacy of high doses of Psilocybin?
"Currently, 33 clinical trials researching the utility of Psilocybin High Dose are in progress. None have moved to Phase 3 yet. Most of these studies take place in Vancouver, Washington but 36 different sites are conducting them overall."
Is this study open to participants aged 25 and over?
"This research is accepting any patient of legal age (21+) and who are below 65 years old."
What are the objectives of this clinical endeavor?
"This clinical trial aims to evaluate the alteration in frequency of attacks, with assessments held between two weeks before and two months after completion for each pulse regimen. Secondary objectives will measure maximum change from baseline during experimental sessions (beats per minute), Health-Related Quality of Life using CDC's HRQOL scale, and utilization of abortive/rescue medication measured by number of times employed weekly."
Is enrollment available for this research trial?
"As indicated on clinicaltrials.gov, this medical experiment is not presently seeking participants; however, it was initially posted on November 1st 2016 and last edited July 27th 2022. Fortunately, 168 other trials are currently open to enrollment at the present moment."
What risks are associated with taking a high dose of psilocybin?
"Considering the early stages of development, our team at Power assigns a score of 1 to Psilocybin High Dose due to limited clinical data supporting safety and efficacy."
Who else is applying?
What state do they live in?
What site did they apply to?
VA Connecticut Healthcare System
What portion of applicants met pre-screening criteria?
How many prior treatments have patients received?
Why did patients apply to this trial?
How responsive is this trial?
Most responsive sites:
VA Connecticut Healthcare System: < 24 hours