Behavioral Intervention
Dialectical behavioral therapy for Type 2 Diabetes
University of Calgary, Calgary, Canada
Targeting 2 different conditions
Dialectical behavioral therapy

+1 more
N/A
Waitlist Available
Research Sponsored by University of Manitoba
Eligibility Criteria Checklist
Specific guidelines that determine who can or cannot participate in a clinical trial
Must have
signs of mild-moderate depression (PHQ-9 score 5-19)
Be younger than 18 years old
Must not have
Be older than 18 years old
Follow Up
one week at week 16 and week 32
Study Summary
This trial is testing a new therapy to help improve quality of life and weight management in youth at risk for type 2 diabetes.
Prevention

Type 2 Diabetes
Eligibility Criteria
Inclusion Criteria
You will be eligible if you check "Yes" for the criteria below
You have

mild to moderate depression

, as measured by a questionnaire called the

PHQ-9

, with a

score between 5 and 19

.
Timeline
Screening ~ 3 weeks
3 visits
Follow Up ~ one week at week 16 and week 32
Follow Up ~
one week at week 16 and week 32
This trial's timeline: 3 weeks for screening, Varies for treatment, and one week at week 16 and week 32 for reporting.
Treatment Details
Study Objectives
Outcome measures can provide a clearer picture of what you can expect from a treatment.
Adherence to the intervention
Retention for follow up measurements
Secondary outcome measures
Barriers for lifestyle change
DBT benefits and challenges
+3 more
Awards & Highlights
All patients enrolled in this study will receive some form of active treatment.
Trial Design
Group I: Lifestyle alone
Experimental Treatment
1 Intervention
Participants will receive 2 lifestyle sessions per week, one 90 minutes in length and the other 60 minutes for 16 weeks.
Group II: DBT + lifestyle
Experimental Treatment
2 Interventions
Participants will receive 90 minutes of dialectical behavioral therapy and 60 minutes of lifestyle sessions each week for 16 weeks.
Group III: Control
Active Control
1 Intervention
Participants will be included in baseline, endpoint and follow up measurements, but will receive no form of intervention.
How many patients have taken this drug
Dialectical behavioral therapy
Who is running the clinical trial?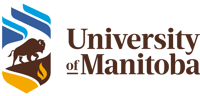 University of Manitoba
Lead Sponsor
565 Previous Clinical Trials
194,658 Total Patients Enrolled
7 Previous Clinical Trials
772 Total Patients Enrolled
Children's Hospital Research Institute of Manitoba (CHRIM)
UNKNOWN
1 Previous Clinical Trials
40 Total Patients Enrolled
Media Library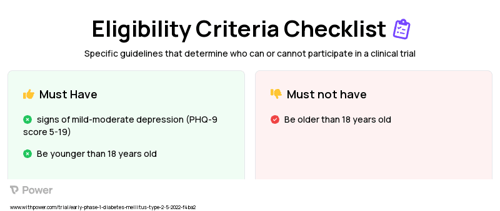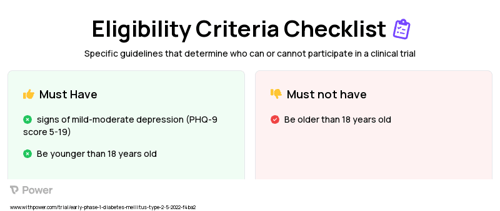 Dialectical Behavioral Therapy (DBT) (Behavioral Intervention) Clinical Trial Eligibility Overview. Trial Name: NCT05338944 — N/A
Type 2 Diabetes Research Study Groups: DBT + lifestyle, Lifestyle alone, Control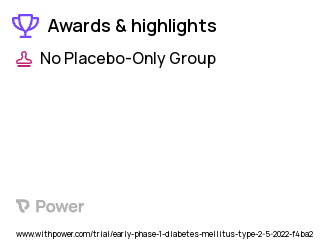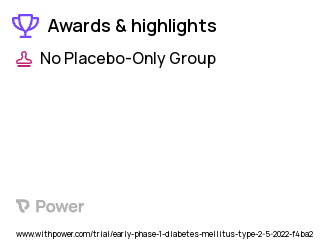 Type 2 Diabetes Clinical Trial 2023: Dialectical Behavioral Therapy (DBT) Highlights & Side Effects. Trial Name: NCT05338944 — N/A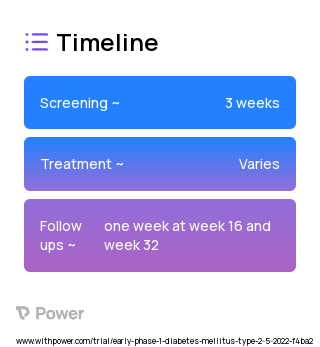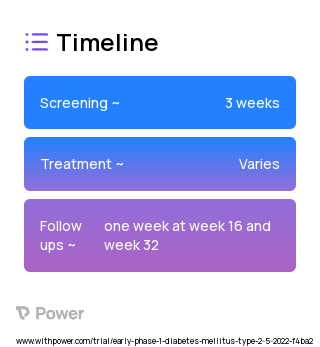 Dialectical Behavioral Therapy (DBT) (Behavioral Intervention) 2023 Treatment Timeline for Medical Study. Trial Name: NCT05338944 — N/A
Frequently Asked Questions
These questions and answers are submitted by anonymous patients, and have not been verified by our internal team.
Is enrollment currently available for this trial?
"The clinical trial, which was first proposed on January 1st 2023 and last amended October 5th 2022, is actively seeking participants."
Who qualifies to participate in this clinical experiment?
"This study seeks 15 volunteers between 14 and 17 years old who present with prevention, a BMI z-score greater than 1.6, willingness to commit to the trial's procedures as well as evidence of mild-moderate depression (PHQ-9 score 5-19)."
How many individuals are currently enrolled in this research endeavor?
"That is accurate. According to the information on clinicaltrials.gov, this research project has been accepting recruits since 1/1/2023 and was most recently updated on 10/5/2022. The trial seeks 15 individuals from a single location."
Is the minimum age threshold for enrolment into this clinical research 18 years or older?
"The enrollment criteria for this research project allows individuals aged between 14 and 17 to participate. To further contextualize, there are 195 clinical trials available to minors while 1077 have been designed with elderly people in mind."
What objectives is this clinical trial aiming to accomplish?
"This research study has two primary outcomes that will be assessed over a duration of 32 weeks. These are enrollment rates and patient-centeredness, which is evaluated using focus groups and feedback forms. Secondary objectives include evaluating delivery of the behavioural intervention, barriers for lifestyle change (gathered through photovoice participation at 16 weeks), as well as other mental health co-morbidities related to self-regulation."