Other
Tinnitus Implant System for Tinnitus
Led By Matthew L Carlson, MD
Research Sponsored by Matthew L. Carlson, M.D.
Eligibility Criteria Checklist
Specific guidelines that determine who can or cannot participate in a clinical trial
Must have
Tinnitus present for at least 6 months, but not longer than 3 years
Tinnitus that is disruptive
Must not have
Be younger than 18 years old
Study Summary
This trial is testing a new implant to see if it's safe and effective in treating tinnitus.
Eligibility Criteria
Inclusion Criteria
You will be eligible if you check "Yes" for the criteria below
You have experienced

ringing in your ears

for

at least 6 months

but

no longer than 3 years

.
You have a

ringing in your ears

that is

bothersome

and

affects your daily activities

.
You have a

constant ringing in your ears

that cannot be improved with a hearing aid or other treatments.
You have

ringing in one ear

that only you can hear.
You have

severe tinnitus

,

rated as 50 or higher

on a scale of 0 to 100.
Timeline
Screening ~ 3 weeks
3 visits
This trial's timeline: 3 weeks for screening, Varies for treatment, and one year for reporting.
Treatment Details
Study Objectives
Outcome measures can provide a clearer picture of what you can expect from a treatment.
Number of subjects to experience significant improvement from implantation of the device
Number of subjects with treatment-related adverse events
Awards & Highlights
All patients enrolled in this study will receive some form of active treatment.
Trial Design
Group I: Subject with severe tinnitus
Experimental Treatment
1 Intervention
Subjects diagnosed with severe tinnitus for at least six months, and it has not responded to conventional management will have surgical implantation of the device Tinnitus Implant System.
Who is running the clinical trial?
Matthew L. Carlson, M.D.
Lead Sponsor
Matthew L Carlson, MD
Principal Investigator
Mayo Clinic
3 Previous Clinical Trials
67 Total Patients Enrolled
Media Library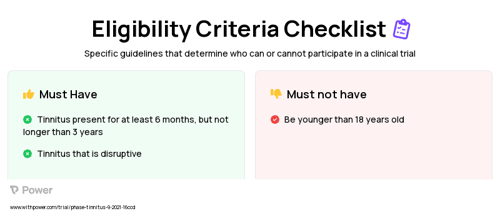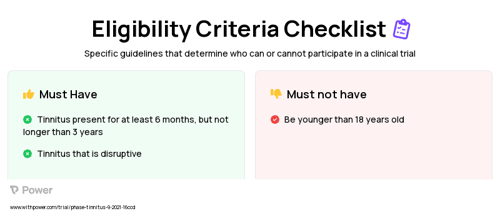 Tinnitus Implant System (Other) Clinical Trial Eligibility Overview. Trial Name: NCT03988699 — N/A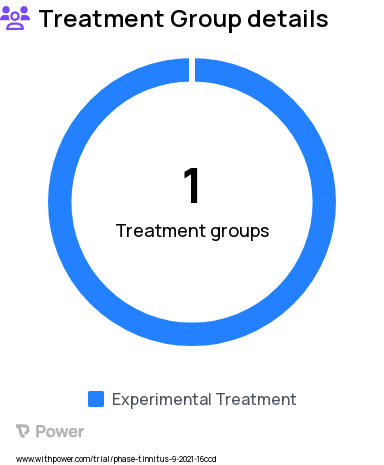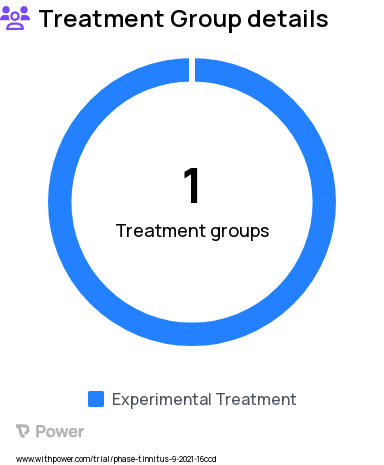 Tinnitus Research Study Groups: Subject with severe tinnitus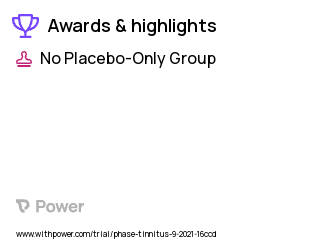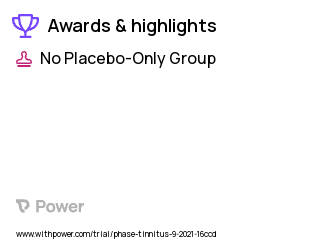 Tinnitus Clinical Trial 2023: Tinnitus Implant System Highlights & Side Effects. Trial Name: NCT03988699 — N/A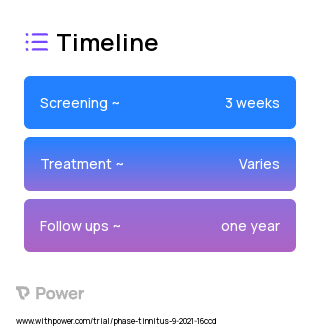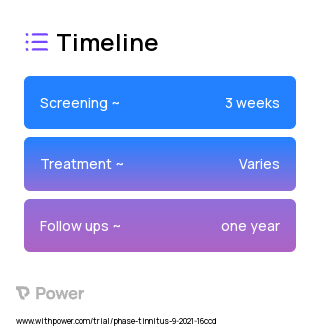 Tinnitus Implant System (Other) 2023 Treatment Timeline for Medical Study. Trial Name: NCT03988699 — N/A
Tinnitus Patient Testimony for trial: Trial Name: NCT03988699 — N/A
Frequently Asked Questions
These questions and answers are submitted by anonymous patients, and have not been verified by our internal team.
Are individuals still able to apply for participation in this research?
"The clinical trial registry hosted on clinicaltrials.gov shows that patient recruitment for this particular medical study has ended, with the initial posting of August 23rd 2021 and the most recent update occuring July 14th 2022. Despite this, 45 other trials are still actively recruiting participants."
Who else is applying?
What state do they live in?
What site did they apply to?
What portion of applicants met pre-screening criteria?
How many prior treatments have patients received?
Why did patients apply to this trial?
I'm very motivated to work for a solution to. Tendinitis interferes with my quality of life.
i become really creazy from this sound in my ear/brain! I have been bothered for years, it is effecting my work and home life, constantly having to ask people to repeat what they have said.
I have tinnitus and UNMC is dragging their feet trying to offer me relief. Maybe since I don't qualify for a cochlear implant, that this could work.
What questions have other patients asked about this trial?
what are they doing in this trial? When will you be starting the study? How long does thisvtake? How many visits are necessary ?
Can you put an implant on an ear that has already been cut open in 1995?
How responsive is this trial?
Most responsive sites:
Mayo Clinic in Rochester: < 48 hours