Study Summary
This trial is testing a new cancer treatment that uses proton pencil beam scanning. They are testing how well it works and how safe it is.
Treatment Effectiveness
Phase-Based Effectiveness
Study Objectives
1 Primary · 3 Secondary · Reporting Duration: 1.5 years
Change in degree of treatment response of bulky tumors treated and not treated with proton GRID therapy
Change in rate of treatment response of bulky tumors treated and not treated with proton GRID therapy
Rate of toxicity as assessed by Common Terminology Criteria for Adverse Events (CTCAE v4)
Trial Safety
Awards & Highlights
All patients enrolled in this trial will receive the new treatment.
Trial Design
0 Treatment Group
12 Total Participants · 0 Treatment Group
Primary Treatment: Treatment · No Placebo Group · N/A
Who is running the clinical trial?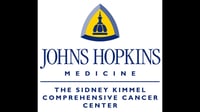 Sidney Kimmel Comprehensive Cancer Center at Johns Hopkins
Lead Sponsor
539 Previous Clinical Trials
31,053 Total Patients Enrolled
9 Trials studying Melanoma
112 Patients Enrolled for Melanoma
Jean Wright, MD
Principal Investigator
Radiation Oncology, SOM
3 Previous Clinical Trials
149 Total Patients Enrolled
Eligibility Criteria
Age 18+ · All Participants · 1 Total Inclusion Criteria
Mark "Yes" if the following statements are true for you:
The treatment is intended to relieve symptoms and improve quality of life, rather than cure the disease.
Frequently Asked Questions
Are fresh enrollees currently being accepted for this experiment?
"Clinicaltrials.gov indicates that this experiment is still recruiting participants, with the original posting being on April 6th 2022 and an update to the listing made October 11th 2022." - Anonymous Online Contributor
What is the maximum capacity of individuals in this trial?
"Affirmative. According to records hosted on clinicaltrials.gov, this medical trial is currently searching for suitable candidates and was first advertised on April 6th 2022. It requires 12 patients at a single location for successful completion and the data was last updated on October 11th 2022 ." - Anonymous Online Contributor
Please Note: These questions and answers are submitted by anonymous patients, and have not been verified by our internal team.