Neurostimulation Device
Treatment (ReActiv8) for Chronic Lower Back Pain
SSM Health Medical Group, Jefferson City, MO
ReActiv8
N/A
Recruiting
Research Sponsored by Mainstay Medical
Eligibility Criteria Checklist
Specific guidelines that determine who can or cannot participate in a clinical trial
Must have
Low Back Pain NRS of ≥6 and ≤9
Intractable Chronic Low Back Pain that has persisted >6 months resulting in pain most of the days in the past 12 months
Must not have
Be younger than 18 years old
Study Summary
This trial will compare ReActiv8 Therapy to Optimal Medical Management (OMM) for treating people with Patellofemoral Pain Syndrome (PFPS).
Eligibility Criteria
Inclusion Criteria
You will be eligible if you check "Yes" for the criteria below
You are experiencing

low back pain

that ranges from

moderate to severe

, with a

rating of 6 to 9

on a pain scale.
You have had

constant and severe low back pain

for

more than 6 months

, and it has caused you

pain on most days

in the last year.
You have tried pain medications and physical therapy, but they did not work.
You cannot have

surgery on your spine

.
You have a

moderate level of disability

based on your

Oswestry Disability Index score

, which is

between 30 and 60

.
Timeline
Screening ~ 3 weeks
3 visits
This trial's timeline: 3 weeks for screening, Varies for treatment, and 1 year for reporting.
Treatment Details
Study Objectives
Outcome measures can provide a clearer picture of what you can expect from a treatment.
Change in Oswestry Disability Index (ODI)
Secondary outcome measures
Change in Low Back Pain Numerical Rating Scale (LBP NRS)
Awards & Highlights
All patients enrolled in this study will receive some form of active treatment.
Trial Design
Group I: Treatment (ReActiv8)
Experimental Treatment
1 Intervention
Market-approved ReActiv8 device
Group II: Control (OMM)
Active Control
1 Intervention
Who is running the clinical trial?
Mainstay Medical
Lead Sponsor
4 Previous Clinical Trials
370 Total Patients Enrolled
Media Library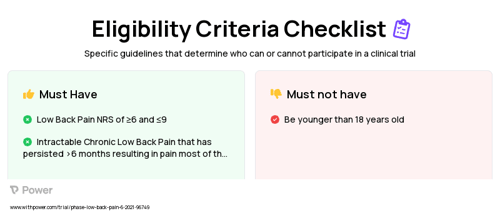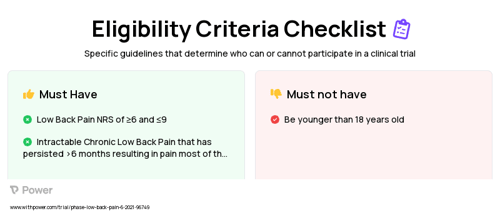 ReActiv8 (Neurostimulation Device) Clinical Trial Eligibility Overview. Trial Name: NCT04803214 — N/A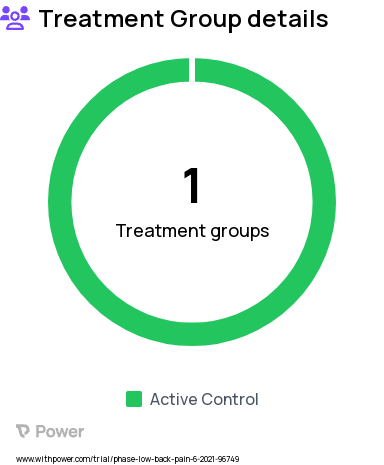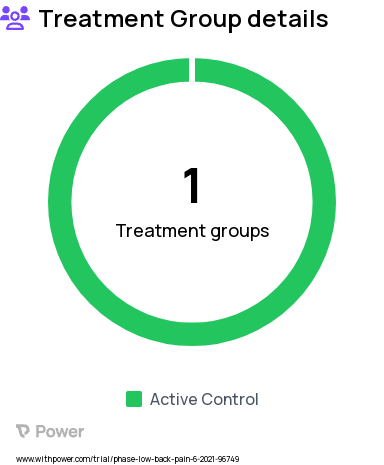 Chronic Lower Back Pain Research Study Groups: Treatment (ReActiv8), Control (OMM)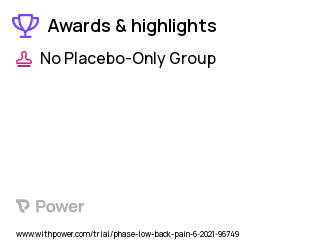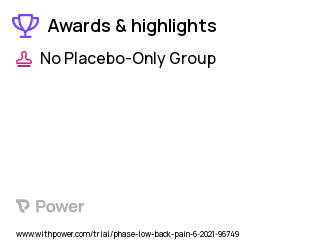 Chronic Lower Back Pain Clinical Trial 2023: ReActiv8 Highlights & Side Effects. Trial Name: NCT04803214 — N/A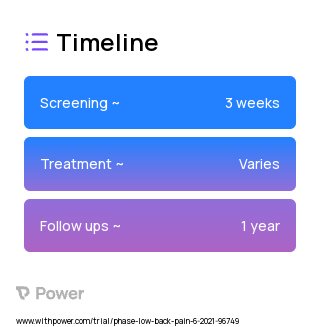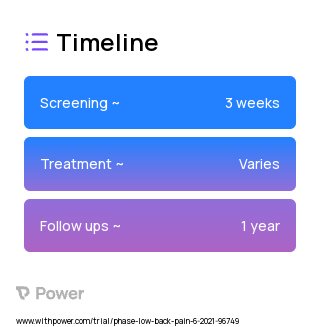 ReActiv8 (Neurostimulation Device) 2023 Treatment Timeline for Medical Study. Trial Name: NCT04803214 — N/A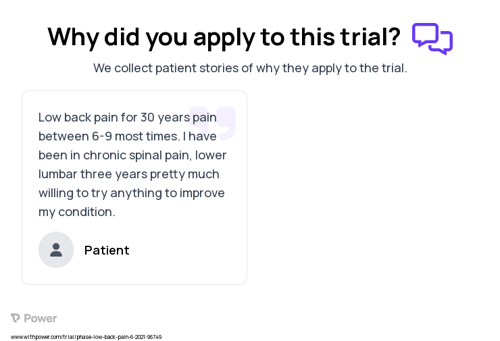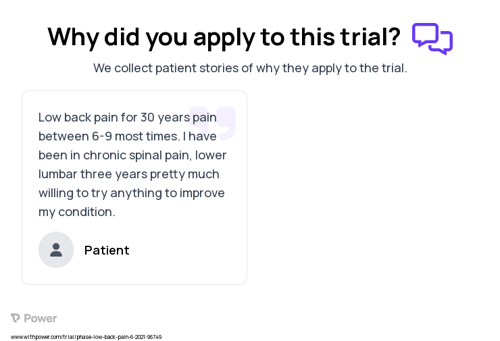 Chronic Lower Back Pain Patient Testimony for trial: Trial Name: NCT04803214 — N/A
Frequently Asked Questions
These questions and answers are submitted by anonymous patients, and have not been verified by our internal team.
How many participants are involved with this experiment?
"A total of 230 eligible participants are mandated for this investigation, spearheaded by Mainstay Medical. Barrow Brain & Spine in Phoenix, Arizona and Duke University in Durham, North Carolina will serve as two pivotal sites during the conduct of this trial."
Is this experimental treatment being conducted in various Canadian locations?
"This clinical trial is utilizing the resources of Barrow Brain & Spine in Phoenix, Arizona; Duke University in Durham, North Carolina; The Center for Clinical Research, LLC in Winston-Salem Oregon; and an additional 22 medical sites."
Are volunteers able to join this exploration currently?
"Affirmative, the information on clinicaltrials.gov indicates that this study is recruiting participants at present. This medical trial was initially posted July 14th 2021 and has most recently been refreshed November 9th 2022. 230 individuals are desired to partake in this experiment across 22 sites."
Who else is applying?
What state do they live in?
What site did they apply to?
Pacific Research Institute
Cleveland Clinic Martin Health Tradition Hospital
Cantor Spine Center and Paley Orthopedic Spine Institute
What portion of applicants met pre-screening criteria?
How many prior treatments have patients received?
Why did patients apply to this trial?
Low back pain for 30 years pain between 6-9 most times. I have been in chronic spinal pain, lower lumbar three years pretty much willing to try anything to improve my condition.