Genetic Testing
Preimplantation genetic testing for aneuploidy (PGT-A) for Female Infertility
IVF Florida Reproductive Associates, Margate, FL
Preimplantation genetic testing for aneuploidy (PGT-A)
N/A
Recruiting
Led by Nathan R Treff, PhD
Research Sponsored by Genomic Prediction Inc.
Eligibility Criteria Checklist
Specific guidelines that determine who can or cannot participate in a clinical trial
Must have
Utilization of autologous or donor sperm
Utilization of Intracytoplasmic Sperm Injection ICSI
Must not have
Be younger than 18 years old
Be older than 65 years old
Study Summary
This trial will help researchers learn if preimplantation genetic testing for aneuploidies leads to better clinical outcomes for women between 35 and 40 years of age who are undergoing elective single embryo transfer.
Eligibility Criteria
Inclusion Criteria
You will be eligible if you check "Yes" for the criteria below
You have used your own or donated sperm for fertility purposes.
You have undergone a fertility treatment called Intracytoplasmic Sperm Injection (ICSI).
Timeline
Screening ~ 3 weeks
3 visits
Follow Up ~ up to 18 months
Follow Up ~
up to 18 months
This trial's timeline: 3 weeks for screening, Varies for treatment, and up to 18 months for reporting.
Treatment Details
Study Objectives
Outcome measures can provide a clearer picture of what you can expect from a treatment.
Secondary outcome measures
Awards & Highlights
All patients enrolled in this study will receive some form of active treatment.
Trial Design
Group I: PGT-A transfer
Experimental Treatment
1 Intervention
Transfer of single chromosomally normal (euploid) blastocyst after PGT-A
Group II: Untested blastocyst transfer
Active Control
1 Intervention
Transfer of single untested blastocyst based on embryo morphology criteria.
Who is running the clinical trial?
Genomic Prediction Inc.
Lead Sponsor
4 Previous Clinical Trials
11,200 Total Patients Enrolled
Nathan R Treff, PhD
Principal Investigator
Genomic Prediction
1 Previous Clinical Trials
10,000 Total Patients Enrolled
Media Library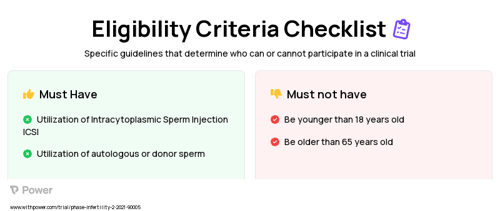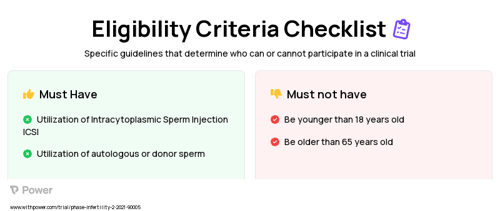 PGT-A (Genetic Testing) Clinical Trial Eligibility Overview. Trial Name: NCT04167748 — N/A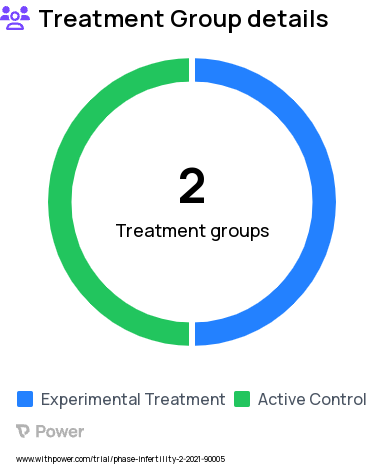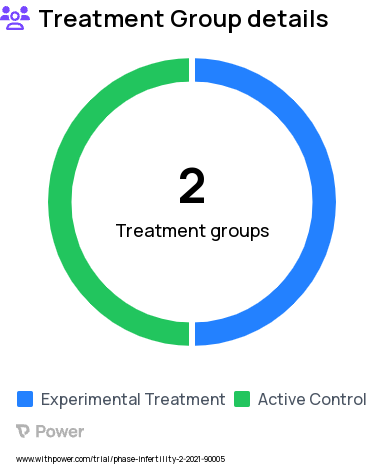 Female Infertility Research Study Groups: Untested blastocyst transfer, PGT-A transfer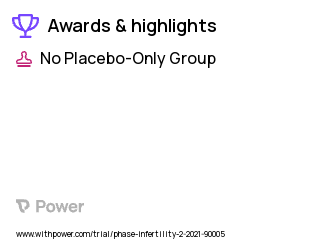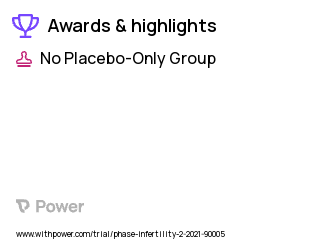 Female Infertility Clinical Trial 2023: PGT-A Highlights & Side Effects. Trial Name: NCT04167748 — N/A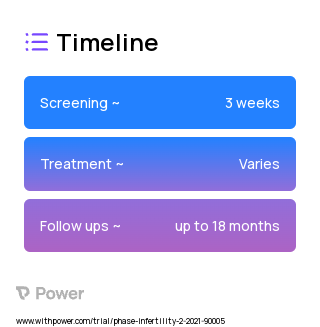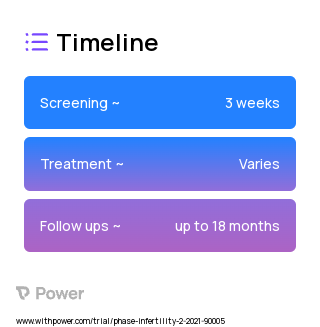 PGT-A (Genetic Testing) 2023 Treatment Timeline for Medical Study. Trial Name: NCT04167748 — N/A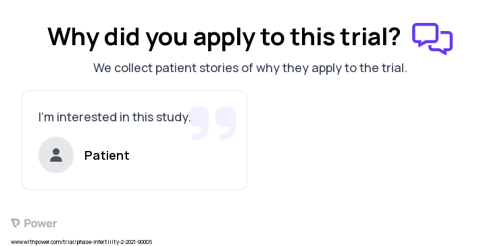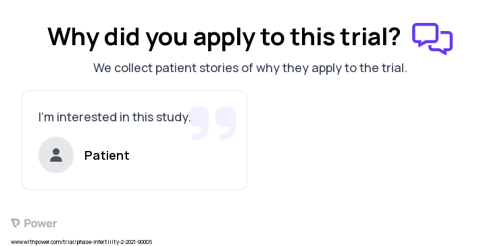 Female Infertility Patient Testimony for trial: Trial Name: NCT04167748 — N/A
Frequently Asked Questions
These questions and answers are submitted by anonymous patients, and have not been verified by our internal team.
Are participants currently being enrolled for this research project?
"The details hosted on clinicaltrials.gov suggest that this experiment is actively recruiting participants, with the first post dated March 5th 2021 and its latest update occurring on March 14th 2022."
Does the age qualification for this research extend to minors?
"The age threshold for this trial is quite narrow, with participants needing to be between 35 and 40 years old. For those under 18 or over 65, there are 14 and 34 trials respectively available."
Is my eligibility to join this medical research project acceptable?
"The parameters of this study specify that 240 women between the ages 35 and 40, who are experiencing infertility, are eligible to join. The most relevant criteria for potential participants is undergoing an IVF cycle at or between these age boundaries."
What is the aggregate population participating in this research?
"Affirmative, the information hosted on clinicaltrials.gov suggests that this experiment is actively seeking participants. It was first posted on March 5th 2021 and last updated on March 14th 2022; it hopes to enrol 240 patients from a single medical facility."
Who else is applying?
What state do they live in?
What site did they apply to?
IVF Florida Reproductive Associates
What portion of applicants met pre-screening criteria?
How many prior treatments have patients received?
Why did patients apply to this trial?
I'm interested in this study.
What questions have other patients asked about this trial?
How can I get more information about screening etc?
How responsive is this trial?
Most responsive sites:
IVF Florida Reproductive Associates: < 24 hours
Recent research and studies