Autologous Whole Blood Management for Postoperative Hemorrhage
Led By Angela R Neufeld, MD
Research Sponsored by University of Alberta
Eligibility Criteria Checklist
Specific guidelines that determine who can or cannot participate in a clinical trial
Must have
Surgical patients at the Mazankowski Alberta Heart Institute
Must not have
Be younger than 18 years old
Study Summary
This trial will test a protocol to see if using a patient's own blood is as good as donated blood products to reduce blood loss in heart surgery.
Postoperative Hemorrhage

Anemia
Eligibility Criteria
Inclusion Criteria
You will be eligible if you check "Yes" for the criteria below
Timeline
Screening ~ 3 weeks
3 visits
This trial's timeline: 3 weeks for screening, Varies for treatment, and 12 months for reporting.
Treatment Details
Study Objectives
Outcome measures can provide a clearer picture of what you can expect from a treatment.
Secondary outcome measures
24-Hour chest tube output.
Dose of prothrombin complex concentrates.
+12 more
Number of major protocol deviations (adherence).
Number of participants with inadvertent unblinding of the intensive care clinicians.
Number of participants without complete follow-up.
+2 more
Awards & Highlights
All patients enrolled in this study will receive some form of active treatment.
Trial Design
Group I: Autologous Whole Blood Management
Experimental Treatment
1 Intervention
Intraoperative high volume autologous whole blood withdrawal prior to cardiopulmonary bypass (CPB) with re-transfusion following weaning from CPB.
Group II: Allogenic and Derivative Transfusion
Active Control
1 Intervention
Control arm participants will receive standard care involving transfusion of plasma, platelets, cryoprecipitate, and/or lyophilized concentrates following weaning from CPB.
Who is running the clinical trial?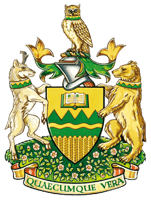 University of Alberta
Lead Sponsor
864 Previous Clinical Trials
390,717 Total Patients Enrolled
University Hospital Foundation
OTHER
7 Previous Clinical Trials
1,322 Total Patients Enrolled
Alberta Innovates Health Solutions
OTHER
51 Previous Clinical Trials
103,649 Total Patients Enrolled
Media Library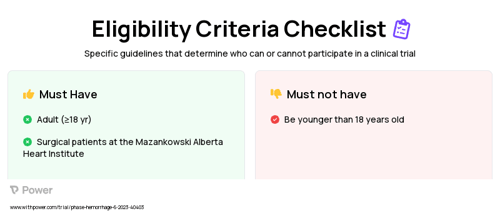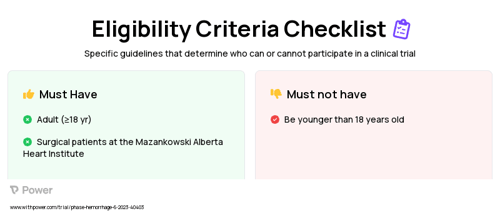 Autologous Whole Blood Management Clinical Trial Eligibility Overview. Trial Name: NCT05889494 — N/A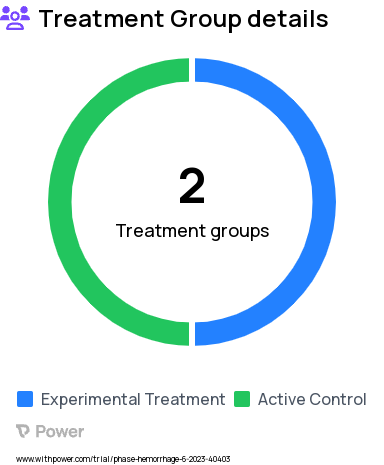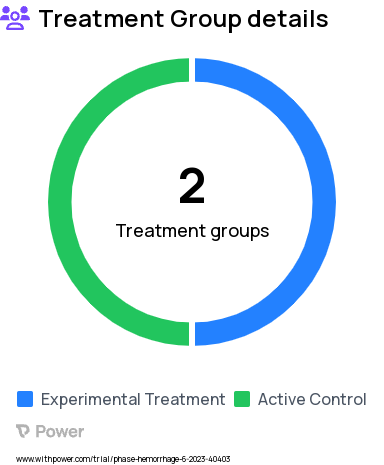 Postoperative Hemorrhage Research Study Groups: Autologous Whole Blood Management, Allogenic and Derivative Transfusion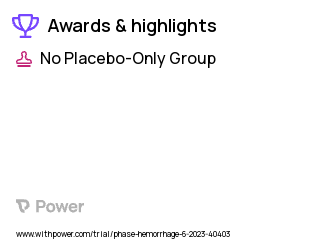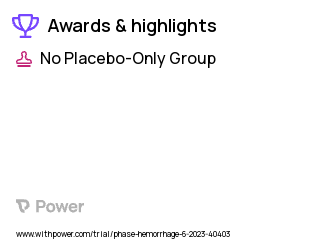 Postoperative Hemorrhage Clinical Trial 2023: Autologous Whole Blood Management Highlights & Side Effects. Trial Name: NCT05889494 — N/A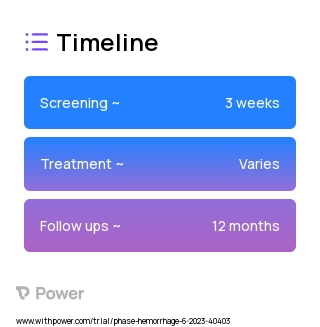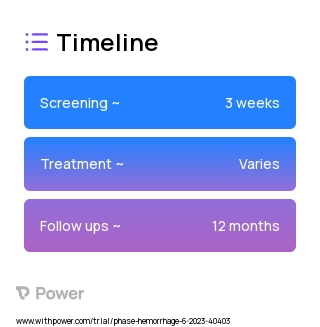 Autologous Whole Blood Management 2023 Treatment Timeline for Medical Study. Trial Name: NCT05889494 — N/A
Frequently Asked Questions
These questions and answers are submitted by anonymous patients, and have not been verified by our internal team.
Is enrollment restricted to seniors aged 85 or below for this experiment?
"This clinical trial has set the lower age limit at 18 and established an upper bound of 85, in compliance with its inclusion criteria."
Could I be accepted as a participant in this research?
"To be eligible for this medical trial, a patient must have postoperative bleeding and lie between 18 to 85 years of age. Currently, 64 individuals are being actively recruited."
Is the enrollment window still open for this research project?
"Per the clinicaltrials.gov site, this research is not currently recruiting volunteers as of May 25th 2023. Although there are no available positions in this trial, 363 other trials hosted on the same platform are actively searching for participants."