Your session is about to expire
We'll log you out in 60 seconds unless you choose to continue
← Back to Search
Eligibility Criteria Checklist
Specific guidelines that determine who can or cannot participate in a clinical trial
Must have
Must be newly diagnosed with a lesion in the brain with imaging characteristics consistent with glioblastoma multiforme. Scan must have occurred no more than 28 days prior to enrollment.
Lesion must be > 3 cm in maximal dimension on MRI.
Must not have
Be younger than 18 years old
Study Summary
This trial is important because it will help doctors understand how to best treat brain tumors by looking at their molecular features. Sonobiopsy has the potential to become a standard tool for diagnosing and managing brain tumors, which could dramatically improve patient outcomes.
Eligibility Criteria
Inclusion Criteria
You will be eligible if you check "Yes" for the criteria below
The abnormality being studied must be located in the upper part of the brain and

within 5 cm of the outer layer

.
Timeline
Screening ~ 3 weeks
3 visits
This trial's timeline: 3 weeks for screening, Varies for treatment, and day 1 for reporting.
Treatment Details
Study Objectives
Outcome measures can provide a clearer picture of what you can expect from a treatment.
Feasibility of sonobiopsy as measured by change in ctDNA level
Number of matched mutations between the post-sonobiopsy sample and the tumor tissue sample
Awards & Highlights
All patients enrolled in this study will receive some form of active treatment.
Trial Design
Group I: Sonobiopsy
Experimental Treatment
4 Interventions
Once enrolled, participants would be prepared for standard of care surgery. The sonobiopsy involves the standard procedure for a biopsy, but the biopsy needle is replaced with a customized ultrasound probe, a standard ultrasound contrast agent (microbubbles) is injected intravenously, and the probe is turned on for 3 minutes for the sonobiopsy. Then the planned surgery to remove the tumor will occur. An additional brief MRI scan will be obtained using the intraoperative MRI to define imaging changes (if any) that occur as a result of the sonobiopsy procedure. The imaging protocols will include a 3D T2-weighted (T2w) scan, and 3D contrast T1-weighted (T1w) with dynamic contrast enhancement and if time allows T2* sequence. Blood will be collected at several time points. A small skin biopsy or another blood draw will be drawn for comparison against the genetic mutations shown in the tumor. The blood, tumor, and skin (if applicable) will undergo genetic analysis.
Who is running the clinical trial?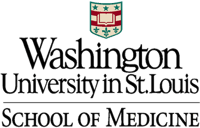 Washington University School of Medicine
Lead Sponsor
1,900 Previous Clinical Trials
2,280,917 Total Patients Enrolled
17 Trials studying Glioblastoma
581 Patients Enrolled for Glioblastoma

National Cancer Institute (NCI)
NIH
13,490 Previous Clinical Trials
41,266,675 Total Patients Enrolled
312 Trials studying Glioblastoma
22,593 Patients Enrolled for Glioblastoma
Albert Kim, M.D.
Principal Investigator
Washington University School of Medicine
Media Library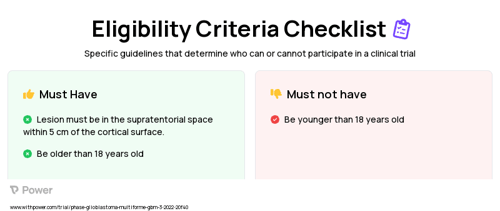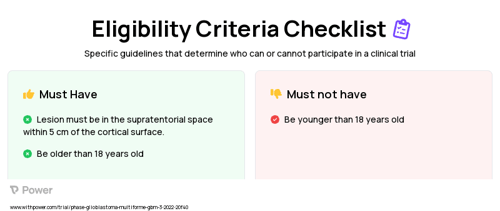 Eligibility Criteria:
This trial includes the following eligibility criteria:
You cannot undergo a magnetic resonance imaging (MRI) scan.

You have had surgery on your head in the past.

You have had cancer before and received treatment for it.

You have a scalp or skin condition that prevents the ultrasound probe from making contact.

You have a physical defect in your skull.

You are already taking part in another clinical trial that involves receiving treatment before surgery.

The abnormality being studied must be located in the upper part of the brain and within 5 cm of the outer layer.
Research Study Groups:
This trial has the following groups: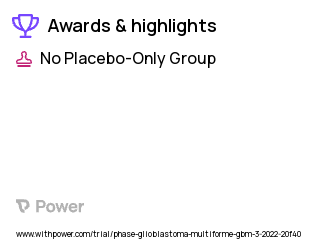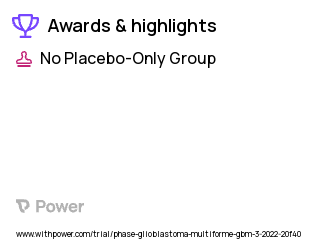 Awards:
This trial has 1 awards, including:
No Placebo-Only Group - All patients enrolled in this study will receive some form of active treatment.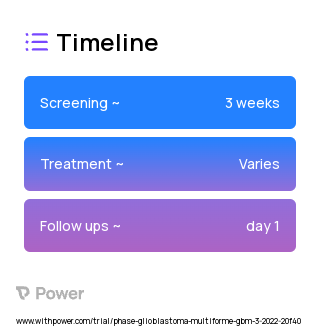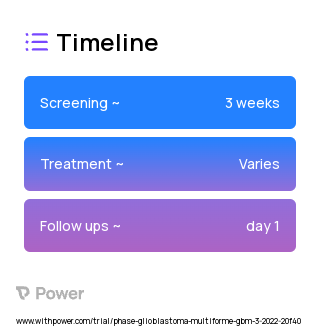 Timeline:
This trial has the following timeline:
Screening: It may take up to 3 Weeks to process to see if you qualify in this trial.
Treatment: The duration you will receive the treatment varies.
Follow Ups: You may be asked to continue sharing information regarding the trial for 6 Months after you stop receiving the treatment.
Frequently Asked Questions
These questions and answers are submitted by anonymous patients, and have not been verified by our internal team.
How many participants are currently taking part in this research study?
"Affirmative. The clinicaltrial.gov registry states that this research program is actively seeking participants and was first listed on April 16th 2022. To date, the trial has enrolled 20 individuals at a single medical center."
Is enrollment in this experiment ongoing?
"Confirmation of active recruitment is available on clinicaltrials.gov; this trial was initially made public on April 16th 2022 and the most recent update occurred September 21st of the same year."
Share this study with friends