Your session is about to expire
We'll log you out in 60 seconds unless you choose to continue
← Back to Search
Wavefront Guided Scleral Lenses for Keratoconus
(WFG Sclerals Trial)
Research Sponsored by Cornea and Laser Eye Institute
Eligibility Criteria Checklist
Specific guidelines that determine who can or cannot participate in a clinical trial
Must have
-A diagnosis of keratoconus or irregular astigmatism
Be older than 18 years old
Must not have
Be younger than 18 years old
WFG Sclerals Trial Summary
This trial is testing a new type of contact lens that may help improve vision for people with certain eye conditions.
Keratoglobus

Pellucid Marginal Corneal Degeneration

Corneal Wavefront Aberration

Keratoconus

Astigmatism

Corneal Ectasia
WFG Sclerals Trial Eligibility Criteria
Inclusion Criteria
You will be eligible if you check "Yes" for the criteria below
You have an eye condition called

keratoconus

or

irregular astigmatism

.
WFG Sclerals Trial Timeline
Screening ~ 3 weeks
3 visits
This trial's timeline: 3 weeks for screening, Varies for treatment, and 4 weeks for reporting.
Treatment Details
Study Objectives
Outcome measures can provide a clearer picture of what you can expect from a treatment.
Secondary outcome measures
WFG Sclerals Trial Design
Group I: WFG Scleral Lenses
Active Control
1 Intervention
Scleral lenses with customized wavefront guided optics
Group II: Traditional Scleral Lenses
Placebo Group
1 Intervention
Scleral lenses with traditional optics
Who is running the clinical trial?
Cornea and Laser Eye Institute
Lead Sponsor
9 Previous Clinical Trials
1,013 Total Patients Enrolled
John D Gelles, OD
Principal Investigator
The Cornea and Laser Eye Institute
Media Library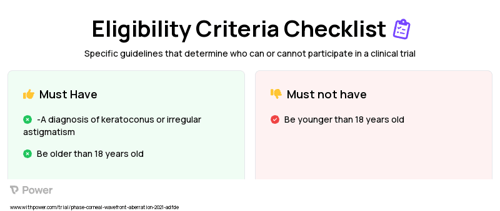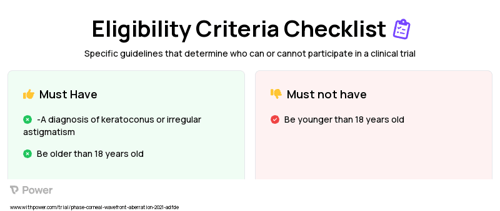 Eligibility Criteria:
This trial includes the following eligibility criteria:
You have an eye condition called keratoconus or irregular astigmatism.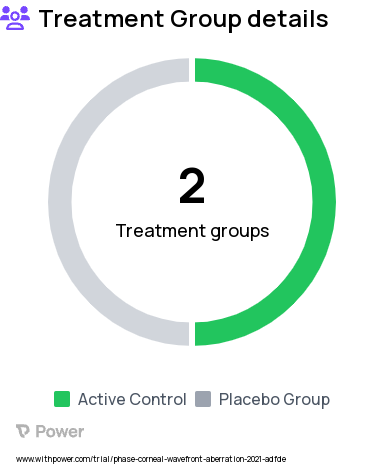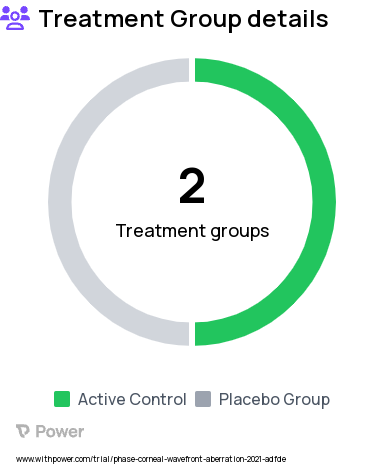 Research Study Groups:
This trial has the following groups:
Group 1: WFG Scleral Lenses
Group 2: Traditional Scleral Lenses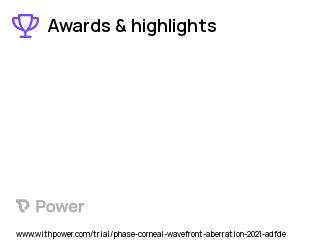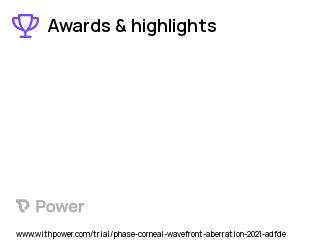 Awards:
This trial has 0 awards, including:
Timeline:
This trial has the following timeline:
Screening: It may take up to 3 Weeks to process to see if you qualify in this trial.
Treatment: The duration you will receive the treatment varies.
Follow Ups: You may be asked to continue sharing information regarding the trial for 6 Months after you stop receiving the treatment.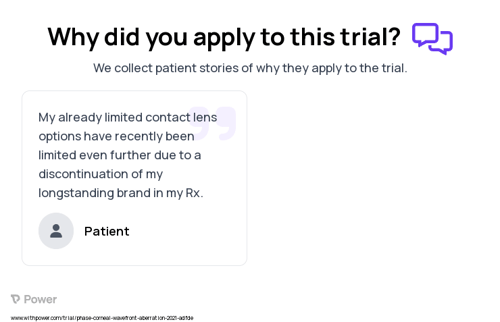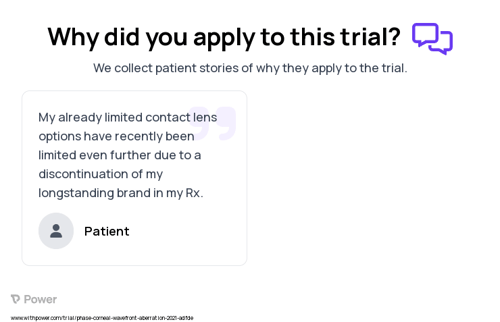 Corneal Wavefront Aberration Patient Testimony for trial: Trial Name: NCT04698590 — N/A
Frequently Asked Questions
These questions and answers are submitted by anonymous patients, and have not been verified by our internal team.
How many individuals are signing up to participate in this clinical experiment?
"Affirmative. Clinicaltrials.gov indicates that this clinical study, which was initially made available on January 15th 2021, is still looking for participants. Presently, 100 individuals are required at a single medical centre."
Are there any existing opportunities for individuals to participate in this experiment?
"Yes, according to the published details on clinicaltrials.gov this trial is seeking participants; it was first made available on January 15th 2021 and updated most recently in April 14th 2021. The project aims to recruit a total of 100 patients from one site."
Who else is applying?
What state do they live in?
What site did they apply to?
Cornea and Laser Eye Institue - Hersh Vision Group
What portion of applicants met pre-screening criteria?
How many prior treatments have patients received?
Why did patients apply to this trial?
My already limited contact lens options have recently been limited even further due to a discontinuation of my longstanding brand in my Rx.
Patient
Received 2+ prior treatments
How responsive is this trial?
Most responsive sites:
Cornea and Laser Eye Institue - Hersh Vision Group: < 48 hours
Share this study with friends