Esophageal muscle biopsy for Achalasia
Emory University Hospital, Atlanta, GA
Esophageal muscle biopsy

+1 more
Phase 4
Recruiting
Led by Anand Jain, MD
Research Sponsored by Emory University
Eligibility Criteria Checklist
Specific guidelines that determine who can or cannot participate in a clinical trial
Must have
Undergoing Heller myotomy or per oral endoscopic myotomy for treatment of their esophageal motility disorder (for Aim 2)
Be older than 18 years old
Must not have
Be younger than 18 years old
Follow ups
two minutes after the study drugs administration
All Individual Drugs Already Approved
Approved for 5 Other Conditions
Drug Has Already Been Approved
Study Summary
This trial will study how well a new technology can measure muscle fibrosis in people with achalasia. A better understanding of achalasia will allow intervention at an earlier stage.
Eligibility Criteria
Inclusion Criteria
You will be eligible if you check "Yes" for the criteria below
You have recently had surgery or a procedure to treat your

esophageal motility disorder

.
Timeline
Screening ~ 3 weeks
3 visits
Follow ups ~ two minutes after the study drugs administration
Follow ups ~
two minutes after the study drugs administration
This trial's timeline: 3 weeks for screening, Varies for treatment, and two minutes after the study drugs administration for reporting.
Treatment Details
Study Objectives
Outcome measures can provide a clearer picture of what you can expect from a treatment.
Degree of lower esophageal sphincter contraction and relaxation
The collagen content in muscle biopsy specimens
Awards & Highlights
All patients enrolled in this study will receive some form of active treatment.
All Individual Drugs Already Approved
Therapies where all constituent drugs have already been approved are likely to have better-understood side effect profiles.
Approved for 5 Other Conditions
This treatment demonstrated efficacy for 5 other conditions.
The final step before approval, pivotal trials feature drugs that have already shown basic safety & efficacy.
Drug Has Already Been Approved
The FDA has already approved this drug, and is just seeking more data.
Trial Design
Group I: Pharmacologic challenge
Experimental Treatment
2 Interventions
Measurement of esophageal response toatropine using functional lumen imaging probe (FLIP)
Who is running the clinical trial?
Emory University
Lead Sponsor
1,574 Previous Clinical Trials
2,879,649 Total Patients Enrolled

National Institute of Diabetes and Digestive and Kidney Diseases (NIDDK)
NIH
2,244 Previous Clinical Trials
4,198,781 Total Patients Enrolled
Anand Jain, MD
Principal Investigator - Emory University
Media Library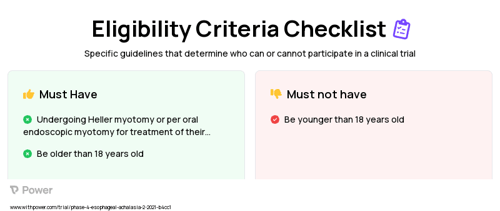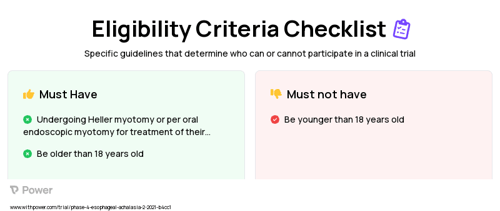 Esophageal muscle biopsy Clinical Trial Eligibility Overview. Trial Name: NCT04641702 — Phase 4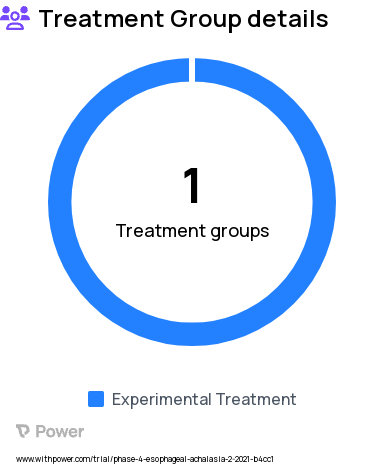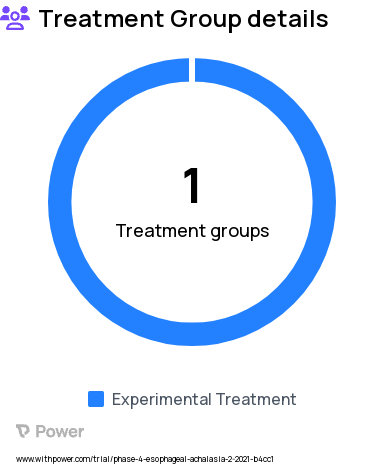 Achalasia Research Study Groups: Pharmacologic challenge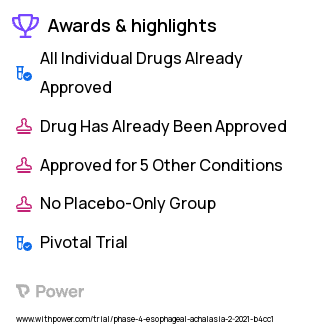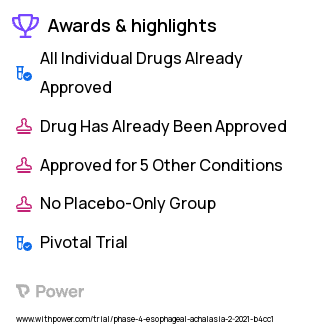 Achalasia Clinical Trial 2023: Esophageal muscle biopsy Highlights & Side Effects. Trial Name: NCT04641702 — Phase 4
Esophageal muscle biopsy 2023 Treatment Timeline for Medical Study. Trial Name: NCT04641702 — Phase 4
Frequently Asked Questions
These questions and answers are submitted by anonymous patients, and have not been verified by our internal team.
Are there any risks associated with obtaining an esophageal muscle biopsy?
"Thanks to clinical data collected during Phase 4, esophageal muscle biopsy was awarded a score of 3 in terms of safety."
Could you please provide a list of pertinent investigations that have utilized Esophageal muscle biopsy?
"Currently, 22 active medical trials exploring Esophageal muscle biopsy exist with 6 of them in Phase 3. These studies are largely situated within Shanghai but there is representation from 149 total sites across the globe."
What is the population size accepted for this research endeavor?
"Affirmative. Based on the information provided by clinicaltrials.gov, this medical trial is seeking 80 participants from a single location and has been open for recruitment since March 17th 2021 with the latest update being posted on March 9th 2022."
Are researchers recruiting participants for this study currently?
"Clinicaltrials.gov confirms that the trial is actively enrolling participants, with first posting on March 17th 2021 and most recent edit of March 9th 2022."