Kinase Inhibitor
Selumetinib for Neurofibromatosis
Research Site, Porto Alegre, Brazil
Targeting 2 different conditions
Selumetinib

+1 more
Phase 3
Waitlist Available
Led by Geraldine O'Sullivan Coyne, MD PhD
Research Sponsored by AstraZeneca
Eligibility Criteria Checklist
Specific guidelines that determine who can or cannot participate in a clinical trial
Must have
Adequate organ and marrow function
Adults ≥ 18 years at enrollment with diagnosis of NF1 with symptomatic, inoperable PN
Must not have
Be younger than 18 years old
Follow Up
approximately 3 years
All Individual Drugs Already Approved
Study Summary
This trial will test whether selumetinib can shrink plexiform neurofibromas in people with NF1.
Neurofibromatosis Type 1

Plexiform Neurofibroma
Eligibility Criteria
Inclusion Criteria
You will be eligible if you check "Yes" for the criteria below
Your organs and bone marrow are functioning well.
You are an

adult over 18 years old

with a

condition called NF1

and have a type of

tumor called PN

that

cannot be removed through surgery

.
Timeline
Screening ~ 3 weeks
3 visits
Follow Up ~ approximately 3 years
Follow Up ~
approximately 3 years
This trial's timeline: 3 weeks for screening, Varies for treatment, and approximately 3 years for reporting.
Treatment Details
Study Objectives
Outcome measures can provide a clearer picture of what you can expect from a treatment.
Confirmed Objective Response Rate (ORR) for Arm A versus Arm B
Secondary outcome measures
Health Related Quality of Life (HRQoL) outcomes assessed using PlexiQoL
+5 more
Pharmacokinetics (PK) of selumetinib for exposure-response analyses
Safety and tolerability of selumetinib as assessed by number and grade of adverse events
Side effects data
From 2012 Phase 2 trial • 37 Patients • NCT01085214
39%
Aspartate aminotransferase increased
33%
Neutrophil count decreased
33%
White blood cell decreased
28%
Platelet count decreased
17%
Alanine aminotransferase increased
14%
Skin and subcutaneous tissue disorders - Other
14%
Lymphocyte count decreased
11%
Peripheral sensory neuropathy
8%
Alkaline phosphatase increased
6%
Musculoskeletal and connective tissue disorder - Other, Rhabdomyolysis
6%
Metabolism and nutrition disorders - Other
6%
Blood and lymphatic system disorders - Other
6%
Upper respiratory infection
6%
Renal and urinary disorders - Other
6%
Generalized muscle weakness
6%
Gastrointestinal disorders - Other
6%
Gastroesophageal reflux disease
3%
Skin and subcutaneous tissue disorders - Other, Angular cheilitis, unilateral
3%
Adult respiratory distress syndrome
3%
Renal and urinary disorders - Other, Acute renal failure
Study treatment Arm
AZD6244 (Selumetinib) Treatment
Awards & Highlights
All Individual Drugs Already Approved
Therapies where all constituent drugs have already been approved are likely to have better-understood side effect profiles.
The final step before approval, pivotal trials feature drugs that have already shown basic safety & efficacy.
Trial Design
Group I: Arm A
Experimental Treatment
1 Intervention
Group II: Arm B
Placebo Group
1 Intervention
How many patients have taken this drug
Who is running the clinical trial?

4,118 Previous Clinical Trials
336,392,112 Total Patients Enrolled
Merck Sharp & Dohme LLC
Industry Sponsor
3,775 Previous Clinical Trials
4,984,886 Total Patients Enrolled
Geraldine O'Sullivan Coyne, MD PhD
Principal Investigator
National Cancer Institute (NCI)
Media Library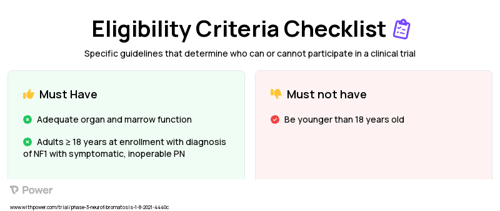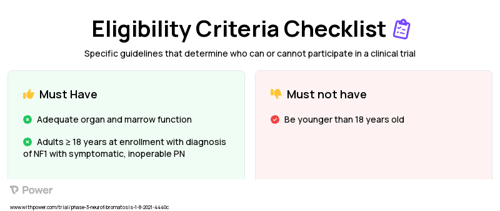 Selumetinib (Kinase Inhibitor) Clinical Trial Eligibility Overview. Trial Name: NCT04924608 — Phase 3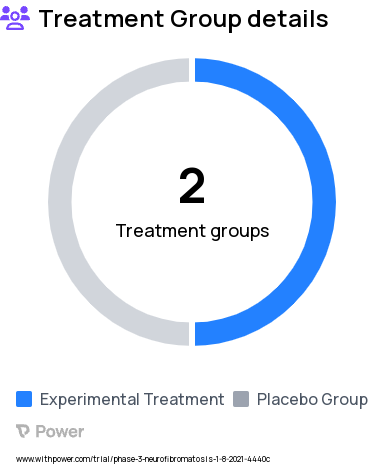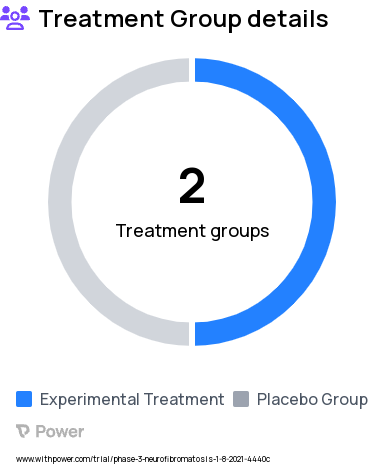 Neurofibromatosis Research Study Groups: Arm B, Arm A
Neurofibromatosis Clinical Trial 2023: Selumetinib Highlights & Side Effects. Trial Name: NCT04924608 — Phase 3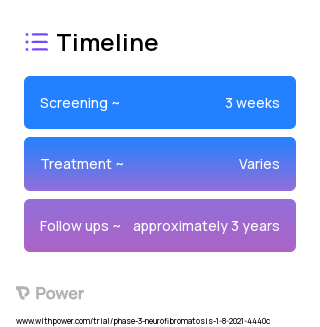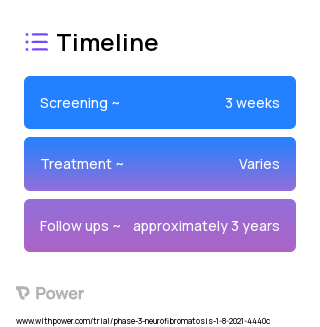 Selumetinib (Kinase Inhibitor) 2023 Treatment Timeline for Medical Study. Trial Name: NCT04924608 — Phase 3
Frequently Asked Questions
These questions and answers are submitted by anonymous patients, and have not been verified by our internal team.
Are the findings of this study corroborated by prior research on Selumetinib?
"Selumetinib was first studied in 2007 and, since then, 18297 clinical trials have completed. Right now, 35 trials are ongoing with a large number of them based in Saint Louis, Missouri."
Has Selumetinib been cleared by the FDA for patient use?
"Selumetinib's safety has been well documented in past Phase 3 trials, thus it received a score of 3."
Are there any patients currently needed for this clinical trial?
"Yes, this information is available on the website clinicaltrials.gov. The trial was created on 2021-11-19 and updated on 2022-10-04."
What is the objective of this research?
"The primary outcome that will be measured over the course of approximately 3 years is the Confirmed Objective Response Rate (ORR) for Arm A versus Arm B. Additionally, this trial will evaluate secondary outcomes including Change in chronic target PN pain intensity from baseline for Arm A versus Arm B as assessed using a PRO questionnaire, Target PN volume for Arm A vs Arm B, and Time to progression (TTP) for Arm A."
Have there been other studies like this one before?
"There are 35 concurrent trials worldwide for Selumetinib. The first one was sponsored by AstraZeneca in 2007 and completed Phase 1 drug approval with 58 participants. Since then, there have been 18297 more trials."
What is the total sample size for this research project?
"Yes, the information on clinicaltrials.gov suggests that this study is actively recruiting candidates. The trial was originally posted on 2021-11-19 and was most recently edited on 2022-10-04. The study is looking for 146 patients across 7 locations."
Who else is applying?
What state do they live in?
What site did they apply to?
What portion of applicants met pre-screening criteria?