Radiopharmaceutical
68Ga-DOTA-TATE for Neuroendocrine Tumors
CHUS, Sherbrooke, Canada
68Ga-DOTA-TATE
Phase 3
Recruiting
Led by Éric E Turcotte, MD
Research Sponsored by Centre de recherche du Centre hospitalier universitaire de Sherbrooke
Eligibility Criteria Checklist
Specific guidelines that determine who can or cannot participate in a clinical trial
Study Summary
This trial is to establish the safety of a new PET radiotracer, 68Ga-DOTA-TATE, for diagnosing neuro-endocrine cancer patients. The trial is prospective, open-label, and single-center with recruitment across Canada. There is no control group.
Timeline
Screening ~ 3 weeks
3 visits
This trial's timeline: 3 weeks for screening, Varies for treatment, and 5 years for reporting.
Treatment Details
Study Objectives
Outcome measures can provide a clearer picture of what you can expect from a treatment.
Safety profile of 68Ga-DOTA-TATE
Secondary outcome measures
Generate clinical information on the impact of 68Ga-DOTA-TATE for NET patient management
Instigate the routine standard-of-care use of 68Ga-DOTA-TATE for NET patients
Awards & Highlights
All patients enrolled in this study will receive some form of active treatment.
The final step before approval, pivotal trials feature drugs that have already shown basic safety & efficacy.
Trial Design
Group I: Neuroendocrine cancer patients
Experimental Treatment
1 Intervention
All neuroendocrine cancer patients referred by their physician and fulfilling the eligibility criteria across Canada can be recruited to the primary site of the study. Patients will be injected intravenously with 3 MBq/kg (maximum 370 MBq) of 68Ga-DOTA-TATE. 45-90 minutes following injection, patients will be imaged in a PET/CT scanner. Images will be analyzed by a trained nuclear medicine physician. Safety profile, eventual adverse effects, false positives, false negatives and any abnormal biodistribution of the radiotracer will be monitored and analysed.
Who is running the clinical trial?
Centre de recherche du Centre hospitalier universitaire de Sherbrooke
Lead Sponsor
54 Previous Clinical Trials
26,042 Total Patients Enrolled
1 Trials studying Neuroendocrine Tumors
2,120 Patients Enrolled for Neuroendocrine Tumors
Université de Sherbrooke
OTHER
282 Previous Clinical Trials
63,696 Total Patients Enrolled
Éric E Turcotte, MD
Principal Investigator
Centre de recherche du Centre hospitalier universitaire de Sherbrooke
3 Previous Clinical Trials
3,500 Total Patients Enrolled
Media Library


68Ga-DOTA-TATE (Radiopharmaceutical) Clinical Trial Eligibility Overview. Trial Name: NCT04847505 — Phase 3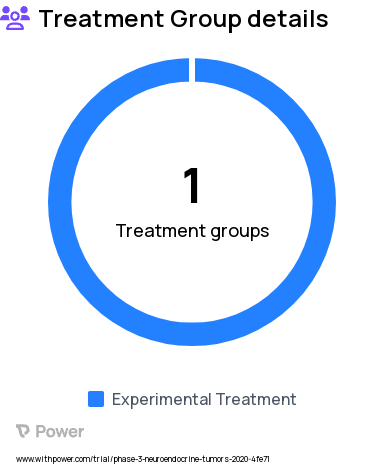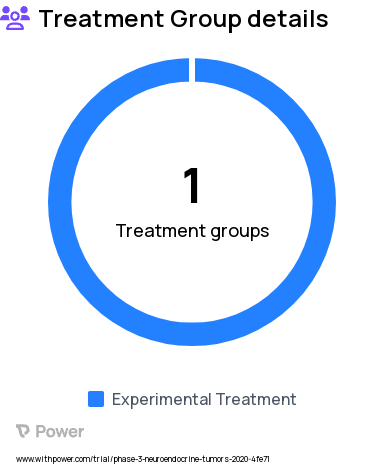 Neuroendocrine Tumors Research Study Groups: Neuroendocrine cancer patients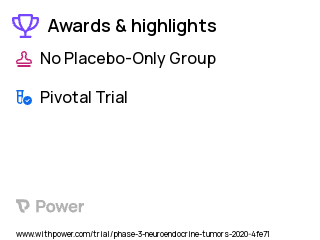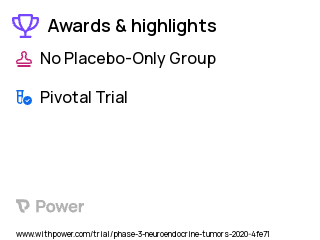 Neuroendocrine Tumors Clinical Trial 2023: 68Ga-DOTA-TATE Highlights & Side Effects. Trial Name: NCT04847505 — Phase 3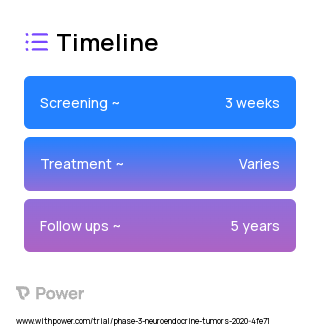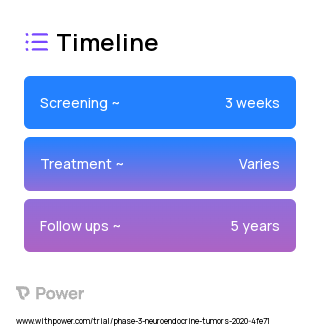 68Ga-DOTA-TATE (Radiopharmaceutical) 2023 Treatment Timeline for Medical Study. Trial Name: NCT04847505 — Phase 3
Frequently Asked Questions
These questions and answers are submitted by anonymous patients, and have not been verified by our internal team.
What is the total volume of people who can enroll in this experiment?
"Yes, this is an active trial that was first posted on January 1st 2020. The clinicaltrials.gov website says the study will have one site and aim to enroll 5000 patients."
Are new patients being allowed to enroll in this research study?
"According to the information available on clinicaltrials.gov, this trial is still in need of participants. The posting date was January 1st 2020 and the most recent update was July 18th 2022. So far, only one location has been admitted into the trial, but they are hoping for 5000 patients total."