LD TSEBT for Sezary Syndrome
Stanford Cancer Center, Stanford, CA
Targeting 2 different conditions
LD TSEBT

+1 more
Phase 2
Recruiting
Led by Youn H Kim, MD
Research Sponsored by Stanford University
Eligibility Criteria Checklist
Specific guidelines that determine who can or cannot participate in a clinical trial
Must have
1 prior standard of care therapy
Must not have
Be younger than 18 years old
All Individual Drugs Already Approved
Study Summary
This trial is testing a combination of two drugs to see if it is effective in treating patients with mycosis fungoides or Sézary syndrome. It will also look at the safety and side effects of the combination.
Sezary Syndrome

Mycosis Fungoides
Eligibility Criteria
Inclusion Criteria
You will be eligible if you check "Yes" for the criteria below
You have

advanced-stage mycosis fungoides

or

Sézary syndrome

.
You have already

received one type of standard treatment

for your condition.
You have

received phototherapy

or

local radiation therapy

within the

past two weeks

.
You have

stopped taking

retinoids, interferons, Vorinostat, romidepsin, pralatrexate, or other

cancer treatments

for

at least 4 weeks

.
You have

received total skin electron beam therapy

for

at least 12 weeks

.
You may have

received LD-TSEBT or mogamulizumab treatments

in the past, as long as your

disease did not get worse

while on these therapies and you

did not stop them because of side effects

.
Timeline
Screening ~ 3 weeks
3 visits
This trial's timeline: 3 weeks for screening, Varies for treatment, and 3 years for reporting.
Treatment Details
Study Objectives
Outcome measures can provide a clearer picture of what you can expect from a treatment.
Overall response rate (ORR)
Secondary outcome measures
Duration of response (DOR)
Patient reported Quality of Life (QoL)
Progression free survival (PFS)
+2 more
Side effects data
From 2021 Phase 3 trial • 372 Patients • NCT01728805
32%
Infusion Related Reaction
11%
Upper Respiratory Tract Infection
7%
Urinary Tract Infection
4%
Aspartate Aminotransferase Increased
3%
Blood Creatinine Increased
2%
Platelet Count Decreased
1%
Supraventricular Tachycardia
1%
General Physical Health Deterioration
1%
Cytomegalovirus Infection
1%
Lower Respiratory Tract Infection
1%
Pneumocystis Jiroveci Pneumonia
1%
Respiratory Tract Infection
1%
Staphylococcal Bacteraemia
1%
Staphylococcal Infection
1%
Vascular Access Complication
1%
Alanine Aminotransferase Increased
1%
Blood Alkaline Phospatase Increased
1%
Malignant Pleural Effusion
1%
Haemorrhage Intracranial
1%
Acute Respiratory Distress Syndrome
1%
Chronic Obstructive Pulmonary Disease
1%
Interstitial Lung Disease
1%
Photosensitivity Reaction
1%
Social Stay Hospitalization
1%
Cardiac Pacemaker Replacement
1%
Peripheral Arterial Occlusive Disease
1%
Acute Myocardial Infarction
Study treatment Arm
KW-0761
Vorinostat
Vorinostat Original Then Crossover to KW-0761
Awards & Highlights
All Individual Drugs Already Approved
Therapies where all constituent drugs have already been approved are likely to have better-understood side effect profiles.
All patients enrolled in this study will receive some form of active treatment.
Trial Design
Group I: LD TSEBT
Experimental Treatment
2 Interventions
Mogamulizumab with low dose total skin electron beam therapy. • LD (12 Gy) TSEBT will be initiated on Cycle 1 Day 2 (± 2 days) of mogamulizumab over 2 to 3 week period per standard of care (SOC), as tolerated. Mogamulizumab (1 mg/kg) will be administered over 60 minutes as follows (per SOC and FDA approved use in MF and SS): Cycle 1 only: Days1; 8; 15; and 22 (± 2 days) Cycle 2 and beyond: Day 1 and Day 15 (± 3 days)
How many patients have taken this drug
Who is running the clinical trial?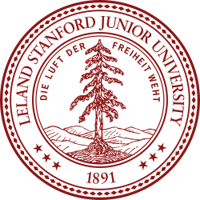 Stanford University
Lead Sponsor
2,258 Previous Clinical Trials
17,273,730 Total Patients Enrolled
3 Trials studying Sezary Syndrome
2,041 Patients Enrolled for Sezary Syndrome
Youn H Kim, MD
Principal Investigator
Stanford University
2 Previous Clinical Trials
2,010 Total Patients Enrolled
2 Trials studying Sezary Syndrome
2,010 Patients Enrolled for Sezary Syndrome
Media Library


Low-Dose Total Skin Electron Beam Tx Clinical Trial Eligibility Overview. Trial Name: NCT04256018 — Phase 2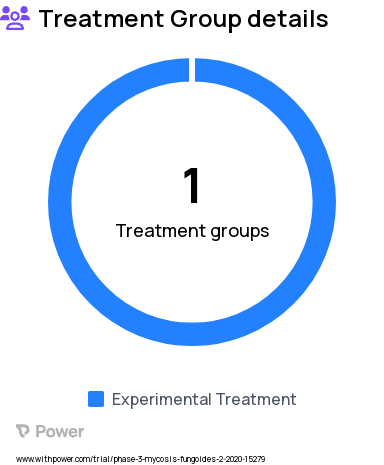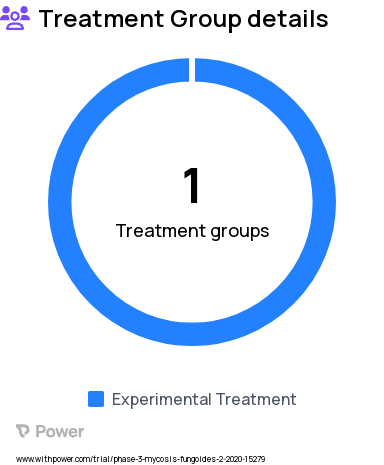 Sezary Syndrome Research Study Groups: LD TSEBT
Sezary Syndrome Clinical Trial 2023: Low-Dose Total Skin Electron Beam Tx Highlights & Side Effects. Trial Name: NCT04256018 — Phase 2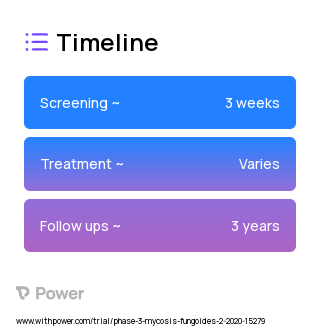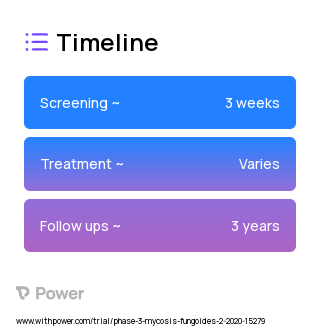 Low-Dose Total Skin Electron Beam Tx 2023 Treatment Timeline for Medical Study. Trial Name: NCT04256018 — Phase 2
Frequently Asked Questions
These questions and answers are submitted by anonymous patients, and have not been verified by our internal team.
Are we still enrolling participants for this research project?
"Yes, the data on clinicaltrials.gov indicates that this trial is actively recruiting participants. The study was initially posted on 3/30/2020 and most recently edited on 10/19/2022. The study is looking for 30 participants across 1 site."
How many people are a part of this experiment?
"Yes, this particular study is open for enrollment and seeking patients according to the information on clinicaltrials.gov. The trial was posted on 3/30/2020 and updated as recently as 10/19/2022. They are looking for 30 patients at 1 site specifically."
What are the long-term risks associated with LD TSEBT?
"LD TSEBT's safety is unproven but there is some clinical data supporting its use, so it received a score of 2."
Are there other reports of LD TSEBT efficacy?
"At present, there are 10 clinical trials underway for LD TSEBT. Of those, 0 are in Phase 3. Most of the studies for LD TSEBT are based in Bethesda, Maryland, but there are 48 locations running trials for this treatment."