Selenium-containing molecule
Ebselen for Meniere's Disease
Medical University of South Carolina, Charleston, SC
Targeting 2 different conditions
Ebselen

+1 more
Phase 3
Waitlist Available
Research Sponsored by Sound Pharmaceuticals, Incorporated
Eligibility Criteria Checklist
Specific guidelines that determine who can or cannot participate in a clinical trial
Must have
At least two of three active symptoms (tinnitus; aural fullness; vertigo or dizziness) of Meniere's disease by AAO-HNS Amended 2015 Criteria, within 3 months of study enrollment.
Be older than 18 years old
Must not have
Be younger than 18 years old
Study Summary
This trial is testing a new drug for Meniere's disease, a disorder of the inner ear. The trial is comparing the drug to a placebo, and is double-blind (neither the subjects nor the researchers know who is receiving the drug or the placebo).
Meniere's Disease

Ménière's Disease
Eligibility Criteria
Inclusion Criteria
You will be eligible if you check "Yes" for the criteria below
You have experienced

at least two out of three common symptoms

of

Meniere's disease

(ringing in the ears, feeling of fullness in the ears, and dizziness or spinning sensation) within the

past three months

before starting the study.
Timeline
Screening ~ 3 weeks
3 visits
This trial's timeline: 3 weeks for screening, Varies for treatment, and 84 days for reporting.
Treatment Details
Study Objectives
Outcome measures can provide a clearer picture of what you can expect from a treatment.
Change in Words-in-Noise Test score
Change in low frequency hearing thresholds measured by pure tone audiometry
Incidence of Treatment-Emergent Adverse Events
Secondary outcome measures
Change in tinnitus loudness
+2 more
Side effects data
From 2019 Phase 2 trial • 149 Patients • NCT03325790
12%
Blood triglycerides increased
7%
Alanine aminotransferase increased
7%
Gamma-glutamyltransferase increased
5%
Upper respiratory tract infection
Study treatment Arm
200mg SPI-1005 Twice Daily (BID)
Placebo
400mg SPI-1005 BID
Awards & Highlights
The final step before approval, pivotal trials feature drugs that have already shown basic safety & efficacy.
Trial Design
Group I: SPI-1005 400 mg BID
Experimental Treatment
1 Intervention
Oral administration of SPI-1005 400 mg BID for 28 days, with 84-day followup
Group II: Placebo
Placebo Group
1 Intervention
Oral administration of matching placebo BID for 28 days, with 84-day followup
How many patients have taken this drug
Who is running the clinical trial?
Sound Pharmaceuticals, Incorporated
Lead Sponsor
11 Previous Clinical Trials
874 Total Patients Enrolled
Media Library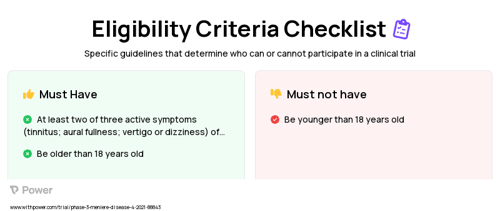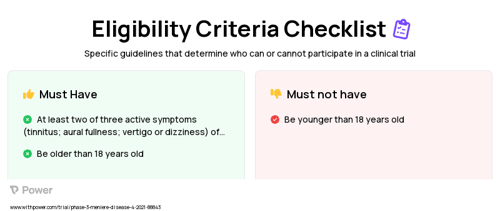 Ebselen (Selenium-containing molecule) Clinical Trial Eligibility Overview. Trial Name: NCT04677972 — Phase 3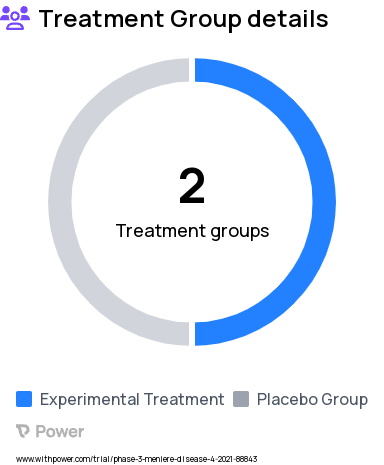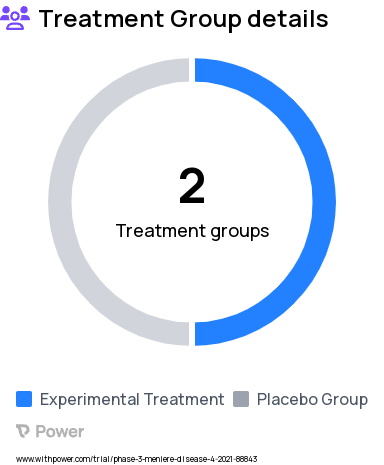 Meniere's Disease Research Study Groups: SPI-1005 400 mg BID, Placebo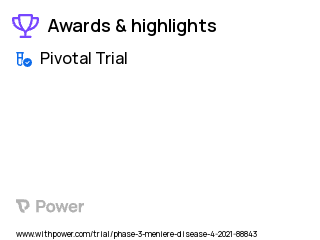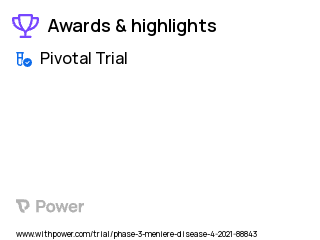 Meniere's Disease Clinical Trial 2023: Ebselen Highlights & Side Effects. Trial Name: NCT04677972 — Phase 3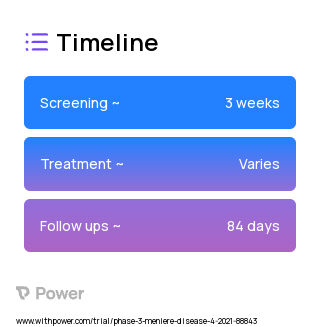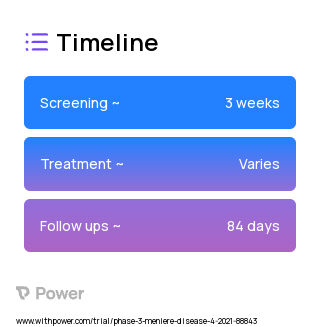 Ebselen (Selenium-containing molecule) 2023 Treatment Timeline for Medical Study. Trial Name: NCT04677972 — Phase 3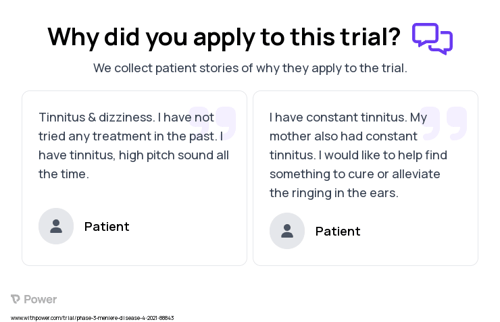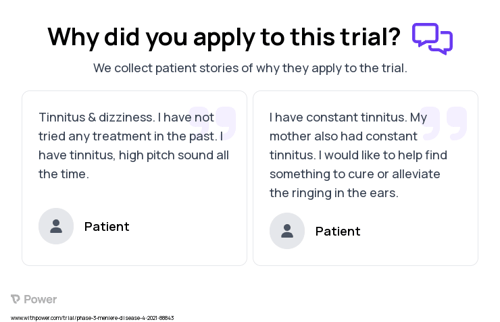 Meniere's Disease Patient Testimony for trial: Trial Name: NCT04677972 — Phase 3
Frequently Asked Questions
These questions and answers are submitted by anonymous patients, and have not been verified by our internal team.
Are there several hospitals running this trial in the metropolitan area?
"Currently, this study is enrolling patients from a total of 24 sites. While some of the locations are in Farmington Hills, Maywood and San Francisco, others are more dispersed. If you are interested in participating, it may be best to choose a location that is close to you to avoid extensive travel."
Are participants being actively recruited for this experiment as of now?
"The listed clinical trial on clinicaltrials.gov is currently recruiting patients. This specific trial was posted on 8/2/2022 and updated on 11/3/2022."
What are the main objectives of this research project?
"The primary outcome of this 56 day clinical trial, as reported by Sound Pharmaceuticals, Incorporated, is the Incidence of Treatment-Emergent Adverse Events. Additionally, the study will secondary outcomes including Change in tinnitus loudness, Change in aural fullness, and Change in dizziness."
Could you please summarize the existing Ebselen research?
"Currently, 4 clinical trials for Ebselen are underway. 1 of these trials is in Phase 3. These trials began in Durham, North Carolina but have since expanded to 39 different locations."
How does Ebselen consumption impact human health?
"Ebselen has been evaluated as a level 3 medication, meaning that while there is data supporting its efficacy, multiple rounds of testing have also confirmed its safety."
Does this method of research have any precedent?
"Ebselen is being trialed in 23 cities across 2 nations. The first time Ebselen was trialed was in 2021 by Sound Pharmaceuticals, Incorporated. That initial study had 50 patients and completed Phase 1 of the approval process. Since then, 18268 more trials have been conducted."
Is this research open to people who are above the age of 75 years old?
"The enrolled participants in this particular clinical trial must be aged 18 to 75. There are 1 clinical trials specifically for people who are underage and 20 trials for people who are geriatric."
Who would be a good candidate to take part in this experiment?
"To be eligible for this clinical trial, patients must suffer from vertigo and aural symptoms. Furthermore, they should be between the ages of 18 and 75. This study will accept a total of 200 individuals."
Who else is applying?
What state do they live in?
What site did they apply to?
Kansas University Medical Center
University of California Irvine
What portion of applicants met pre-screening criteria?
How many prior treatments have patients received?
What questions have other patients asked about this trial?
how long do takes the teste? How long before I know if selected? Has the drug been proven to be safe or is that part of the trial to find out??
Why did patients apply to this trial?
Tinnitus & dizziness. I have not tried any treatment in the past. I have tinnitus, high pitch sound all the time.
I have constant tinnitus. My mother also had constant tinnitus. I would like to help find something to cure or alleviate the ringing in the ears.
Recent research and studies