Intervention for Hip Fracture
Research Sponsored by Lancaster General Hospital
Eligibility Criteria Checklist
Specific guidelines that determine who can or cannot participate in a clinical trial
Must have
Be older than 65 years old
Must not have
Be younger than 65 years old
All Individual Drugs Already Approved
Study Summary
This trial will compare the effects of tranexamic acid (TXA) versus placebo on blood loss and transfusion requirements in patients over 60 years old who have undergone hip fracture surgery.
Timeline
Screening ~ 3 weeks
3 visits
This trial's timeline: 3 weeks for screening, Varies for treatment, and 3 months for reporting.
Treatment Details
Study Objectives
Outcome measures can provide a clearer picture of what you can expect from a treatment.
Secondary outcome measures
Awards & Highlights
All Individual Drugs Already Approved
Therapies where all constituent drugs have already been approved are likely to have better-understood side effect profiles.
The final step before approval, pivotal trials feature drugs that have already shown basic safety & efficacy.
Trial Design
Group I: Intervention
Active Control
1 Intervention
100 cc normal saline with 1g of tranexamic acid in solution
Group II: Placebo
Placebo Group
1 Intervention
Who is running the clinical trial?
Lancaster General Hospital
Lead Sponsor
22 Previous Clinical Trials
3,512 Total Patients Enrolled
1 Trials studying Hip Fracture
Gregory Tocks, DO
Principal Investigator
Penn Medicine / Lancaster General Hospital
Media Library


Placebo Clinical Trial Eligibility Overview. Trial Name: NCT03923959 — Phase 3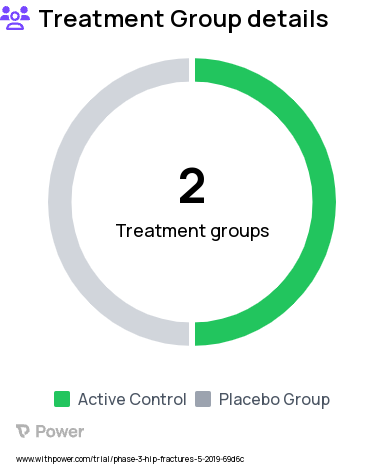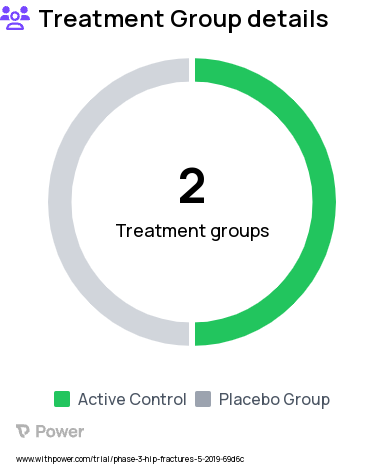 Hip Fracture Research Study Groups: Intervention, Placebo
Hip Fracture Clinical Trial 2023: Placebo Highlights & Side Effects. Trial Name: NCT03923959 — Phase 3
Placebo 2023 Treatment Timeline for Medical Study. Trial Name: NCT03923959 — Phase 3
Frequently Asked Questions
These questions and answers are submitted by anonymous patients, and have not been verified by our internal team.
Has the FDA given the go-ahead to this new method/drug/etc.?
"There is some evidence that the intervention being tested is effective, as well as numerous reports confirming its safety, so our team has given it a score of 3."
What is the typical reason why a doctor would prescribe Intervention?
"Although hyperfibrinolysis is the primary use case, Intervention is also effective for treating other conditions like hemophilia, bleeding, and tooth extractions."
Are new volunteers being sought for this experiment?
"The clinicaltrials.gov website indicates that this trial is not presently looking for participants. This particular trial was first posted on February 1st, 2020 and was last updated on October 25th, 2022. There are 455 other trials that are actively recruiting patients."
Is Intervention a common medical procedure?
"At the moment, 69 clinical trials studying Intervention are ongoing. Among these, 29 are in Phase 3. Many of the studies for Intervention are based in Kansas City, Kansas; however, 305 locations across the globe are running trials for this treatment."
Recent research and studies