Hormone Therapy
Melatonin for Traumatic Brain Injury
Oregon Health & Science University, Portland, OR
Targeting 3 different conditions
melatonin

+1 more
Phase 2
Recruiting
Led by Cydni Williams, MD
Research Sponsored by Oregon Health and Science University
Eligibility Criteria Checklist
Specific guidelines that determine who can or cannot participate in a clinical trial
Must have
Be younger than 65 years old
Must not have
Be older than 65 years old
Follow Up
through study completion, an average of 6-months
Study Summary
This trial will test if a melatonin intervention can help reduce sleep wake disturbances for pediatric TBI survivors, which will be measured by questionnaires and activity monitors.
Traumatic Brain Injury

Critical Illness

Sleep
Timeline
Screening ~ 3 weeks
3 visits
Follow Up ~ through study completion, an average of 6-months
Follow Up ~
through study completion, an average of 6-months
This trial's timeline: 3 weeks for screening, Varies for treatment, and through study completion, an average of 6-months for reporting.
Treatment Details
Study Objectives
Outcome measures can provide a clearer picture of what you can expect from a treatment.
Secondary outcome measures
Side effects data
From 2017 Phase 3 trial • 709 Patients • NCT00668707
1%
Hip replacement surgery
1%
Surgical site infection
1%
New Neoplasm - Lung Cancer
Trial Design
Group I: Melatonin
Experimental Treatment
1 Intervention
(melatonin doses of 3mg or 5mg based on patient size given nightly 1 hour prior to bedtime every night for 30 days)
Group II: Placebo
Placebo Group
1 Intervention
How many patients have taken this drug
Who is running the clinical trial?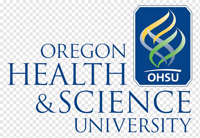 Oregon Health and Science University
Lead Sponsor
931 Previous Clinical Trials
6,829,989 Total Patients Enrolled

National Heart, Lung, and Blood Institute (NHLBI)
NIH
3,713 Previous Clinical Trials
47,168,839 Total Patients Enrolled
Cydni Williams, MD
Principal Investigator
Oregon Health and Science University
Media Library
Melatonin (Hormone Therapy) Clinical Trial Eligibility Overview. Trial Name: NCT04932096 — Phase 2
Traumatic Brain Injury Research Study Groups: Melatonin, Placebo
Traumatic Brain Injury Clinical Trial 2023: Melatonin Highlights & Side Effects. Trial Name: NCT04932096 — Phase 2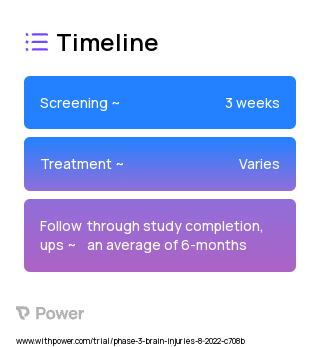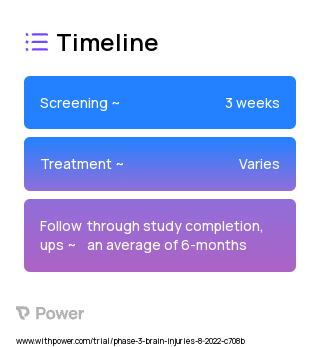 Melatonin (Hormone Therapy) 2023 Treatment Timeline for Medical Study. Trial Name: NCT04932096 — Phase 2
Frequently Asked Questions
These questions and answers are submitted by anonymous patients, and have not been verified by our internal team.
Am I qualified to participate in this scientific experiment?
"This medical trial requires its participants to be suffering from a severe illness and aged between 6 and 18. The total capacity of this experiment is 110 individuals."
Can individuals expect any unwanted side effects from a sleep management regimen?
"The risk associated with the sleep management plan is estimated to be a 2 according to our team at Power. This Phase 2 trial has some evidence in favour of safety, but no data demonstrating efficacy yet."
Is there room for more participants in this experiment?
"According to clinicaltrials.gov, this research project is not taking on any new patients at present; the study was initially posted on September 1st 2022 and recently updated on August 11th 2022. Despite this, there are 1198 other studies currently recruiting participants."
What objectives is this scientific experiment seeking to accomplish?
"During this 6-month medical trial, the principal objective is to evaluate retention. Other desirable outcomes encompass assessment of adverse events both at baseline and follow-up, as well as fatigue scores obtained via a parent proxy report using the PedsQL Multidimensional Fatigue Scale with 0 representing no function and 100 indicating optimal functioning."
Does this experiment accept elderly participants?
"The age criteria for this clinical trial necessitates that participants are between 6 and 18 years old. There is an abundance of trials devoted to children, with 204 studies targeting those below the age of 18, as well as a plethora of 929 research initiatives for seniors above 65."
Recent research and studies