PARP Inhibitor
Niraparib for Soft Tissue Sarcoma
Memorial Sloan Kettering Monmouth (Limited Protocol Activities), Middletown, NJ
Targeting 2 different conditions
Niraparib
Phase 2
Recruiting
Led by William Tap, MD
Research Sponsored by Memorial Sloan Kettering Cancer Center
Eligibility Criteria Checklist
Specific guidelines that determine who can or cannot participate in a clinical trial
Must have
Known deleterious or suspected deleterious alteration in at least one of the following prespecified DDR pathway genes: Core Genes Gene Pathway BRCA1 FA/HR BRCA2 FA/HR BRIP1 FA/HR BARD1 FA/HR BLM FA/HR PALB2 FA MRE11 HR NBN HR RAD50 HR/NHEJ RAD51B FA/HR RAD51C HR RAD51D HR RAD52 HR RAD54B HR Other Genes Gene Pathway ABRAXAS1 NHEJ ATM OTHER ATR OTHER CHEK1 OTHER CHEK2 OTHER ERCC4 NER ERCC8 NER FANCA FA FANCC FA FANCD2 FA FANCE FA FANCF FA FANCG FA FANCI FA FANCL FA FANCM FA/HR MDC1 OTHER PARP1 BER RAD23B NER RECQL4 HR RPA1 NER SLX4 FA/HR XRCC2 FA/HR XRCC4 NHEJ XRCC6 NHEJ A= Fanconi Anemia BER = Base Excision Repair NER = Nucleotide Excision Repair HR = Homologous Recombination NHEJ = Non-homologous End Joining Additional genes may be added to Appendix 18.1 in a study addendum as medical and scientific research and/or diagnostic testing evolves Alterations of uncertain significance must be approved for inclusion by the Principal Investigator Performance status of ECOG ≤ 2 Progressed on at least 1 prior line of systemic therapy. Patients who decline standard of care first-line systemic therapy will be permitted to enroll Prior adjuvant therapy will not count if it was completed more than 1 year before the date of consent Presence of measurable disease by RECIST 1.1 Target lesions must not be chosen from a previously irradiated field unless there has been radiographically and/or pathologically documented tumor progression in that lesion prior to enrollment. Adequate organ function determined within 14 days of treatment initiation, defined below: Absolute neutrophil count (ANC) ≥ 1.5 K/mcL Platelets ≥ 100 K/ mcL Hemoglobin ≥ 9 g/dL Serum creatinine OR Measured or calculated creatinine clearance Estimated glomerular filtration rate (eGFR) ≥ 30 mL/min/1.73 m2 . For calculated CrCL, the Cockcroft Gault formula or institutional standard formula can be used. Serum total bilirubin ≤1.5 X ULN OR ≤2 X ULN if hyperbilirubinemia is due to Gilbert's syndrome AST (SGOT) and ALT (SGPT) Aspartate aminotransferase (AST) and alanine aminotransferase (ALT) ≤ 2.5 × upper limit of normal (ULN); if liver metastases, then ≤ 5 × ULN International Normalized Ratio ≤1.5 X ULN (≤ 2.5 × ULN if on anticoagulants) Women of childbearing potential must have a negative serum pregnancy test at screening and ≤ 72 hours prior to the first dose of study treatment. Women of childbearing potential must be willing to use a highly effective method of contraception and not breastfeed for the duration of the study and for at least 6 months after the last dose of study medication Abstinence is acceptable if this is the usual lifestyle and preferred contraception for the subject. Non-sterile male subjects and their female partners must be willing to use a highly effective method of contraception during the study treatment period and for at least 3 months after the last dose of study treatment. Nonsterile males must avoid sperm donation for the duration of the study and for at least 3 months after last study drug. Prior chemotherapy or any investigational therapies or other anti-cancer agent must have been completed at least 4 weeks before the study drug administration. All AEs must be ≤ NCI CTCAE v5 Grade 1, except alopecia and stable neuropathy, which must have resolved to Grade ≤ 2 or baseline. Patients who were treated with estrogen modulating therapies (aromatase inhibitors, tamoxifen, GnRH agonists etc.) must have been treated at least 2 weeks prior to study drug administration. Radiation therapy encompassing >20% of the bone marrow is prohibited within 2 weeks prior to Day 1 and during study treatment. Note: Palliative radiation therapy to a small field >1 week prior to Day 1 of study treatment may be allowed. Patients must have normal blood pressure or adequately treated and controlled hypertension. (i.e. systolic BP ≤ 140 mmHg and diastolic BP ≤ 90 mmHg) . Patients receiving corticosteroids may continue as long as their dose is stable for at least 4 weeks prior to initiating protocol therapy. Participant must agree to not donate blood during the study or for 90 days after the last dose of study treatment. Human immunodeficiency virus (HIV)-infected patients on effective anti-retroviral therapy with documented undetectable viral load and CD 4 count ≥350 within 6 months of the first dose of study treatment are eligible for this trial.
Be older than 18 years old
Must not have
Be younger than 18 years old
Study Summary
This trial will test the effectiveness of niraparib against unresectable and/or metastatic soft tissue sarcoma with DDR mutations. It will also study the safety and side-effects of niraparib.
Soft Tissue Sarcoma

Uterine Sarcoma
Eligibility Criteria
Inclusion Criteria
You will be eligible if you check "Yes" for the criteria below
You have

specific gene mutations

related to DNA damage repair pathways, and have

progressed on at least one prior line of systemic therapy

. You must have

measurable disease

and

normal organ function

. You cannot be pregnant or breastfeeding, and must

use contraception

during and after the study. You cannot have had chemotherapy or investigational therapies within the past 4 weeks, and must have

normal blood pressure or controlled hypertension

.
Timeline
Screening ~ 3 weeks
3 visits
This trial's timeline: 3 weeks for screening, Varies for treatment, and 2 years for reporting.
Treatment Details
Study Objectives
Outcome measures can provide a clearer picture of what you can expect from a treatment.
Secondary outcome measures
Progression free survival (PFS)
Awards & Highlights
All patients enrolled in this study will receive some form of active treatment.
Trial Design
Group I: Niraparib
Experimental Treatment
1 Intervention
This study will utilize Simon's two-stage design: 16 patients will be enrolled in the first portion of this study. If 4 or more patients are progression-free at 12 weeks, an additional 16 patients will be enrolled for a total of n = 32 patients enrolled.
How many patients have taken this drug
Who is running the clinical trial?
Memorial Sloan Kettering Cancer Center
Lead Sponsor
1,878 Previous Clinical Trials
585,073 Total Patients Enrolled

GlaxoSmithKline
Industry Sponsor
4,697 Previous Clinical Trials
8,036,836 Total Patients Enrolled
William Tap, MD
Principal Investigator
Memorial Sloan Kettering Cancer Center
6 Previous Clinical Trials
752 Total Patients Enrolled
Media Library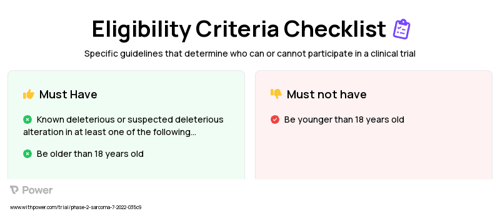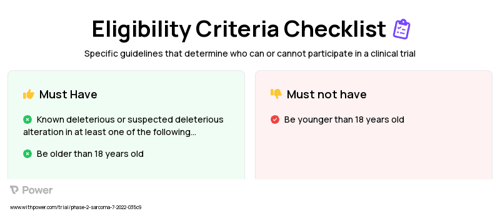 Niraparib (PARP Inhibitor) Clinical Trial Eligibility Overview. Trial Name: NCT05515575 — Phase 2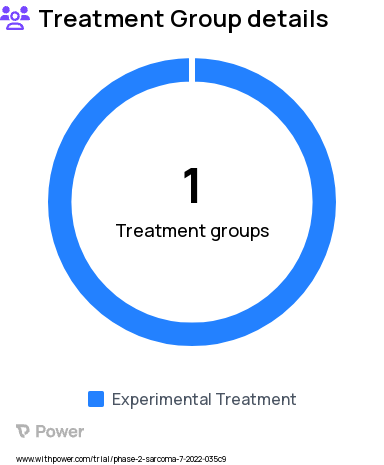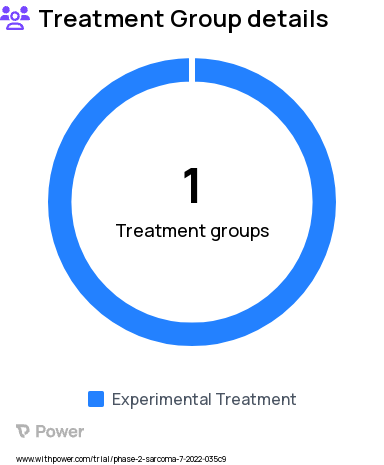 Soft Tissue Sarcoma Research Study Groups: Niraparib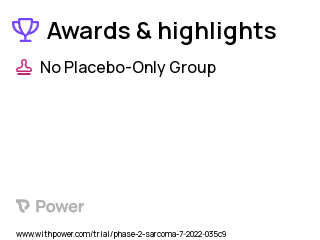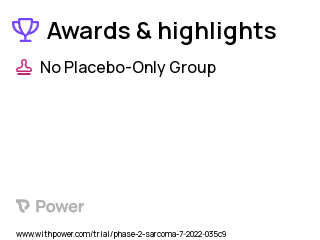 Soft Tissue Sarcoma Clinical Trial 2023: Niraparib Highlights & Side Effects. Trial Name: NCT05515575 — Phase 2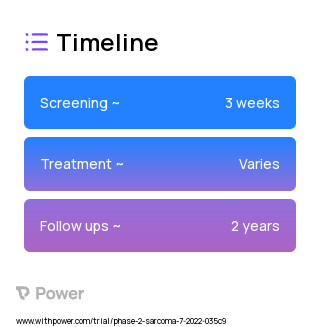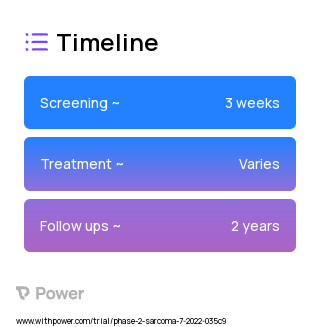 Niraparib (PARP Inhibitor) 2023 Treatment Timeline for Medical Study. Trial Name: NCT05515575 — Phase 2
Frequently Asked Questions
These questions and answers are submitted by anonymous patients, and have not been verified by our internal team.
Has Niraparib been cleared by the FDA?
"Since this is a phase 2 trial, meaning that while there is some evidence of safety, there is none for efficacy, we have rated Niraparib as a 2 in terms of safety."
What is the projected scope of this clinical trial in terms of participants?
"The information available on clinicaltrials.gov seems to suggest that this study is still open to enrolling patients. This trial was originally posted on August 23rd, 2022 and was last updated September 7th, of the same year. The researchers conducting this study hope to recruit 32 participants from 7 different locations."
Are there any participants still needed for this research?
"That is correct, the online information shows that the trial is open and looking for volunteers. The listing went up on 8/23/2022 and was updated most recently on 9/7/2022. They need 32 people in total and have 7 different centres where patients can be recruited from."
In how many different areas is this investigation being conducted today?
"Currently, there are 7 active sites for this research study. They are situated in Basking Ridge, Middletown and New York amongst other places. To limit the amount of travel needed, please choose the site closest to your location."