Monoclonal Antibodies
Loncastuximab Tesirine for Non-Hodgkin's Lymphoma
Fred Hutch/University of Washington Cancer Consortium, Seattle, WA
Targeting 11 different conditions
Loncastuximab Tesirine
Phase 2
Recruiting
Led by Stephen D. Smith
Research Sponsored by University of Washington
Eligibility Criteria Checklist
Specific guidelines that determine who can or cannot participate in a clinical trial
Must have
Disease-specific criteria:
- Group 4: Relapsed/refractory, CD19-negative B-NHL by both immunohistochemistry and flow cytometry (minimal to absent expression). Patients (Pts) must have had at least 1 prior therapy, and no alternative with a more favorable benefit/risk ratio in the judgment of the treating investigator
Must not have
Be younger than 18 years old
Study Summary
This trial tests whether a targeted therapy drug shrinks tumors in patients with B-cell malignancies that have come back or does not respond to treatment.
Non-Hodgkin Lymphoma

Diffuse Large B-Cell Lymphoma

Follicular Lymphoma

Mantle Cell Lymphoma

Lymphoproliferative Disorder

B-Cell Lymphoma

Non-Hodgkin's Lymphoma
Eligibility Criteria
Inclusion Criteria
You will be eligible if you check "Yes" for the criteria below
You have a

specific disease

that needs to

meet certain criteria

for inclusion in the study.
You have a type of

non-Hodgkin lymphoma

called

B-NHL

that has come back or is not responding to treatment. Tests have shown that you have

very low or no expression of the CD19 protein

. You have already tried at least one treatment before, and your doctor doesn't think there is a better treatment option for you.
Timeline
Screening ~ 3 weeks
3 visits
Follow Up ~ up to 5 years
This trial's timeline: 3 weeks for screening, Varies for treatment, and up to 5 years for reporting.
Treatment Details
Study Objectives
Outcome measures can provide a clearer picture of what you can expect from a treatment.
Overall response rate (ORR)
Secondary outcome measures
Incidence of grade 3-5 drug-related toxicity
+4 more
Awards & Highlights
All patients enrolled in this study will receive some form of active treatment.
Trial Design
Group I: Treatment (loncastuximab tesirine)
Experimental Treatment
1 Intervention
Patients receive loncastuximab tesirine IV over 30 minutes on day 1 of each cycle. Treatment repeats every 21 days for 6 cycles in the absence of disease progression or unacceptable toxicity.
Who is running the clinical trial?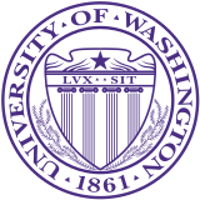 University of Washington
Lead Sponsor
1,684 Previous Clinical Trials
1,687,058 Total Patients Enrolled
Stephen D. Smith
Principal Investigator
Fred Hutch/University of Washington Cancer Consortium
2 Previous Clinical Trials
53 Total Patients Enrolled
Media Library
Loncastuximab Tesirine (Monoclonal Antibodies) Clinical Trial Eligibility Overview. Trial Name: NCT05453396 — Phase 2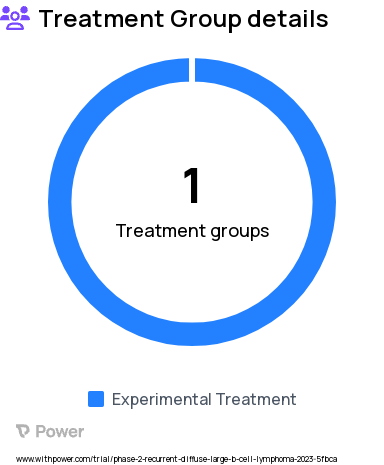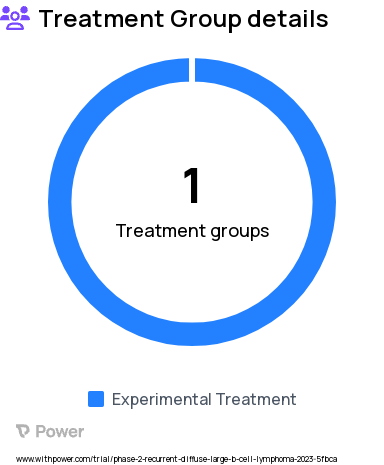 Non-Hodgkin's Lymphoma Research Study Groups: Treatment (loncastuximab tesirine)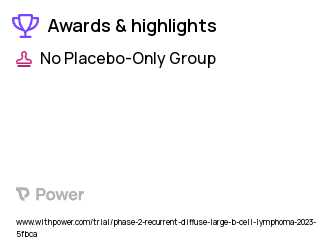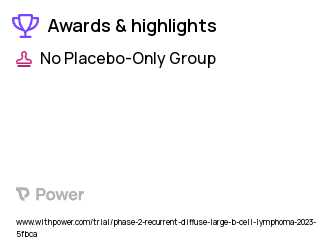 Non-Hodgkin's Lymphoma Clinical Trial 2023: Loncastuximab Tesirine Highlights & Side Effects. Trial Name: NCT05453396 — Phase 2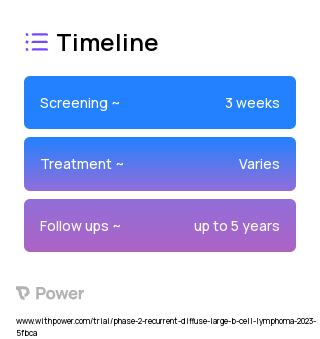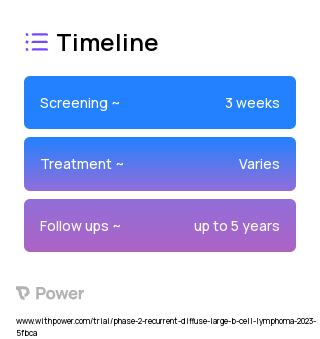 Loncastuximab Tesirine (Monoclonal Antibodies) 2023 Treatment Timeline for Medical Study. Trial Name: NCT05453396 — Phase 2
Frequently Asked Questions
These questions and answers are submitted by anonymous patients, and have not been verified by our internal team.
Has Loncastuximab Tesirine obtained regulatory clearance from the FDA?
"There is some evidence of Loncastuximab Tesirine's safety, so it earned a score of 2. The lack of efficacy data precludes the medication from receiving higher mark."
Is this research currently open to participants?
"This investigation is not currently recruiting study participants, as it was last updated on November 2nd 2022. However, there are 3609 other medical trials actively searching for patients to enroll in their studies."