Stem Cell Therapy
CD34+ bone marrow stem cells intravitreal for Retinitis Pigmentosa
Led By Susanna s Park, MD PhD
Research Sponsored by University of California, Davis
Eligibility Criteria Checklist
Specific guidelines that determine who can or cannot participate in a clinical trial
Must have
duration of vision loss > 3 months
the study eye has the worse visual acuity
Must not have
Be younger than 18 years old
Follow Up
1 day to 6 months
Study Summary
This trial is to see if it's safe to inject stem cells from bone marrow into the eye to treat blindness from various retinal conditions.
Retinitis Pigmentosa

Age-Related Macular Degeneration

Retinal Vein Occlusion

Diabetic Retinopathy
Eligibility Criteria
Inclusion Criteria
You will be eligible if you check "Yes" for the criteria below
You have experienced

vision loss for more than 3 months

.
The eye being studied has

worse vision compared to the other eye

.
You do not have any current eye or overall health problems.
You have been experiencing

vision loss for more than three months

.
You do not have any ongoing eye or systemic health problems.
Your

eye with the worst vision

will be considered for the study.
Your eyes do not have any major blockages or cloudiness.
You do not have any significant vision problems that would make it difficult for doctors to see inside your eyes.
Timeline
Screening ~ 3 weeks
3 visits
Follow Up ~ 1 day to 6 months
Follow Up ~
1 day to 6 months
This trial's timeline: 3 weeks for screening, Varies for treatment, and 1 day to 6 months for reporting.
Treatment Details
Study Objectives
Outcome measures can provide a clearer picture of what you can expect from a treatment.
Incidence and severity of ocular adverse events
Secondary outcome measures
The number of stem cells isolated and injected into the study eye
Incidence and severity of systemic adverse events
Awards & Highlights
All patients enrolled in this study will receive some form of active treatment.
Trial Design
Group I: Stem cell treated
Experimental Treatment
1 Intervention
Who is running the clinical trial?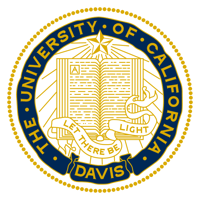 University of California, Davis
Lead Sponsor
884 Previous Clinical Trials
5,027,321 Total Patients Enrolled
2 Trials studying Retinitis Pigmentosa
442 Patients Enrolled for Retinitis Pigmentosa
Susanna s Park, MD PhD
Principal Investigator
University of California Davis Eye Center
Media Library


CD34+ bone marrow stem cells (Stem Cell Therapy) Clinical Trial Eligibility Overview. Trial Name: NCT01736059 — Phase 1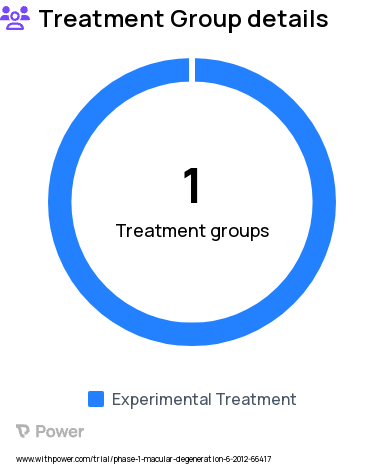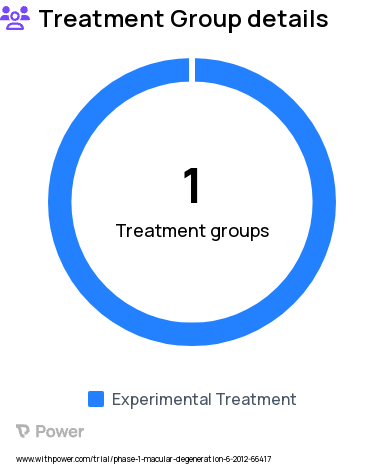 Retinitis Pigmentosa Research Study Groups: Stem cell treated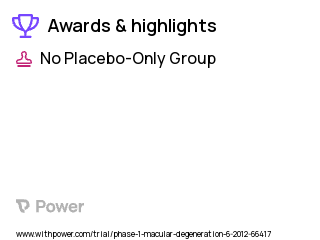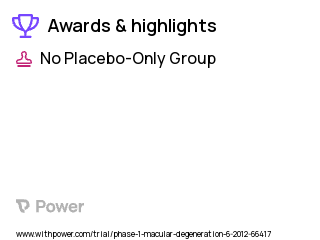 Retinitis Pigmentosa Clinical Trial 2023: CD34+ bone marrow stem cells Highlights & Side Effects. Trial Name: NCT01736059 — Phase 1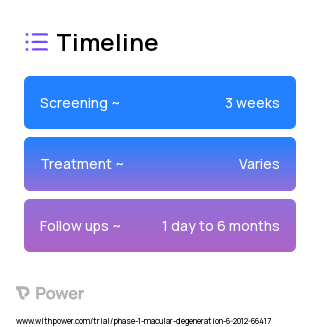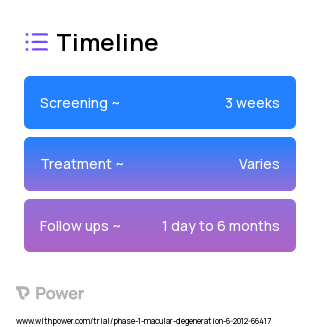 CD34+ bone marrow stem cells (Stem Cell Therapy) 2023 Treatment Timeline for Medical Study. Trial Name: NCT01736059 — Phase 1
Frequently Asked Questions
These questions and answers are submitted by anonymous patients, and have not been verified by our internal team.
Does this study's eligibility criteria restrict those aged eighteen or older?
"This medical trial will include patients that are at least 18 years old and not older than 100."
Is there an opportunity for me to participate in this experiment?
"Eligibility criteria for this clinical trial necessitates that potential participants possess retinitis pigmentosa and be between 18 to 100 years of age. Approximately 15 candidates will be selected in total."
Are there any federal regulations for intravitreal injections of CD34+ bone marrow stem cells?
"Owing to the limited clinical data surrounding CD34+ bone marrow stem cells intravitreal, it was assigned a score of 1 on our safety scale. This assessment is reflective of its Phase 1 status."
Is this research study recruiting participants at this time?
"The data from clinicaltrials.gov shows that this particular trial, which was originally added on July 1st 2012 and last updated on August 8th 2022, is no longer accepting candidates. Fortunately, there are 299 other trials in need of participants currently available."
Who else is applying?
What state do they live in?
What portion of applicants met pre-screening criteria?
Recent research and studies