Hormone Therapy
GnRH for Kallmann Syndrome
Massachusetts General Hospital, Boston, MA
Targeting 4 different conditions
GnRH

+1 more
Phase 1
Recruiting
Led by Stephanie B Seminara, MD
Research Sponsored by Massachusetts General Hospital
Eligibility Criteria Checklist
Specific guidelines that determine who can or cannot participate in a clinical trial
Must have
Tanner stage I OR II breast development with no change in the past 6 months
bone age less than chronological age
Must not have
Be older than 18 years old
Follow Up
within 30 minutes of administration
All Individual Drugs Already Approved
Approved for 5 Other Conditions
Study Summary
This trial is testing whether kisspeptin can help diagnose which children with delayed puberty will eventually enter puberty on their own, and which children have a permanent condition.
Kallmann Syndrome

Gonadotropin-Releasing Hormone Deficiency

Delayed Puberty

Hypogonadotropic Hypogonadism
Eligibility Criteria
Inclusion Criteria
You will be eligible if you check "Yes" for the criteria below
You have not experienced any breast development changes in the

past 6 months

and are in the

early stages of puberty

.
Your bones are not as developed as they should be for your age.
Timeline
Screening ~ 3 weeks
3 visits
Follow Up ~ within 30 minutes of administration
Follow Up ~
within 30 minutes of administration
This trial's timeline: 3 weeks for screening, Varies for treatment, and within 30 minutes of administration for reporting.
Treatment Details
Study Objectives
Outcome measures can provide a clearer picture of what you can expect from a treatment.
Average change in luteinizing hormone (LH) in response to kisspeptin
Side effects data
From 2009 Phase 2 trial • 36 Patients • NCT00586898
Awards & Highlights
All patients enrolled in this study will receive some form of active treatment.
All Individual Drugs Already Approved
Therapies where all constituent drugs have already been approved are likely to have better-understood side effect profiles.
Approved for 5 Other Conditions
This treatment demonstrated efficacy for 5 other conditions.
Trial Design
Group I: Kisspeptin, GnRH
Experimental Treatment
2 Interventions
Intravenous (IV) administration of kisspeptin 112-121 0.24 nmol/kg and GnRH 75 ng/kg
How many patients have taken this drug
Who is running the clinical trial?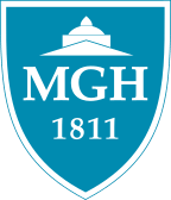 Massachusetts General Hospital
Lead Sponsor
2,814 Previous Clinical Trials
13,565,252 Total Patients Enrolled
8 Trials studying Kallmann Syndrome
5,873 Patients Enrolled for Kallmann Syndrome
Stephanie B Seminara, MD
Principal Investigator
Massachusetts General Hospital
8 Previous Clinical Trials
5,582 Total Patients Enrolled
3 Trials studying Kallmann Syndrome
5,162 Patients Enrolled for Kallmann Syndrome
Media Library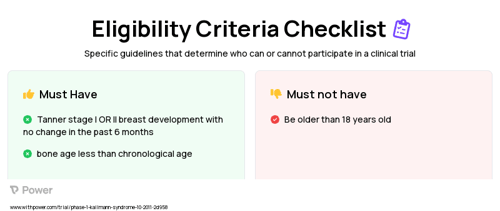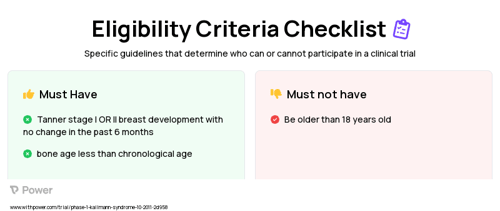 GnRH (Hormone Therapy) Clinical Trial Eligibility Overview. Trial Name: NCT01438034 — Phase 1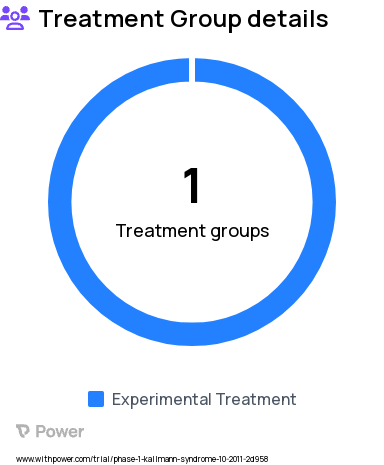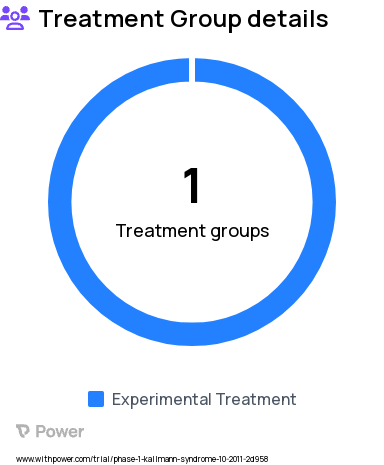 Kallmann Syndrome Research Study Groups: Kisspeptin, GnRH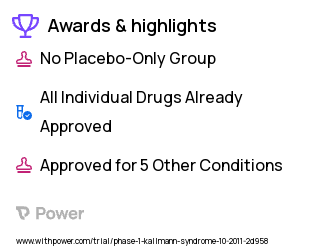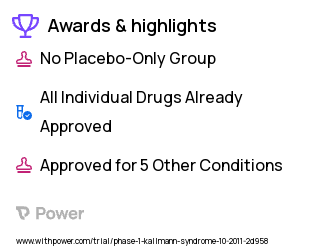 Kallmann Syndrome Clinical Trial 2023: GnRH Highlights & Side Effects. Trial Name: NCT01438034 — Phase 1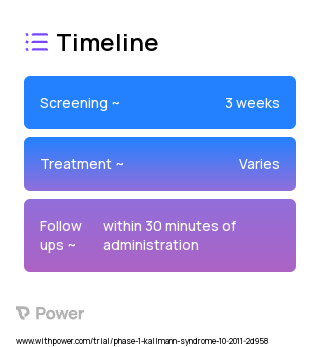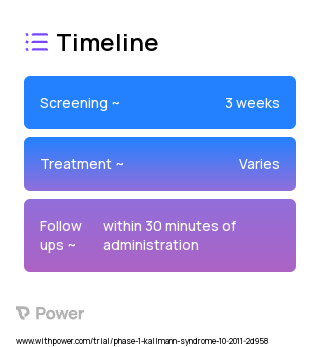 GnRH (Hormone Therapy) 2023 Treatment Timeline for Medical Study. Trial Name: NCT01438034 — Phase 1
Frequently Asked Questions
These questions and answers are submitted by anonymous patients, and have not been verified by our internal team.
What is the uppermost participation limit for this experiment?
"Affirmative, the clinical trial website presents information that this research is presently recruiting participants. This study was first advertised on November 1st 2011 and has been modified recently on June 29th 2022. The investigators have scheduled to accept 60 test subjects from a single medical facility."
Can I be considered as a participant in this experiment?
"Sixty participants aged between 12 and 17 who are experiencing a delay in puberty will be accepted into this medical trial. To qualify, adolescent girls must have Tanner stage I or II breast development with no changes for the past 6 months; boys should weigh more than 28kg and present a bone age less than their chronological age."
Has research been conducted with the hormone GnRH before?
"Presently, 46 trials exploring GnRH are underway. 10 of these being in the later stages (Phase 3). Although most research on this hormone is based out of Chicago Illinois, 1321 other locations host studies for this therapy."
Are there any potential hazards associated with GnRH administration?
"Our team has assigned GnRH a score of 1 due to lack of evidence for the drug's efficacy and safety, as it is only in its first stage of clinical trials."
Is the recruiting process for this research experiment currently underway?
"Yes, there is evidence on clinicaltrials.gov that this medical trial is actively recruiting participants. Initially posted in November 2011 and last edited June 2022, the study seeks to enrol 60 patients at a single location."
Is this medical study open to minors?
"As stated in the inclusion criteria, only minors between 12 and 17 years of age can join this clinical trial."
Who else is applying?
What state do they live in?
What portion of applicants met pre-screening criteria?