Immunosuppressant
Steroid Therapy for Graft-versus-Host Disease
City of Hope Medical Center, Duarte, CA
Targeting 2 different conditions
Steroid Therapy

+2 more
Phase 1
Recruiting
Led by Monzr M Al Malki
Research Sponsored by City of Hope Medical Center
Eligibility Criteria Checklist
Specific guidelines that determine who can or cannot participate in a clinical trial
Must have
Karnofsky performance status >= 70
Note: HCT from any donor (related or unrelated with any degree of human leukocyte antigen [HLA] matching) and any graft source (bone marrow, peripheral blood stem cells, or cord blood) for hematologic malignancy or disorder. Recipient of myeloablative and reduced-intensity conditioning regimens are eligible
Must not have
Be younger than 18 years old
Study Summary
This trial is testing a combination of drugs to treat patients with a specific kind of cancer. The drugs are designed to lower the body's immune response so that the new donor cells don't attack the body's normal cells.
Graft-versus-Host Disease

Blood Cancers
Eligibility Criteria
Inclusion Criteria
You will be eligible if you check "Yes" for the criteria below
You are able to perform daily activities and take care of yourself with a

score of 70 or higher

on the

Karnofsky performance scale

.
You

can receive a hematopoietic cell transplant

(HCT) from any donor, whether they are related or unrelated to you and regardless of the level of matching with your HLA. The source of the transplant can be from

bone marrow, peripheral blood stem cells, or cord blood

. This criterion applies to people with

hematologic malignancies or disorders

who have undergone

myeloablative or reduced-intensity conditioning regimens

.
Timeline
Screening ~ 3 weeks
3 visits
Follow Up ~ up to 6 months
Follow Up ~
up to 6 months
This trial's timeline: 3 weeks for screening, Varies for treatment, and up to 6 months for reporting.
Treatment Details
Study Objectives
Outcome measures can provide a clearer picture of what you can expect from a treatment.
Incidence of adverse events
Secondary outcome measures
Failure-free survival (FFS)
Incidence of bloodstream infection severity
+5 more
Awards & Highlights
All patients enrolled in this study will receive some form of active treatment.
Trial Design
Group I: Treatment of aGVHD (steroid therapy, leflunomide)
Experimental Treatment
3 Interventions
Patients receive steroid therapy at the discretion of the treating physician. Beginning within 3 days of starting steroids, patients receive leflunomide PO QD on days 1-28 in the absence of disease progression or unacceptable toxicity. Patients who respond to leflunomide treatment will be tapered off from day 29 until day 56.
How many patients have taken this drug
Who is running the clinical trial?

National Cancer Institute (NCI)
NIH
13,369 Previous Clinical Trials
41,215,247 Total Patients Enrolled
1 Trials studying Graft-versus-Host Disease
236 Patients Enrolled for Graft-versus-Host Disease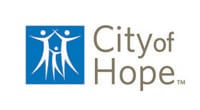 City of Hope Medical Center
Lead Sponsor
536 Previous Clinical Trials
2,250,882 Total Patients Enrolled
Monzr M Al Malki
Principal Investigator
City of Hope Medical Center
5 Previous Clinical Trials
206 Total Patients Enrolled
Media Library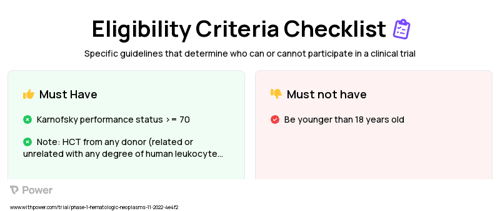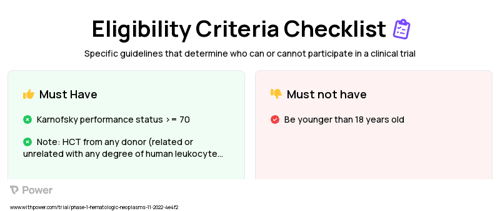 Leflunomide (Immunosuppressant) Clinical Trial Eligibility Overview. Trial Name: NCT05443425 — Phase 1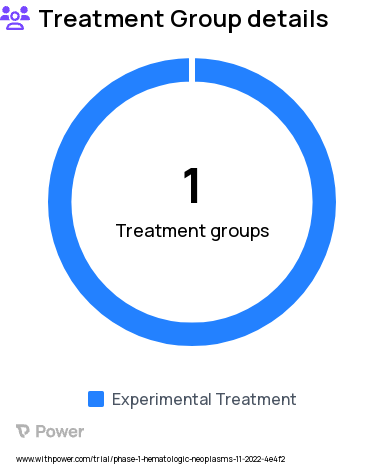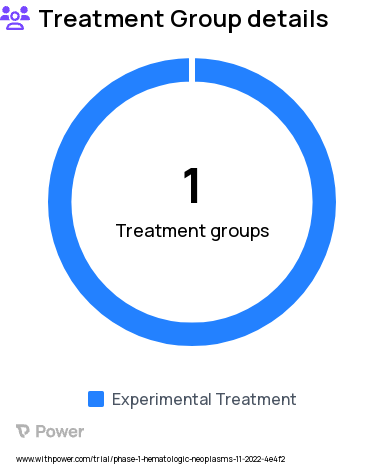 Graft-versus-Host Disease Research Study Groups: Treatment of aGVHD (steroid therapy, leflunomide)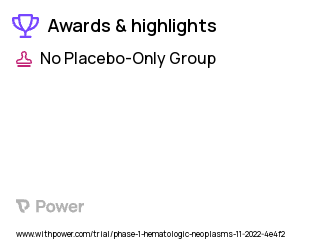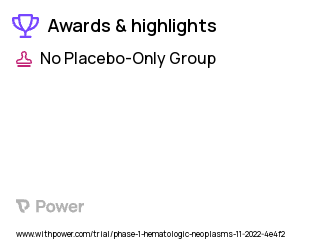 Graft-versus-Host Disease Clinical Trial 2023: Leflunomide Highlights & Side Effects. Trial Name: NCT05443425 — Phase 1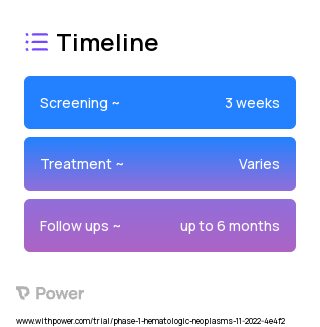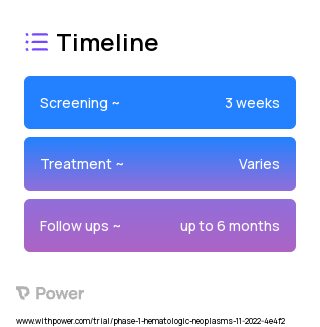 Leflunomide (Immunosuppressant) 2023 Treatment Timeline for Medical Study. Trial Name: NCT05443425 — Phase 1
Frequently Asked Questions
These questions and answers are submitted by anonymous patients, and have not been verified by our internal team.
Is the enrolment process currently active for this research?
"According to the information located on clinicaltrials.gov, this particular medical trial is not presently recruiting patients. This study was published December 10th 2022 and last edited June 30th 2022. While no longer enrolling participants at present, there are still 436 other studies open for recruitment right now."
What potential risks accompany the use of Steroid Therapy?
"Based on our assessment, steroid therapy is considered to have a low level of safety given that this trial is only in the initial stages. Therefore we assign it a score of 1."