Psilocybin + CBT for Depression
UCLA Semel Institute, Los Angeles, CA
Psilocybin
Phase < 1
Waitlist Available
Research Sponsored by University of California, Los Angeles
Eligibility Criteria Checklist
Specific guidelines that determine who can or cannot participate in a clinical trial
Must have
Patients with a current major depressive episode or a history of major depressive episodes based on the DSM-5 criteria (American Psychiatric Association, 2013)
Be between 18 and 65 years old
Must not have
Be younger than 18 years old
Be older than 65 years old
Follow Up
7-month study period
Study Summary
This trial studies how combining psilocybin (a psychedelic) with therapy helps treat depression. Two doses of psilocybin are given during 12 therapy sessions, and participants are followed for 4 months.
Eligibility Criteria
Inclusion Criteria
You will be eligible if you check "Yes" for the criteria below
You are currently experiencing a

severe episode of depression

or have a

history of severe depression

according to a specific set of guidelines.
Timeline
Screening ~ 3 weeks
3 visits
Follow Up ~ 7-month study period
Follow Up ~
7-month study period
This trial's timeline: 3 weeks for screening, Varies for treatment, and 7-month study period for reporting.
Treatment Details
Study Objectives
Outcome measures can provide a clearer picture of what you can expect from a treatment.
Global Assessment of Functioning
Hamilton Depression Rating Scale
+1 more
Side effects data
From 2021 Phase 2 trial • 95 Patients • NCT02061293
4%
Upper respiratory tract infection
4%
Viral upper resp. tract infection
2%
Blood pressure diastolic increased
2%
Blood pressure increased
2%
Psychomotor hyperactivity
2%
Alcohol withdrawal syndrome
2%
Skin cosmetic procedure
Study treatment Arm
Psilocybin
Diphenhydramine
Awards & Highlights
All patients enrolled in this study will receive some form of active treatment.
Trial Design
Group I: Psilocybin + CBT
Experimental Treatment
1 Intervention
All participants will receive 12 sessions of cognitive-behavioral therapy (CBT) along with two psilocybin-drug sessions -- the first following the third CBT session (10mg of psilocybin, taken orally) and the second following the sixth CBT session (25mg of psilocybin, taken orally).
How many patients have taken this drug
Who is running the clinical trial?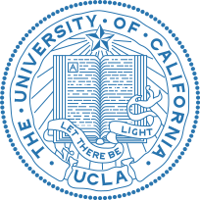 University of California, Los Angeles
Lead Sponsor
1,467 Previous Clinical Trials
10,148,906 Total Patients Enrolled
99 Trials studying Depression
40,049 Patients Enrolled for Depression
Media Library
Psilocybin + CBT Clinical Trial Eligibility Overview. Trial Name: NCT05227612 — Phase < 1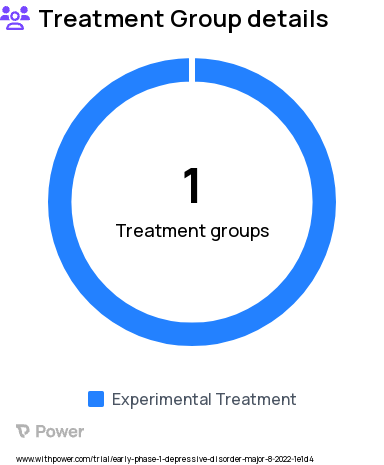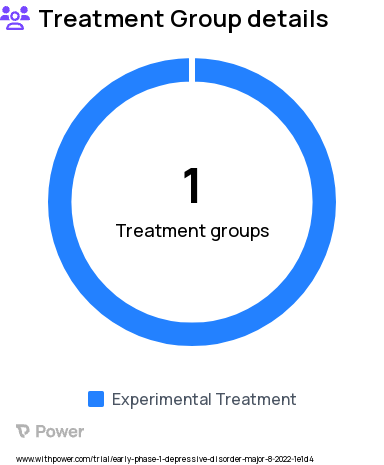 Depression Research Study Groups: Psilocybin + CBT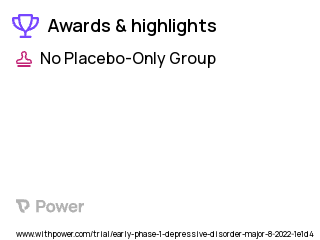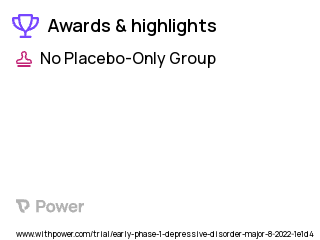 Depression Clinical Trial 2023: Psilocybin + CBT Highlights & Side Effects. Trial Name: NCT05227612 — Phase < 1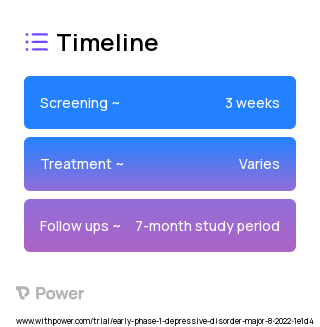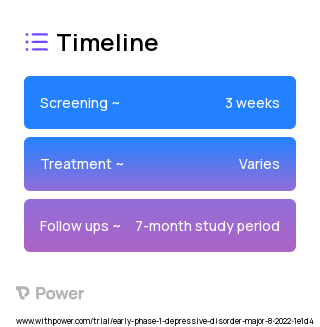 Psilocybin + CBT 2023 Treatment Timeline for Medical Study. Trial Name: NCT05227612 — Phase < 1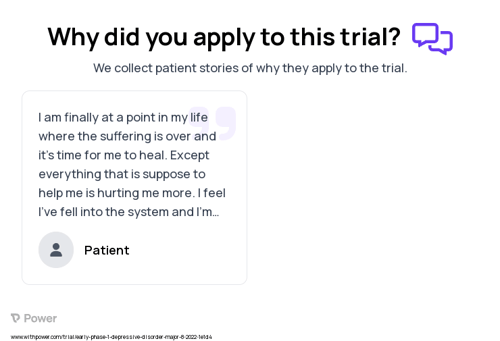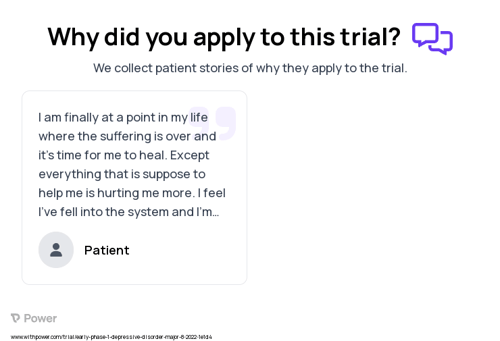 Depression Patient Testimony for trial: Trial Name: NCT05227612 — Phase < 1
Frequently Asked Questions
These questions and answers are submitted by anonymous patients, and have not been verified by our internal team.
May seniors aged 70 or younger join this experiment?
"Per the study's specifications, participants must be between 21 and 60 years old. Separately, there are 121 trials targeting minors and 630 for elderly patients."
Is it currently feasible to enroll in this research project?
"According to clinicaltrials.gov, this medical research project is no longer actively searching for volunteers; it was initially posted on June 27th 2023 and last modified on July 11th 2023. However, 876 other trials are still open for recruitment at present."
Is participation in this research endeavor open to me?
"This clinical trial is enrolling 30 adults between the ages of 21 and 60 who have been diagnosed with depression. In addition to meeting this requirement, applicants must be able to swallow capsules, present current major depressive episodes or a history thereof based on DSM-5 guidelines (American Psychiatric Association 2013), display active symptoms as measured by Hamilton-Depression Rating Scale scores higher than 16 over the last two weeks(Hamilton 1986), identify an individual that can pick them up from UCLA Semel Institute following psilocybin sessions, use one form of highly effective contraception such as oral contraceptive pills if applicable and commit to continuing its use for the duration of their"
Who else is applying?
What state do they live in?
What site did they apply to?
What portion of applicants met pre-screening criteria?
How many prior treatments have patients received?
Why did patients apply to this trial?
I am finally at a point in my life where the suffering is over and it's time for me to heal. Except everything that is suppose to help me is hurting me more. I feel I've fell into the system and I'm stuck. I'm begging for help and there is nothing out there for me. This is my last resort.