HHFNC + Clinical decision Support for Bronchiolitis
UPMC Children's Hospital of Pittsburgh, Pittsburgh, PA
Clinical Decision Support (CDS)

+1 more
N/A
Waitlist Available
Led by Christopher Horvat, MD
Research Sponsored by University of Pittsburgh
Eligibility Criteria Checklist
Specific guidelines that determine who can or cannot participate in a clinical trial
Must have
<2 years of age with Bronchiolitis WOB Score >2
Be younger than 18 years old
Must not have
Be older than 18 years old
Follow Up
days from being off hfnc until oral intake
Study Summary
This trial aims to improve recovery from common pediatric respiratory illnesses, reduce costs, and show UPMC Children's Hospital's capabilities in pediatric healthcare. It will examine using CDS to improve adherence to standardized guidelines and outcomes.
Eligibility Criteria
Inclusion Criteria
You will be eligible if you check "Yes" for the criteria below
Children under the age of 2 with a "

Bronchiolitis WOB Score

"

greater than 2

will not be included.
Timeline
Screening ~ 3 weeks
3 visits
Follow Up ~ days from admission to death
Follow Up ~
days from admission to death
This trial's timeline: 3 weeks for screening, Varies for treatment, and days from admission to death for reporting.
Treatment Details
Study Objectives
Outcome measures can provide a clearer picture of what you can expect from a treatment.
Secondary outcome measures
Awards & Highlights
All patients enrolled in this study will receive some form of active treatment.
Trial Design
Group I: HHFNC + Clinical decision Support
Experimental Treatment
2 Interventions
Standardized HHFNC weaning coupled with clinical decision support consisting of electronic record embedded reminders to the clinical team to wean HHFNC
Group II: HHFNC Weaning
Active Control
2 Interventions
Team does not receive clinical decision support reminders to wean the HHFNC
Who is running the clinical trial?
Beckwith Foundation
UNKNOWN
1 Previous Clinical Trials
8 Total Patients Enrolled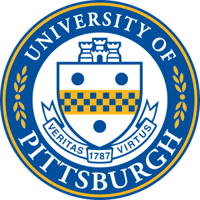 University of Pittsburgh
Lead Sponsor
1,674 Previous Clinical Trials
16,301,760 Total Patients Enrolled
1 Trials studying Bronchiolitis
600 Patients Enrolled for Bronchiolitis
Christopher Horvat
Lead Sponsor
Christopher Horvat, MD
Principal Investigator
UPMC Children's Hospital of Pittsburgh
Media Library
HHFNC + Clinical decision Support Clinical Trial Eligibility Overview. Trial Name: NCT05909566 — N/A
Bronchiolitis Research Study Groups: HHFNC + Clinical decision Support, HHFNC Weaning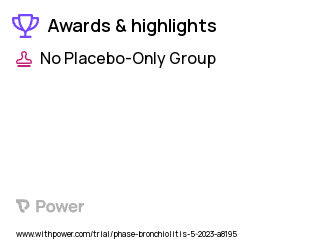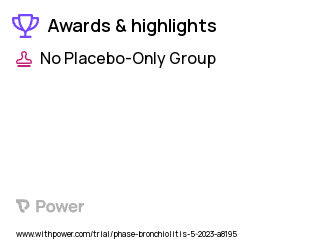 Bronchiolitis Clinical Trial 2023: HHFNC + Clinical decision Support Highlights & Side Effects. Trial Name: NCT05909566 — N/A
HHFNC + Clinical decision Support 2023 Treatment Timeline for Medical Study. Trial Name: NCT05909566 — N/A
Frequently Asked Questions
These questions and answers are submitted by anonymous patients, and have not been verified by our internal team.
Is enrollment for this trial still open at present?
"As per clinicaltrials.gov, this study is not currently seeking participants; it was posted on June 1st 2023 and last updated on the 11th of June 2023. However, there are 40 other trials actively enrolling patients at present."