Kinase Inhibitor
Larotrectinib Sulfate for Rhabdomyosarcoma
Baylor College of Medicine/Dan L Duncan Comprehensive Cancer Center, Houston, TX
Targeting 33 different conditions
Larotrectinib Sulfate

+7 more
Phase 2
Recruiting
Led by Katherine A Janeway
Research Sponsored by National Cancer Institute (NCI)
Eligibility Criteria Checklist
Specific guidelines that determine who can or cannot participate in a clinical trial
Must have
Patients must not have received prior exposure to other NTRK inhibitors including but not limited to LOXO-101 (larotrectinib), entrectinib (RXDX-101), DS6051, PLX7486
Be younger than 65 years old
Must not have
Be older than 65 years old
Study Summary
This trial is testing larotrectinib, which may stop the growth of cancer cells, in patients with solid tumors, non-Hodgkin lymphoma, or histiocytic disorders that have spread and come back or do not respond to treatment.
Rhabdomyosarcoma

Glioblastoma

Ewing Sarcoma

Rhabdoid Tumor

Osteosarcoma

Soft Tissue Sarcomas

Medulloblastoma

Neuroblastoma

Langerhans Cell Histiocytosis

Hepatoblastoma

Cancer

Malignant Solid Tumor

Wilms Tumor

Brain Tumor

Non-Hodgkin's Lymphoma

Gliomas

Germ Cell Tumors

Primary Central Nervous System Neoplasm

Ependymoma

Soft Tissue Sarcoma
Eligibility Criteria
Inclusion Criteria
You will be eligible if you check "Yes" for the criteria below
You have

not taken any medication

that

inhibits NTRK

before, including drugs like LOXO-101, entrectinib, DS6051, and PLX7486.
Timeline
Screening ~ 3 weeks
3 visits
Follow Up ~ up to 5 years
This trial's timeline: 3 weeks for screening, Varies for treatment, and up to 5 years for reporting.
Treatment Details
Study Objectives
Outcome measures can provide a clearer picture of what you can expect from a treatment.
Secondary outcome measures
Percentage of Participants With Treatment-related Adverse Events as Accessed by Common Terminology Criteria for Adverse Events (CTCAE) Version (v) 5.0
Progression free survival
Ability to detect NTRK fusions in circulating cell-free tumor deoxyribonucleic acid in plasma
Pharmacokinetics of larotrectinib
Awards & Highlights
All patients enrolled in this study will receive some form of active treatment.
Trial Design
Group I: Treatment (larotrectinib sulfate)
Experimental Treatment
8 Interventions
Patients receive larotrectinib sulfate PO or via NG- or G-tube BID on days 1-28. Cycles repeat every 28 days for up to 2 years in the absence of disease progression or unacceptable toxicity. Patients undergo a CT scan, MRI, an x-ray, bone scan, and/or MIBG scintigraphy during screening and on study. Patients also undergo bone marrow aspiration and/or biopsy during screening and may undergo blood sample collection on study.
How many patients have taken this drug
Magnetic Resonance Imaging
Who is running the clinical trial?

National Cancer Institute (NCI)
Lead Sponsor
13,369 Previous Clinical Trials
41,215,216 Total Patients Enrolled
88 Trials studying Rhabdomyosarcoma
16,685 Patients Enrolled for Rhabdomyosarcoma
Katherine A Janeway
Principal Investigator
Children's Oncology Group
1 Previous Clinical Trials
56 Total Patients Enrolled
Media Library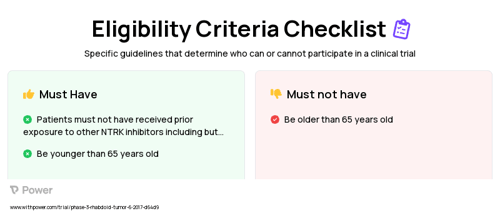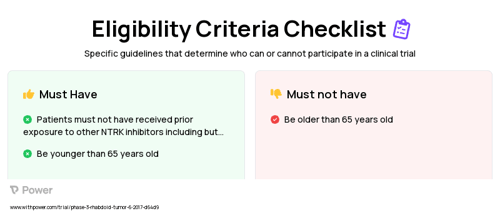 Larotrectinib (Kinase Inhibitor) Clinical Trial Eligibility Overview. Trial Name: NCT03213704 — Phase 2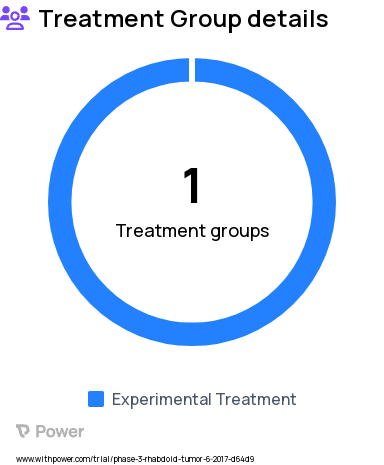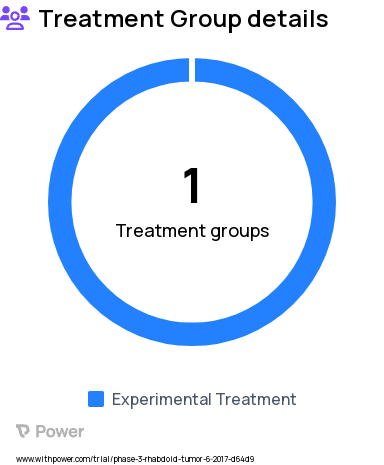 Rhabdomyosarcoma Research Study Groups: Treatment (larotrectinib sulfate)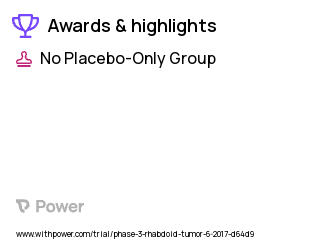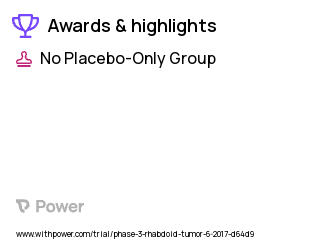 Rhabdomyosarcoma Clinical Trial 2023: Larotrectinib Highlights & Side Effects. Trial Name: NCT03213704 — Phase 2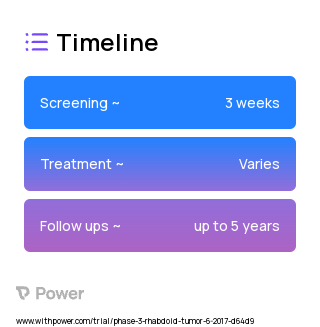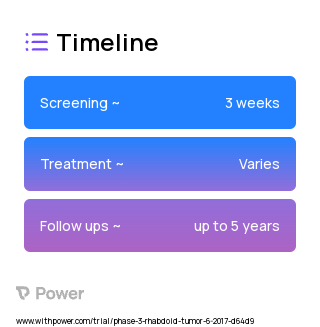 Larotrectinib (Kinase Inhibitor) 2023 Treatment Timeline for Medical Study. Trial Name: NCT03213704 — Phase 2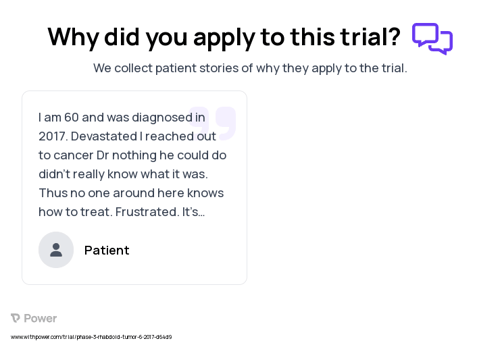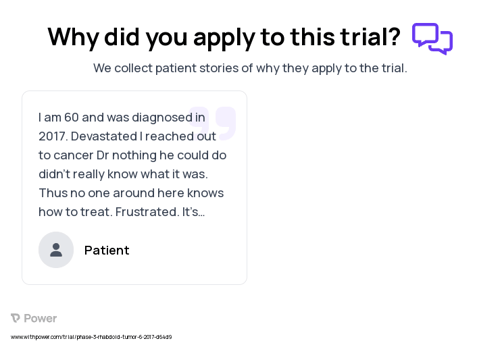 Rhabdomyosarcoma Patient Testimony for trial: Trial Name: NCT03213704 — Phase 2
Frequently Asked Questions
These questions and answers are submitted by anonymous patients, and have not been verified by our internal team.
Has the FDA sanctioned Larotrectinib for use in clinical settings?
"Larotrectinib's safety has been assessed as a 2, since it is currently in Phase 2 with limited evidence of efficacy but some data confirming its security."
Who is eligible to take part in this investigation?
"This medical trial seeks 49 minors aged between 12 months and 21 years old with Wilms Tumor who have been assigned to the Molecular Analysis for Therapy Choice (MATCH) treatment via APEC1621SC. Eligibility also hinges on a Karnofsky score of 50 or higher in patients over 16, while those under 16 require a Lansky score of at least that much. Moreover, individuals must be recovered from prior therapies' toxic side effects; if they meet all other criteria after the required time frame has elapsed, they are considered ready to enroll."
Is this experiment currently open to participants?
"Affirmative, clinicaltrials.gov confirms that the trial is presently recruiting patients; this study was initially posted on July 24th 2017 and has been recently updated on November 30th 2022. In total, the medical team requires 49 volunteers from 100 different sites to participate in their research."
Are individuals younger than 20 years old considered for this research study?
"The accepted range of participant ages for this trial is 12 Months to 21 Years."
Could you provide an overview of the research conducted on Larotrectinib?
"Presently, there are 71 Larotrectinib trials in progress with 31 at the Phase 3 stage. Most of these experiments are located around Peoria, Illinois; however, the drug is being tested across 10220 locations globally."
What medical conditions are commonly treated using Larotrectinib?
"Larotrectinib has been clinically approved to treat neoplasms with NTRK3 and/or NTRK2 fusion gene mutations."
Could you enumerate the locations undergirding this clinical investigation?
"Currently, this trial is ran by 100 separate medical centres. These sites are spread across Madison, Marshfield and East Lansing as well as other cities. To limit the need for travel while participating in the study, it's advisable to find a site near you."
How many participants have been included in this medical study?
"Affirmative, the information on clinicaltrials.gov illustrates that recruitment for this research is still happening. The trial was initially posted in July 2017 and latest updated at the end of November 2022; seeking 49 participants from 100 distinct sites."
Who else is applying?
What state do they live in?
What portion of applicants met pre-screening criteria?
How many prior treatments have patients received?
Why did patients apply to this trial?
I am 60 and was diagnosed in 2017. Devastated I reached out to cancer Dr nothing he could do didn't really know what it was. Thus no one around here knows how to treat. Frustrated. It's totally fully active now I want to find HELP AND WOULD LOVE THIS STUDY.