Stent-Graft
Subjects who receive the Treovance stent-graft for Abdominal Aortic Aneurysm
Led By Matthew Eagleton, MD
Research Sponsored by Bolton Medical
Eligibility Criteria Checklist
Specific guidelines that determine who can or cannot participate in a clinical trial
Must have
Subject must be diagnosed with an infrarenal abdominal aortic aneurysm (AAA), with or without iliac artery involvement
Be older than 18 years old
Must not have
Be younger than 18 years old
Study Summary
This trial is testing a new stent-graft for people with abdominal aortic aneurysms. They want to see if it's safe and effective.
Abdominal Aortic Aneurysm
Eligibility Criteria
Inclusion Criteria
You will be eligible if you check "Yes" for the criteria below
Timeline
Screening ~ 3 weeks
3 visits
This trial's timeline: 3 weeks for screening, Varies for treatment, and 12 months for reporting.
Treatment Details
Study Objectives
Outcome measures can provide a clearer picture of what you can expect from a treatment.
Secondary outcome measures
Secondary Efficacy Endpoint -- Device-Related Complications
Secondary Efficacy Endpoint-- Secondary interventions
Secondary Safety Endpoint
Awards & Highlights
All patients enrolled in this study will receive some form of active treatment.
Trial Design
Group I: Treovance
Experimental Treatment
1 Intervention
Subjects who receive the Treovance stent-graft
Who is running the clinical trial?
Bolton Medical
Lead Sponsor
15 Previous Clinical Trials
2,476 Total Patients Enrolled
Matthew Eagleton, MD
Principal Investigator
Cleveland Clinic Foundaton
1 Previous Clinical Trials
143 Total Patients Enrolled
Media Library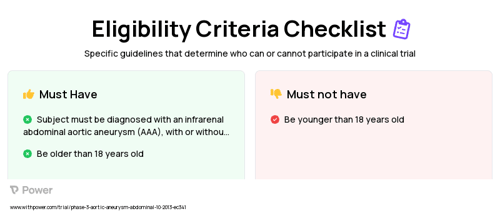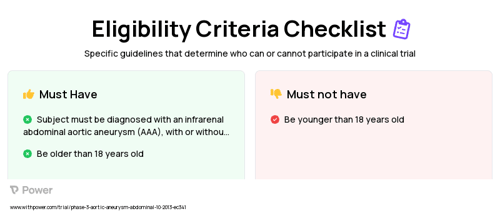 Treovance Stent-Graft (Stent-Graft) Clinical Trial Eligibility Overview. Trial Name: NCT02009644 — Phase 2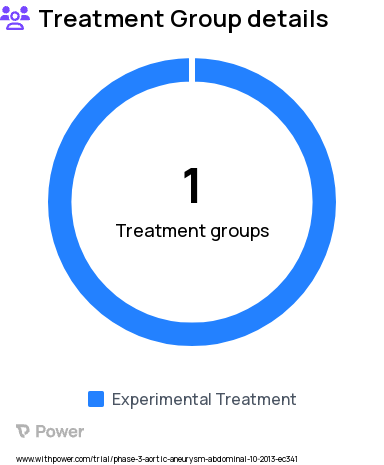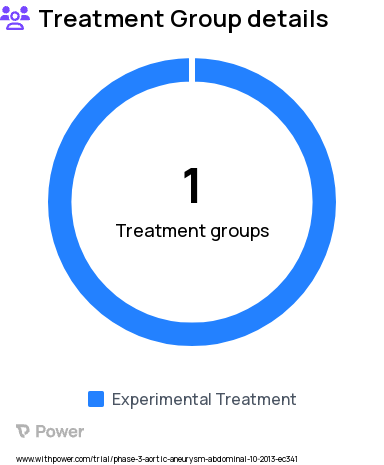 Abdominal Aortic Aneurysm Research Study Groups: Treovance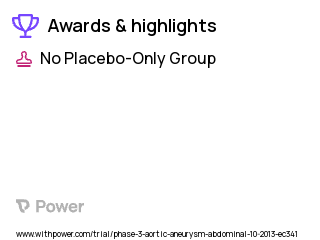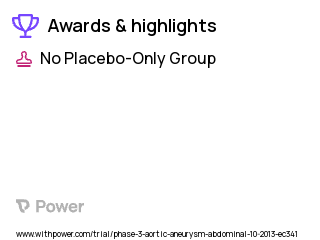 Abdominal Aortic Aneurysm Clinical Trial 2023: Treovance Stent-Graft Highlights & Side Effects. Trial Name: NCT02009644 — Phase 2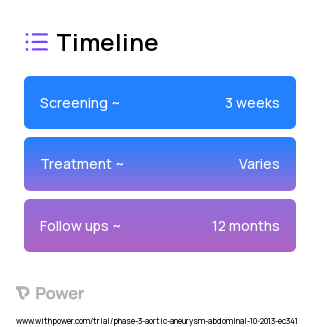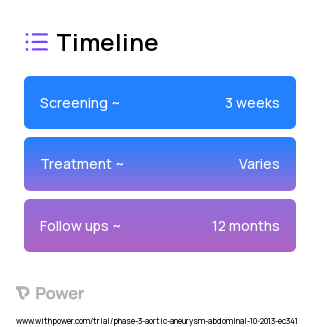 Treovance Stent-Graft (Stent-Graft) 2023 Treatment Timeline for Medical Study. Trial Name: NCT02009644 — Phase 2
Frequently Asked Questions
These questions and answers are submitted by anonymous patients, and have not been verified by our internal team.
Will this research be conducted with elderly participants?
"Eligibility for this particular clinical trial is restricted to patients that are between 18 and 85 years old. In contrast, there are 8 trials that are only enrolling patients below the age of eighteen and 158 studies recruiting participants above 65."
At how many locations is this research being conducted?
"The trial is based in University of Iowa Hospital and Clinic, situated in Iowa City, with other locations in University of Alabama-Birmingham, Birmingham, Arizona Heart Institute in Phoenix as well as 32 other sites."
Are there any more spots left for people who want to participate in this research project?
"From the information on clinicaltrials.gov, it can be gathered that this trial is not presently looking for patients. This trial was initially posted on 11/23/2013 and was last updated on 6/25/2020; however, there are 160 other trials enrolling patients at this time."
Could I qualify to be a subject in this clinical trial?
"Aneurysm patients who are between 18 and 85 years old may be eligible for this study. Up to 150 people can participate."
Does the Treovance stent-graft have FDA approval for use in human subjects?
"This is a Phase 2 trial, which means that while there are safety data, there are no efficacy data. Therefore, the Power team gave it a rating of 2."