Your session is about to expire
We'll log you out in 60 seconds unless you choose to continue
← Back to Search
Eligibility Criteria Checklist
Specific guidelines that determine who can or cannot participate in a clinical trial
Must have
Demonstrated a meaningful response to anti-VEGF therapy.
Participants must be under active anti-VEGF treatment for wet AMD and received a minimum of 3 injections within 6 months prior to screening for the treatment of choroidal neovascularization secondary to nAMD
Must not have
Be younger than 18 years old
Study Summary
This trial is testing a gene therapy product, ADVM-022, for the treatment of neovascular or wet age-related macular degeneration (nAMD). The product is designed to reduce the current treatment burden which often results in undertreatment and vision loss in patients with nAMD receiving anti-VEGF therapy in clinical practice.
Age-Related Macular Degeneration (AMD)
Eligibility Criteria
Inclusion Criteria
You will be eligible if you check "Yes" for the criteria below
Timeline
Screening ~ 3 weeks
3 visits
This trial's timeline: 3 weeks for screening, Varies for treatment, and week 52 for reporting.
Treatment Details
Study Objectives
Outcome measures can provide a clearer picture of what you can expect from a treatment.
Mean change in best corrected visual acuity (BCVA) from Baseline
Severity of ocular and non-ocular adverse events
Secondary outcome measures
Mean change in BCVA from Baseline
Mean change in Central Subfield Thickness (CST) from Baseline
Mean number of CST fluctuations > 50 μm from Baseline
+4 more
Awards & Highlights
All patients enrolled in this study will receive some form of active treatment.
Trial Design
Group I: Dose 2
Experimental Treatment
1 Intervention
A single intravitreal injection of ADVM-022 6E10 vg/eye
Group II: Dose 1
Experimental Treatment
1 Intervention
A single intravitreal injection of ADVM-022 2E11 vg/eye
How many patients have taken this drug
Who is running the clinical trial?
Adverum Biotechnologies, Inc.
Lead Sponsor
8 Previous Clinical Trials
203 Total Patients Enrolled

294 Previous Clinical Trials
98,584 Total Patients Enrolled
Adam Turpcu, PhD
Study Director
Adverum Biotechnologies, Inc.
Media Library
Eligibility Criteria:
This trial includes the following eligibility criteria:
You are a male or female aged 50 years and above.

You are willing and capable of providing written authorization for participation in this study.

You have evidenced a significant reaction to anti-VEGF treatment.

You possess present signs of active initial or recurrent sub-foveal CNV identified by Spectral Domain Optical Coherence Tomography (SD-OCT).

Your visual acuity is between 20/32 and 20/320 according to the Early Treatment Diabetic Retinopathy Study (ETDRS) Snellen scale.

Subjects must have been receiving anti-VEGF injections for wet AMD and had at least two treatments within the four months preceding screening.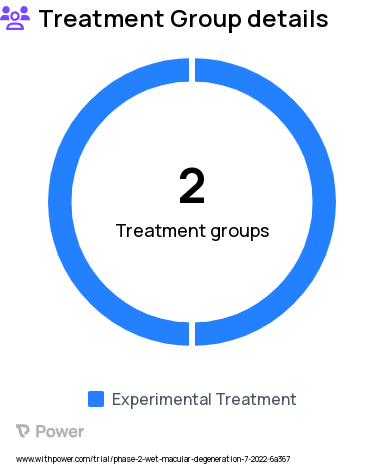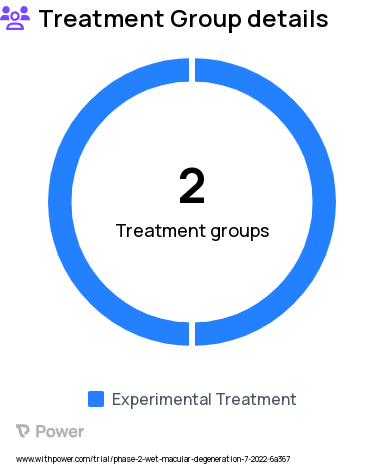 Research Study Groups:
This trial has the following groups:
Group 1: Dose 1
Group 2: Dose 2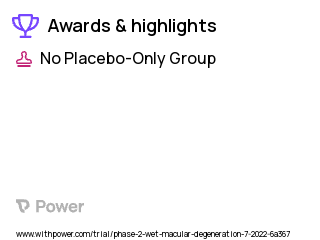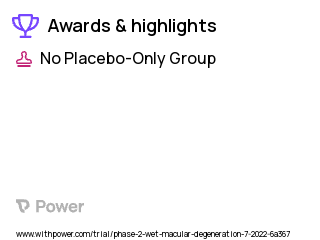 Awards:
This trial has 1 awards, including:
No Placebo-Only Group - All patients enrolled in this study will receive some form of active treatment.
Timeline:
This trial has the following timeline:
Screening: It may take up to 3 Weeks to process to see if you qualify in this trial.
Treatment: The duration you will receive the treatment varies.
Follow Ups: You may be asked to continue sharing information regarding the trial for 6 Months after you stop receiving the treatment.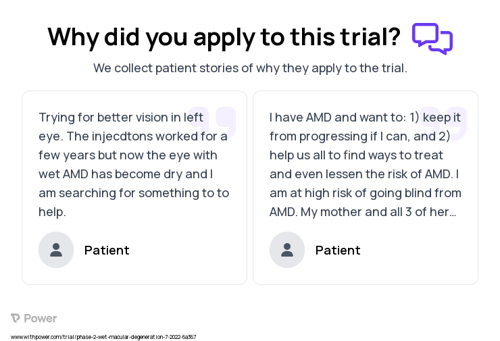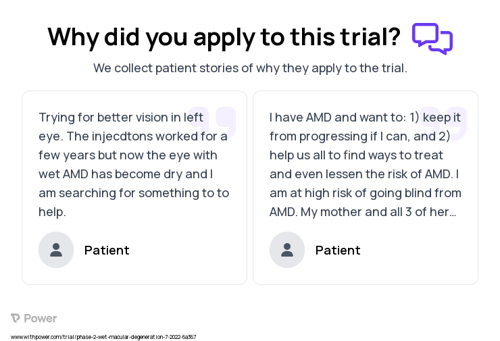 Age-Related Macular Degeneration Patient Testimony for trial: Trial Name: NCT05536973 — Phase 2
Frequently Asked Questions
These questions and answers are submitted by anonymous patients, and have not been verified by our internal team.
What are the main goals that researchers are hoping to achieve with this clinical trial?
"The primary objective of this study, as measured over a 50-week period, is to evaluate the mean change in best corrected visual acuity (BCVA) from baseline. In addition to the primary outcome, this trial will also be assessing secondary outcomes including mean change in BCVA from baseline (as measured by ETDRS), percentage of participants who are supplemental aflibercept injection-free (defined as no supplemental anti-VEGF treatments required post therapy), and percentage of participants without CST fluctuations > 50 μm (defined as no significant changes in central subfield thickness)."
Can new volunteers still sign up for this experiment?
"Yes, according to the clinicaltrials.gov website, this study is looking for patients right now. The listing says that the trial was first posted on 8/23/2022 and edited on 9/8/2022. They are recruiting for 72 participants from 5 different locations."
When might we see ADVM-022 on the market?
"ADVM-022 falls into the Phase 2 category, which means that while there is evidence of safety, none exists yet for efficacy. Consequently, we have given it a score of 2."
What is the total sample size for this research project?
"That is correct, the information available on clinicaltrials.gov seems to suggest that this trial is actively looking for patients right now. This particular trial was posted on 8/23/2022 and then edited last on 9/8/2022. They are hoping to enroll 72 patients at 5 different sites."
How many hospitals are running this trial?
"Right now, this research is ongoing at 5 different sites. They are situated in cities like Phoenix and Fullerton as well as Aiea. If you want to reduce the amount of travelling needed, be sure to select a location near you."
Who else is applying?
What state do they live in?
What portion of applicants met pre-screening criteria?
How many prior treatments have patients received?
What site did they apply to?
Adverum Clinical Site 100
Adverum Clinical Site 166
Why did patients apply to this trial?
Trying for better vision in left eye. The injecdtons worked for a few years but now the eye with wet AMD has become dry and I am searching for something to to help.
Patient
Received no prior treatments
I have AMD and want to: 1) keep it from progressing if I can, and 2) help us all to find ways to treat and even lessen the risk of AMD. I am at high risk of going blind from AMD. My mother and all 3 of her sisters had AMD, but my sisters and cousins to not.
Patient
Received no prior treatments
Share this study with friends