Polyphenol
Epigallocatechin gallate (EGCG) for Colon Cancer
Research Sponsored by The University of Texas Health Science Center at San Antonio
Eligibility Criteria Checklist
Specific guidelines that determine who can or cannot participate in a clinical trial
Must have
Be older than 18 years old
Must not have
Be younger than 18 years old
Study Summary
This trial is for patients with colon or rectal cancer who haven't received any treatment yet. If they're eligible for surgery, they'll be enrolled and given the chance to either have surgery alone or surgery with a new type of chemotherapy.
Timeline
Screening ~ 3 weeks
3 visits
This trial's timeline: 3 weeks for screening, Varies for treatment, and 1 year for reporting.
Treatment Details
Study Objectives
Outcome measures can provide a clearer picture of what you can expect from a treatment.
Change in methylation from baseline when compared to the control arm
Side effects data
From 2022 Phase 1 trial • 39 Patients • NCT04177693
Study treatment Arm
EGCG Daily Alone.
EGCG With Clomiphene Citrate
EGCG With Letrozole
Awards & Highlights
All patients enrolled in this study will receive some form of active treatment.
Trial Design
Group I: epigallocatechin gallate (EGCG)
Experimental Treatment
1 Intervention
Patients randomized to the EGCG arm, will start EGCG within 4-12 weeks of surgery and take EGCG 450 mg PO twice a day.
Group II: Observation Only
Active Control
1 Intervention
Standard of care surgical resection followed by standard of care colonoscopy at year.
How many patients have taken this drug
Who is running the clinical trial?

The University of Texas Health Science Center at San Antonio
Lead Sponsor
431 Previous Clinical Trials
83,194 Total Patients Enrolled
Sukeshi Patel, MD
5.0
1 Reviews
Principal Investigator - CTRC (Cancer Therapy and Research Center) at UTHSCSA
The University of Texas Health Science Center at San Antonio
Media Library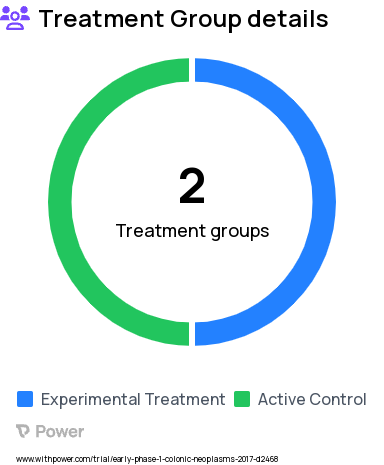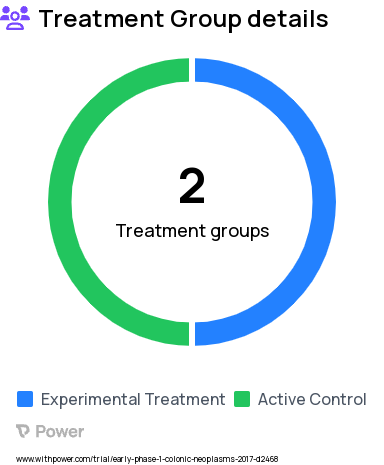 Colon Cancer Research Study Groups: epigallocatechin gallate (EGCG), Observation Only
Frequently Asked Questions
These questions and answers are submitted by anonymous patients, and have not been verified by our internal team.
Are there any other experiments that have been conducted utilizing Epigallocatechin gallate (EGCG)?
"Currently, 3 clinical trials are in-progress that investigate Epigallocatechin gallate (EGCG) with none being at the Phase 3 stage. Despite this, there are a total of 296 research facilities across the world conducting these studies, most notably in Fort Collins, Colorado."
Are there any available opportunities for participants in this experiment?
"Affirmative. As per the information on clinicaltrials.gov, this study is actively seeking participants and was initially listed in January 31st 2017 with its most recent update being December 13th 2021. The sample size consists of 50 patients from a single location."
How many people is this study recruiting?
"Affirmative. The clinical trial registry hosted on clinicaltrials.gov discloses that the study, which was first posted on January 31st 2017, is now actively recruiting 50 participants from 1 different medical site."