Medical Facts: Who Do You Trust?
Getting medical information and guidance means different things to different people. Over the last few years, and especially since the onset of the COVID-19 pandemic, there has been a rise in anecdata on social media that has created more distrust in medical professionals than perhaps ever before. On the flip side, the volume of vetted, trustworthy resources on the internet has ballooned, allowing motivated individuals to better understand their health than ever before. Armed with primary research, people are increasingly taking ownership over decisions that impact their health.
Between this proliferation of personal perspective, the rise of social media health influencers, and the often uncertain state of health research, there has seemingly never been more divide among people in regard to how they get their medical advice and information. The Power team wanted to explore this phenomenon more and get a better understanding of where people get their healthcare-related info and why, so we surveyed over 1,000 people to get their perspective. If you're curious about who and what people put their trust in for medical facts, read on.
Key Findings
People are 50% more likely to turn to the internet than a medical professional for wellness advice
92% of Gen Z report turning to social media for health advice
Only 26% of people believed a .gov designation makes information trustworthy
50% of people have gone more than a year since they last saw their doctor
YouTube was the most popularly cited social media platform for health advice.
Searching for Answers
Medical advice should always come from a source you trust, but the truth is there has been a rise in apps and websites that are reputable and provide a more convenient resource for people; some even offer the function of being able to seek medical advice from a professional directly. And there are other sites, like WebMD, that can serve as basic informative resources for people before they visit their doctor. But there has been an alarming rise in anecdote-driven health recommendations, powered by social media figures who often don't cite sources or reference existing research. As a result, it's not uncommon for their recommendations to directly contradict the current &qout;best practices&qout;, or to cite long-debunked myths.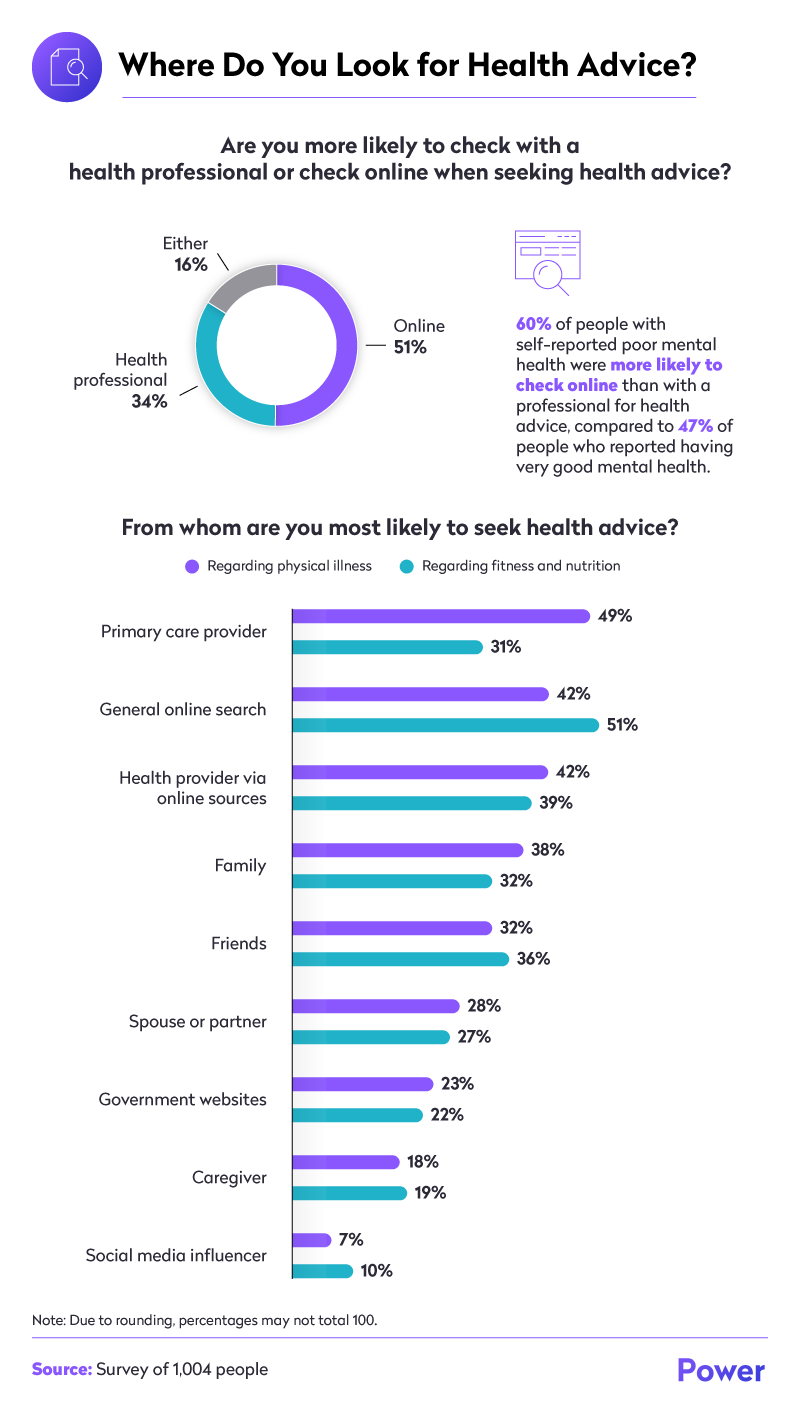 Overall, our study showed that people are 50% more likely to turn to an online resource than a medical professional when seeking health advice. There are great resources out there for health and nutrition advice, so in that regard the internet can be a reliable means of obtaining information. Advising on physical illnesses is another thing entirely, though. Unsurprisingly, 49% of respondents said they were most likely to seek advice from their primary care provider. Another 42% would opt for a general online search when seeking advice for a physical illness.
Generally, doing an online search when you're trying to get a sense of whether you have a specific illness isn't a bad thing, but the kind of sources you're relying on matter greatly. For those who are looking for more credible sources of medical information online, experts suggest turning to platforms like Google Scholar. Our study ultimately showed that some people try to avoid visiting doctors, and their reasons for doing so are interesting to say the least. Read on to find out more!
Doctor's Orders
It's no secret that some people avoid regularly going to see a doctor, and many even pride themselves on not having been to one in many years. There has been a lot of data in recent years about this phenomenon, and a multitude of reasons exist as to why people avoid visiting health care professionals—fear, distrust of doctors, and a lack of money, insurance, or resources are all especially common.
When it comes specifically to not seeking advice from a doctor, our study showed that people's reasons varied greatly. With over 1 in 5 respondents reporting poor mental health admitting to not having a routine checkup in more than two years, we wanted to highlight some of the most common reasons that people would avoid seeking medical advice from a professional.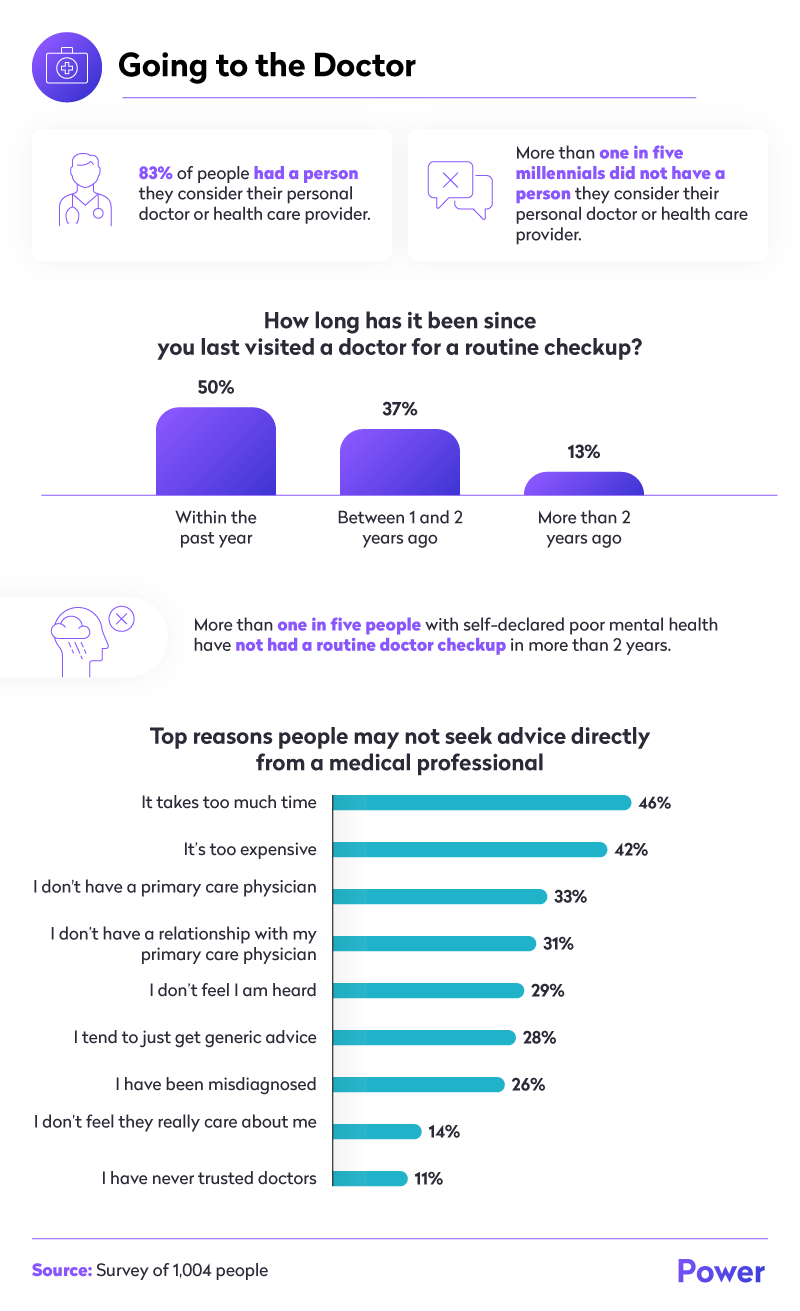 The biggest reason that people had for not seeking advice from a doctor was that it took too much time (46%), while 42% said going to the doctor was too expensive. Interestingly, 33% of respondents said they didn't actually have a primary care physician. Notably, that number is higher than some studies have shown as recently as 2020, and there were predictions that the percentage of people who didn't have a primary care provider would increase with time.
There were some other notable reasons that respondents had for not seeking advice from a doctor, with nearly 3 in 10 saying they don't feel they're heard by doctors, and more than 1 in 4 saying they've been misdiagnosed and now avoid visiting a doctor as a result.
Misdiagnosis is an alarming and understandable reason why some people might avoid seeing a doctor, and it's much more common than some people might think. Whatever the reason, though, our study certainly shows that people have a wide variety of viewpoints that have influenced their decision to forgo seeing a doctor regularly.
Check Your Sources
Despite the amount of anecdotal evidence on social media in general, it can actually be an effective tool for navigating health and medical questions and advice. There are ways to utilize the power of social media to promote accurate medical information and raise awareness about any number of things regarding health and medicine.
Of course, there are many different social media platforms that people use daily for different functions. Which ones do people tend to use the most to seek health advice? Our study showed that the most-used platform was one you might not expect.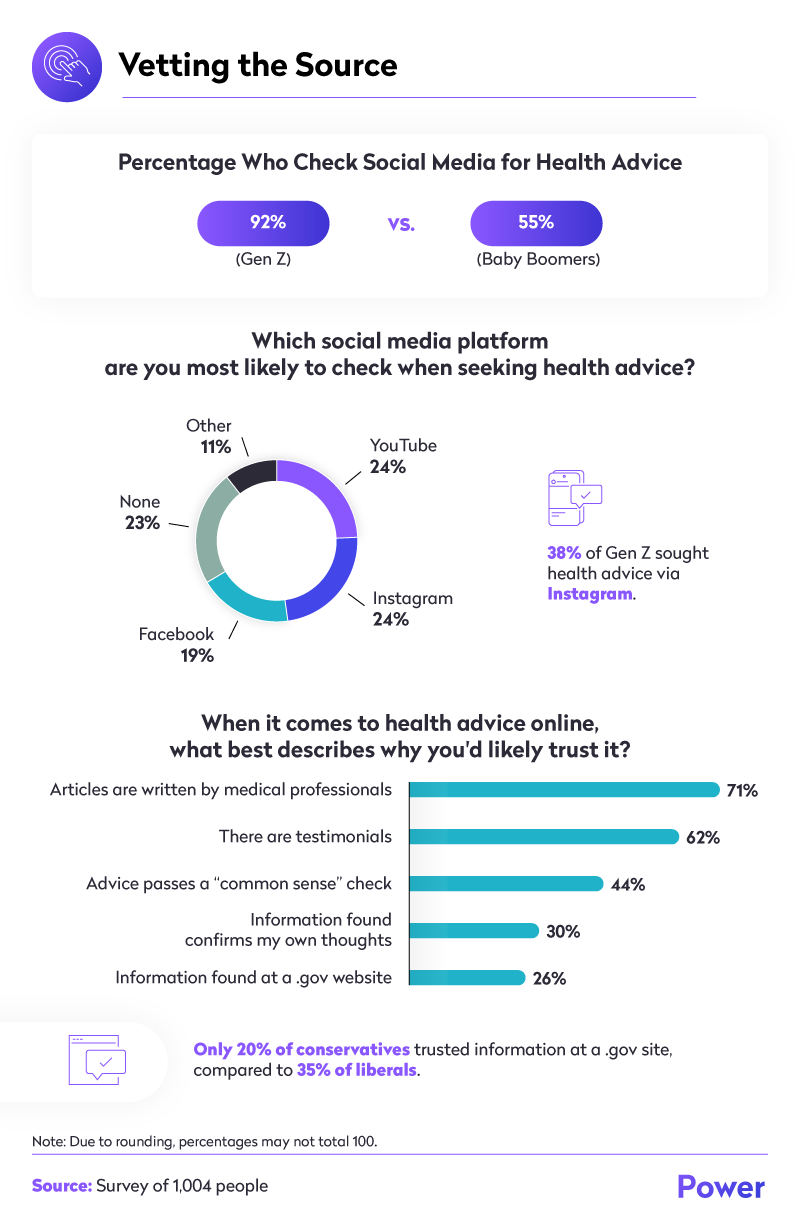 Broken down by generation, 92% of Gen Z said they use social media for medical advice, and 55% of baby boomer respondents said the same. This makes sense considering that baby boomers have been shown to use social media very differently than younger generations.
Among respondents in our study, YouTube and Instagram were tied as the most commonly used social media platforms for seeking medical advice (24%). Right behind them, however, 23% of respondents said they didn't use any social media for medical advice. A further 19% said they opt for Facebook, and 11% said they utilized another social media platform for medical advice. Interestingly, platforms like Facebook have made genuine attempts to make their websites accessible for taking preventive health measures.
The Internet and Medical Advice
The COVID-19 pandemic has certainly highlighted the importance of seeking medical advice from qualified professionals and utilizing the internet in ways that are constructive, when it comes to health advice. What our study emphasizes is that social media is a much more common resource for people than we might think, and there are many reasons people have for avoiding medical advice from professionals. Hopefully, as greater access to medical information is expanded, people will seek out reputable information when relying on the internet.
Methodology and Limitations
We administered online surveys to 1,004 people in the United States about trust in the medical field. Participants ranged in age from 18 to 75 year old with a mean of 41. Of these 1,004 people, 203 were Baby Boomers, 291 were Gen X, 331 were Millennials and 179 were Gen Z. 51.1% of our participants identified as men, 48.6% identified as women, and roughly 0.3% identified as nonbinary or nonconforming. 45.52% said they were conservative, 39.04% said they were liberal and 15.44% considered themselves moderate. Those who failed an attention-check question were disqualified.
The data we are presenting rely on self-report. There are many issues with self-reported data. These issues include, but are not limited to, selective memory, telescoping, attribution, and exaggeration.
Fair Use Statement
If you're interested in where people go for medical advice and facts and you enjoyed our study, you are more than welcome to share it. We just ask that you link back to our study and that your purposes are noncommercial in nature.