Meditation Intervention for Depression
Research Sponsored by University of Colorado, Denver
Eligibility Criteria Checklist
Specific guidelines that determine who can or cannot participate in a clinical trial
Must have
Be older than 18 years old
Must not have
Be younger than 18 years old
Follow Up
45 days, 90 days
Study Summary
This trial will look at whether a 90-day online meditation program can help improve resilience, depression, and anxiety in healthcare students, and whether it is easy for them to attend and complete the sessions.
Depression

Anxiety

Stress

Mental Health Wellness
Timeline
Screening ~ 3 weeks
3 visits
Follow Up ~ 45 days, 90 days
Follow Up ~
45 days, 90 days
This trial's timeline: 3 weeks for screening, Varies for treatment, and 45 days, 90 days for reporting.
Treatment Details
Study Objectives
Outcome measures can provide a clearer picture of what you can expect from a treatment.
Acceptability as measured by the Client Satisfaction Questionnaire (CSQ-8)
Change in Anxiety/Depression as measured by the Hospital Anxiety and Depression Scale (HADS)
Change in Resilience as measured by Connor-Davidson Resilience Scale (CD-RISC)
+1 more
Awards & Highlights
All patients enrolled in this study will receive some form of active treatment.
Trial Design
Group I: Meditation Intervention
Active Control
1 Intervention
Group II: Control
Active Control
1 Intervention
Wait listed control group
Who is running the clinical trial?
University of Colorado, Denver
Lead Sponsor
1,673 Previous Clinical Trials
1,662,121 Total Patients Enrolled
8 Trials studying Depression
4,950 Patients Enrolled for Depression
Robyn Gisbert
Principal Investigator
University of Colorado, Denver
Media Library


Heartfulness Meditation Clinical Trial Eligibility Overview. Trial Name: NCT04790162 — N/A
Depression Research Study Groups: Meditation Intervention, Control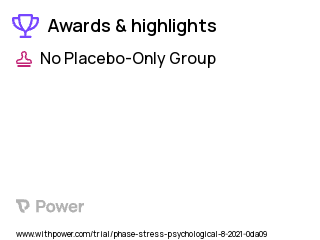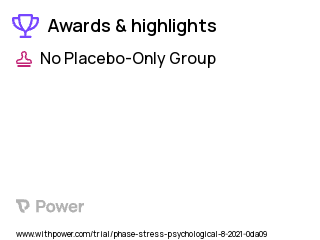 Depression Clinical Trial 2023: Heartfulness Meditation Highlights & Side Effects. Trial Name: NCT04790162 — N/A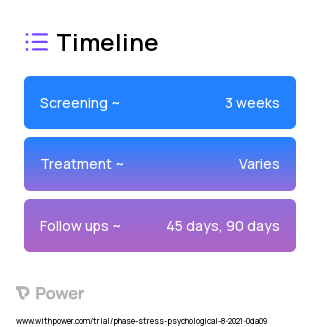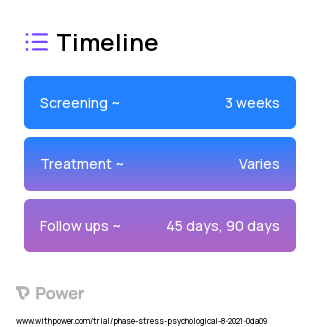 Heartfulness Meditation 2023 Treatment Timeline for Medical Study. Trial Name: NCT04790162 — N/A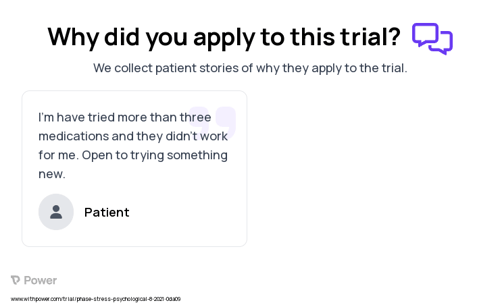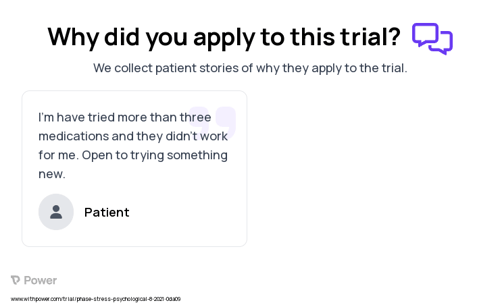 Depression Patient Testimony for trial: Trial Name: NCT04790162 — N/A
Frequently Asked Questions
These questions and answers are submitted by anonymous patients, and have not been verified by our internal team.
Are new participants able to join this medical experiment right now?
"Affirmative. Clinicaltrials.gov data suggests that this scientific endeavour, which was first listed on September 1st 2021, is actively seeking participants. Around 150 people need to be selected from a single clinical site."
Is eligibility for this experiment restricted to individuals over sixty years of age?
"This clinical trial accepts participants from the age of 20 to 70. An alternative would be for those younger than 18, and there are 250 studies suitable for that demographic; likewise, 1065 trials cater to those 65 or older."
Who is likely to be the most suitable participant for this experiment?
"For this trial, 150 individuals aged 20-70 who are students at the Anschutz Medical Campus of the University of Colorado and suffer from stress or psychological issues must be recruited."
How many participants have signed up for this research study?
"Indeed, the details on clinicaltrials.gov demonstrate that this medical trial is currently recruiting participants. This experiment was initially posted to the website in September 2021 and modified most recently in August 2022; it requires 150 individuals from a single site."
Who else is applying?
What state do they live in?
What site did they apply to?
University of Colorado Anschutz
What portion of applicants met pre-screening criteria?
How many prior treatments have patients received?
Why did patients apply to this trial?
I'm have tried more than three medications and they didn't work for me. Open to trying something new.